Refresh
Side note: I think we went past peak Federighi a while ago and we're closing in on parody now. Strong play.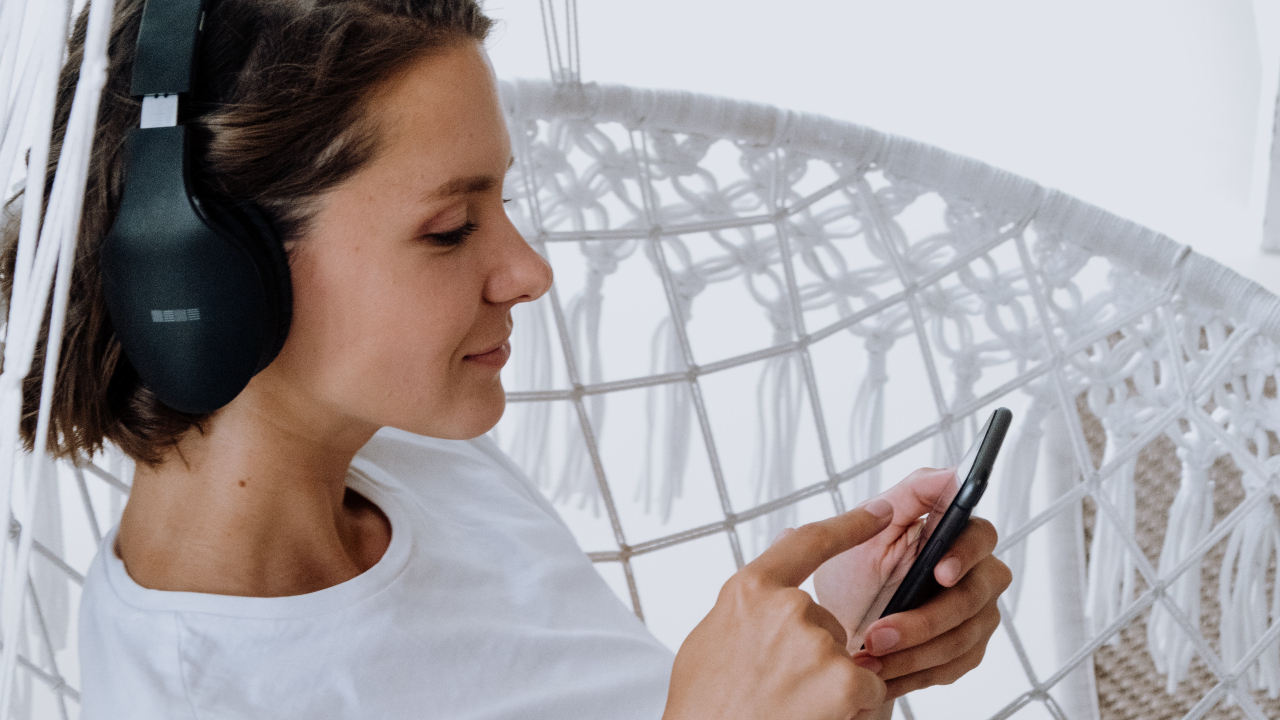 I'm going to put a word of warning here first: do not do this lightly. Ideally, try it on a second iPhone, not the one you use day to day.
What am I talking about? Daryl Baxter's piece on how to download the iOS 16 beta on your iPhone. This is meant for developers only, and will likely contain so many bugs that the camera could turn into chocolate if you use the flash (or something).
However, given the early looks people have already been posting to Twitter, it might be a worthwhile risk. Look at the new lockscreen animations… they're pretty slick:
OOH Wallpapers animate on unlock pic.twitter.com/FbvFwVO49KJune 6, 2022
He's only gone and done it – here's our hands on: MacBook Air (M2, 2022) review, all neatly packaged up for you.
I won't spoil it – go read it for yourselves and delight in Matt's speedy-but-thorough deep dive into the machinery – but this looks like a slimline powerhouse to say the least, especially in the new blue color.
So, let's pour out another one – it looks like the Apple Watch 3 is officially dead. WatchOS 9 will not be supporting the ageing-but-cheap model and, let's be honest, it was time for the older model to go.
So if you want a 'cheap' Apple Watch then you're going to have to go for the Apple Watch SE – but I just bought that one for my wife, and she's pleased as punch with it, so you can assume it's a decent entry-level option.
Right, we've actually touched a new MacBook Air 2022 – complete with the fancy M2 chip inside – but Matt Hanson is still beavering away with his hands on piece, and won't tell me what he thinks of the new hardware.
Well, screw him – we can just look at some lovely pictures and make up our own minds, right? 
(Good news – the headphone port remains. Confirmed – scroll down if you don't believe me).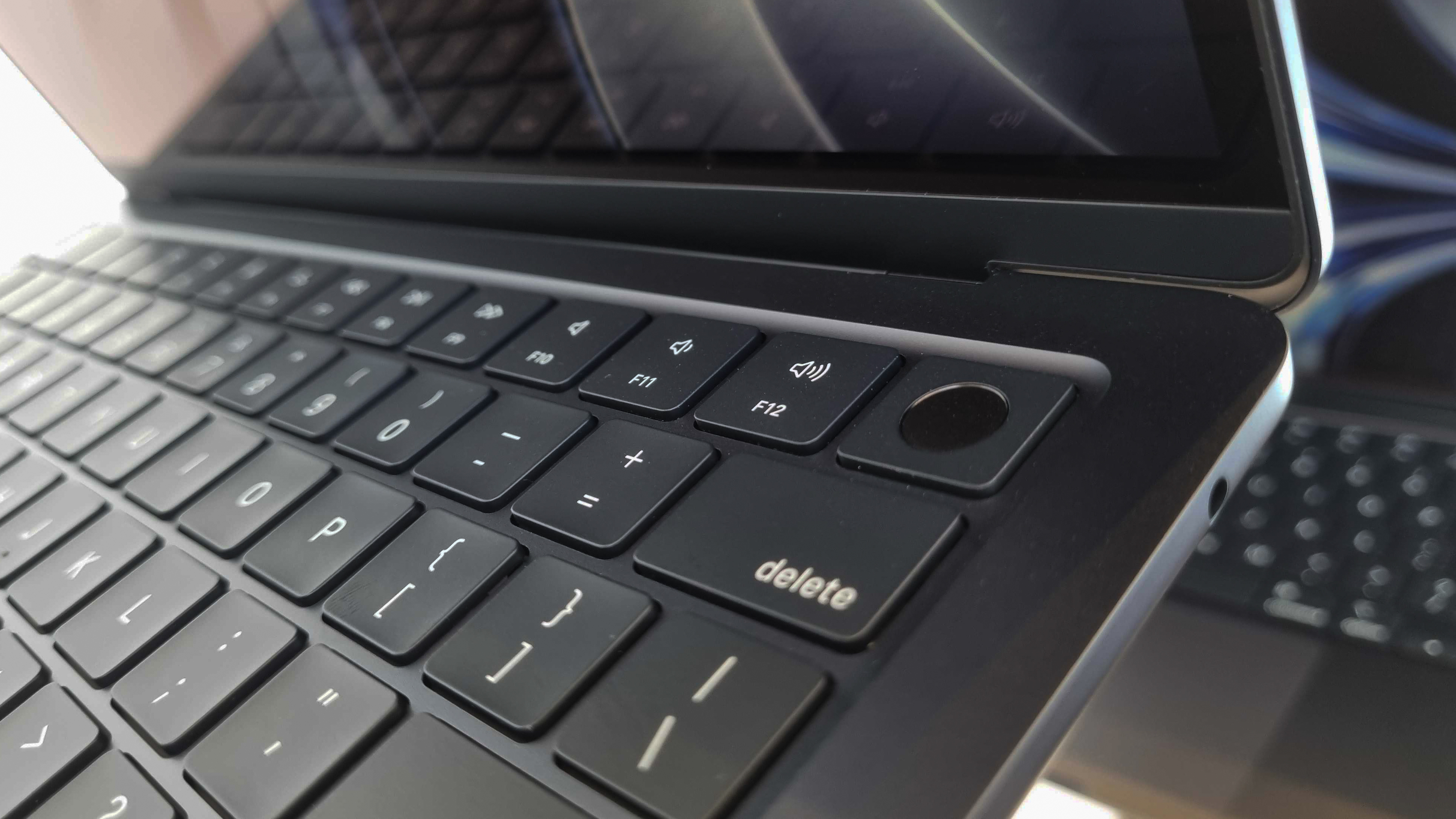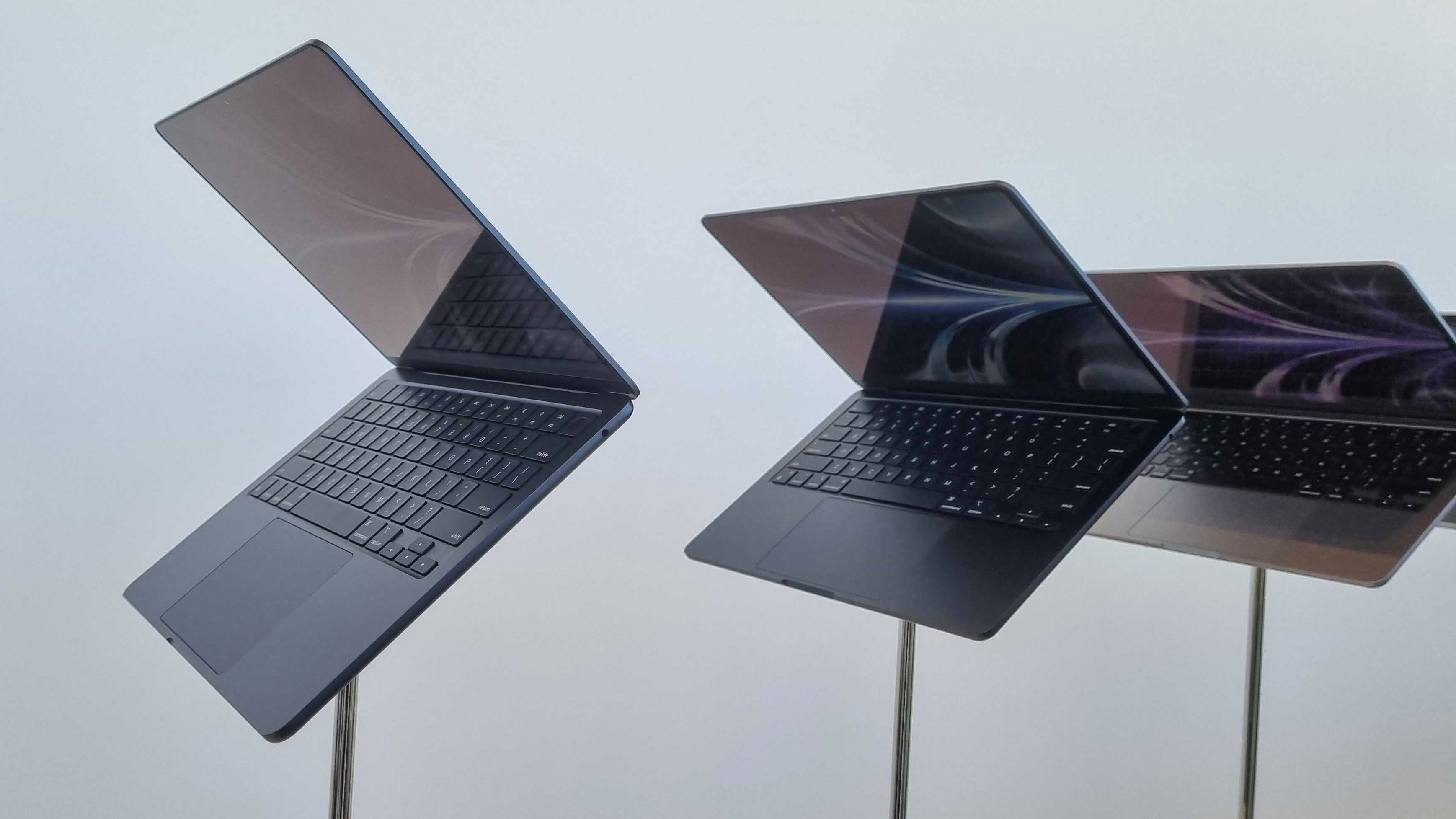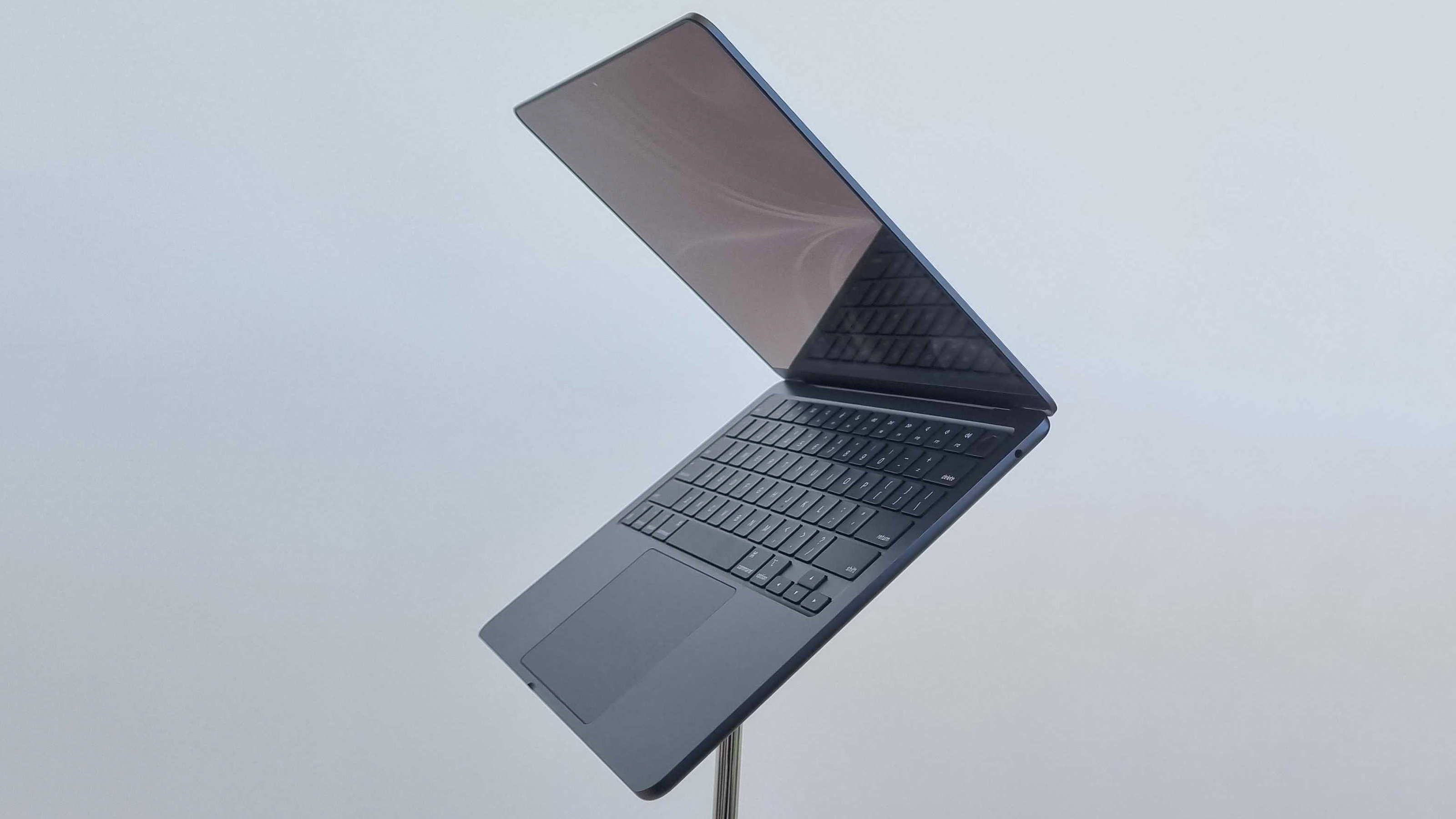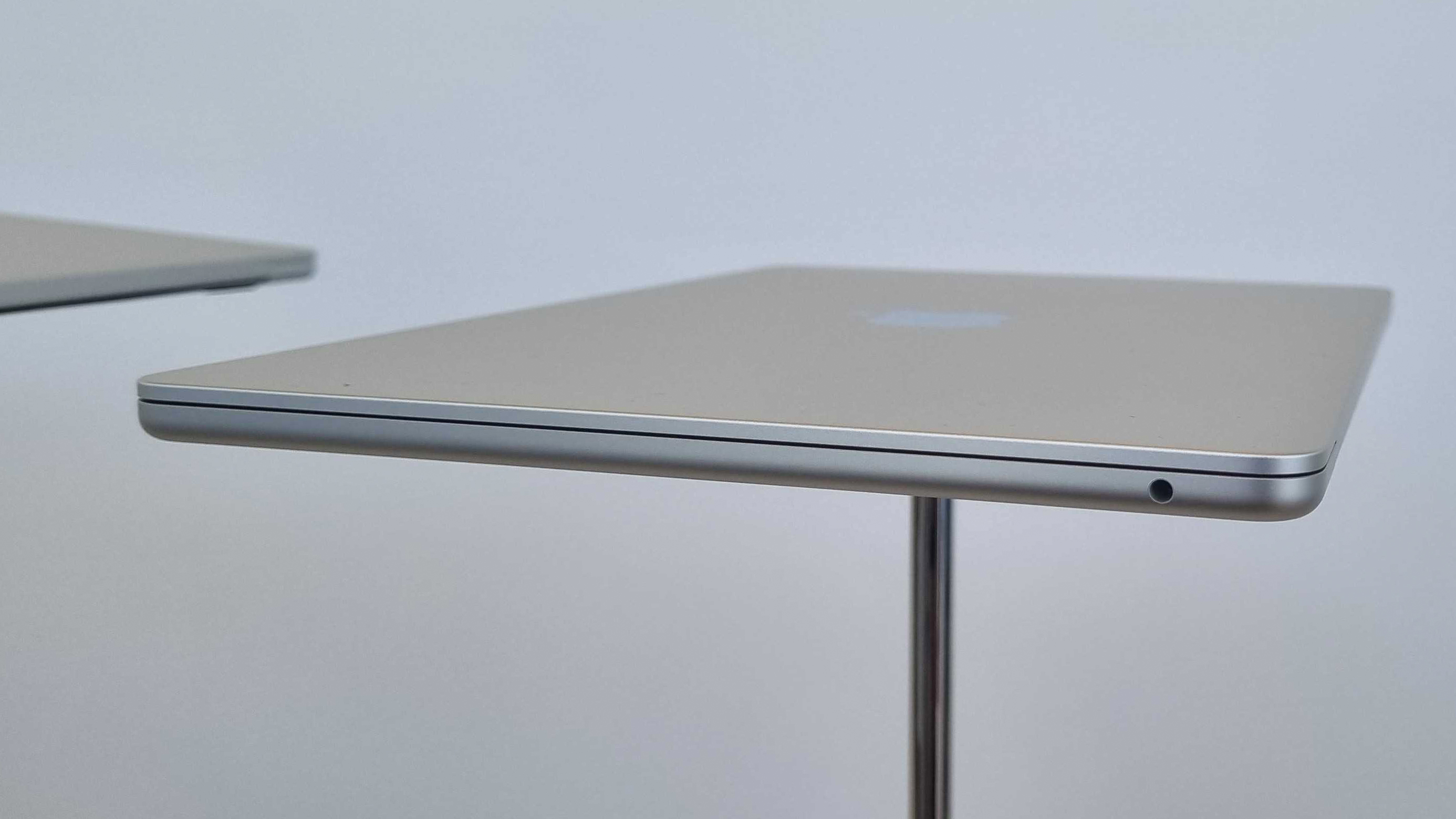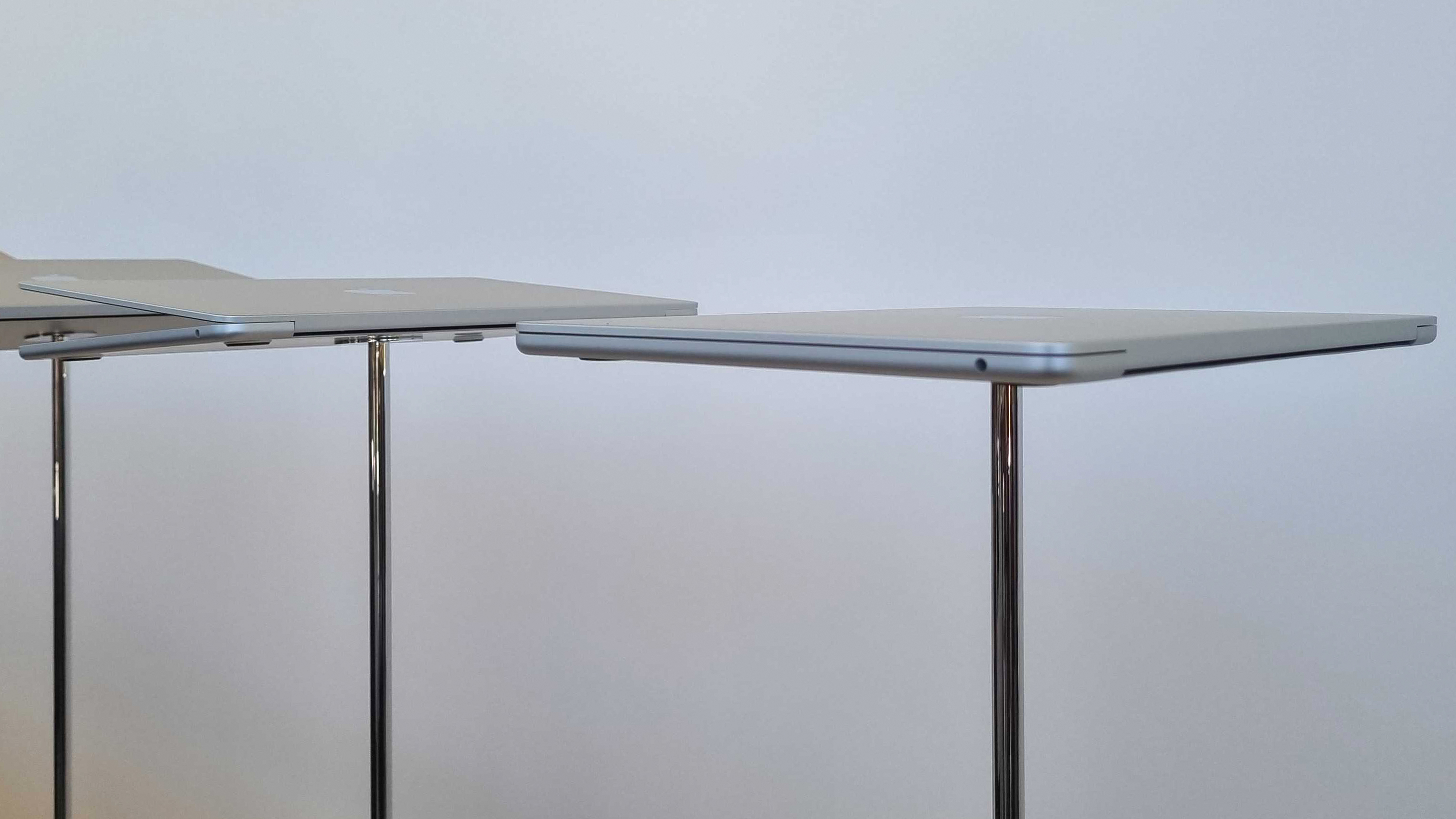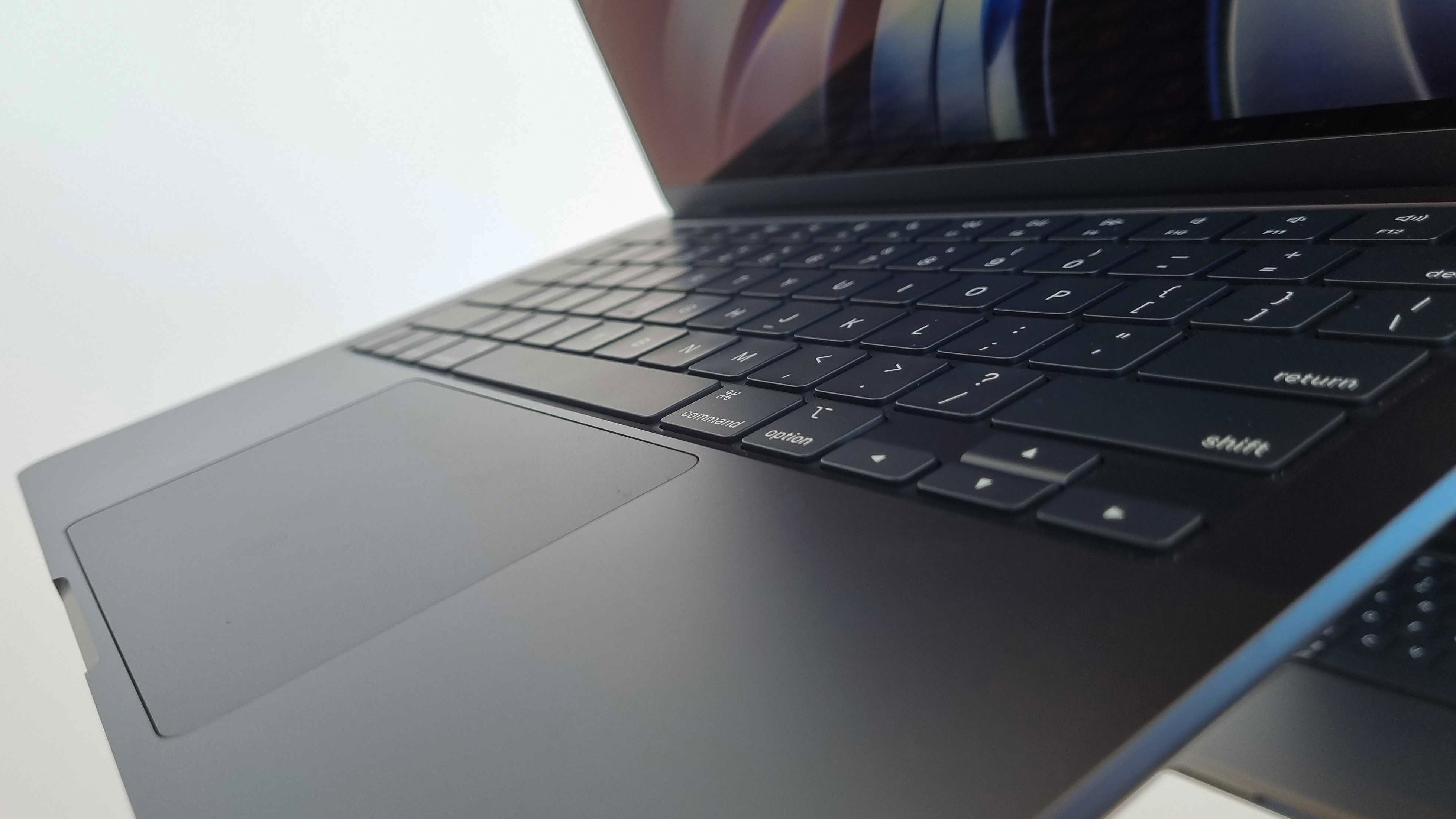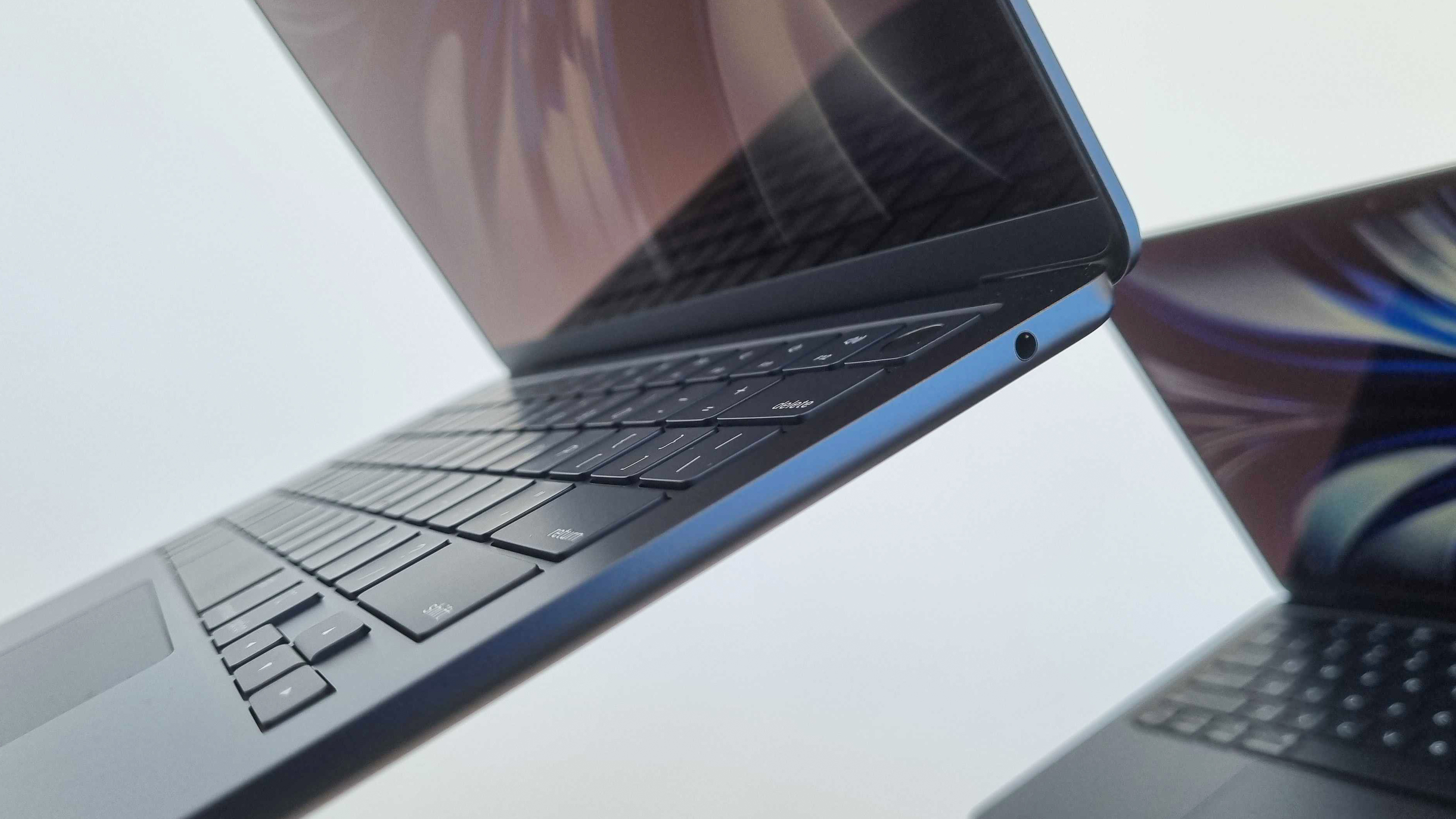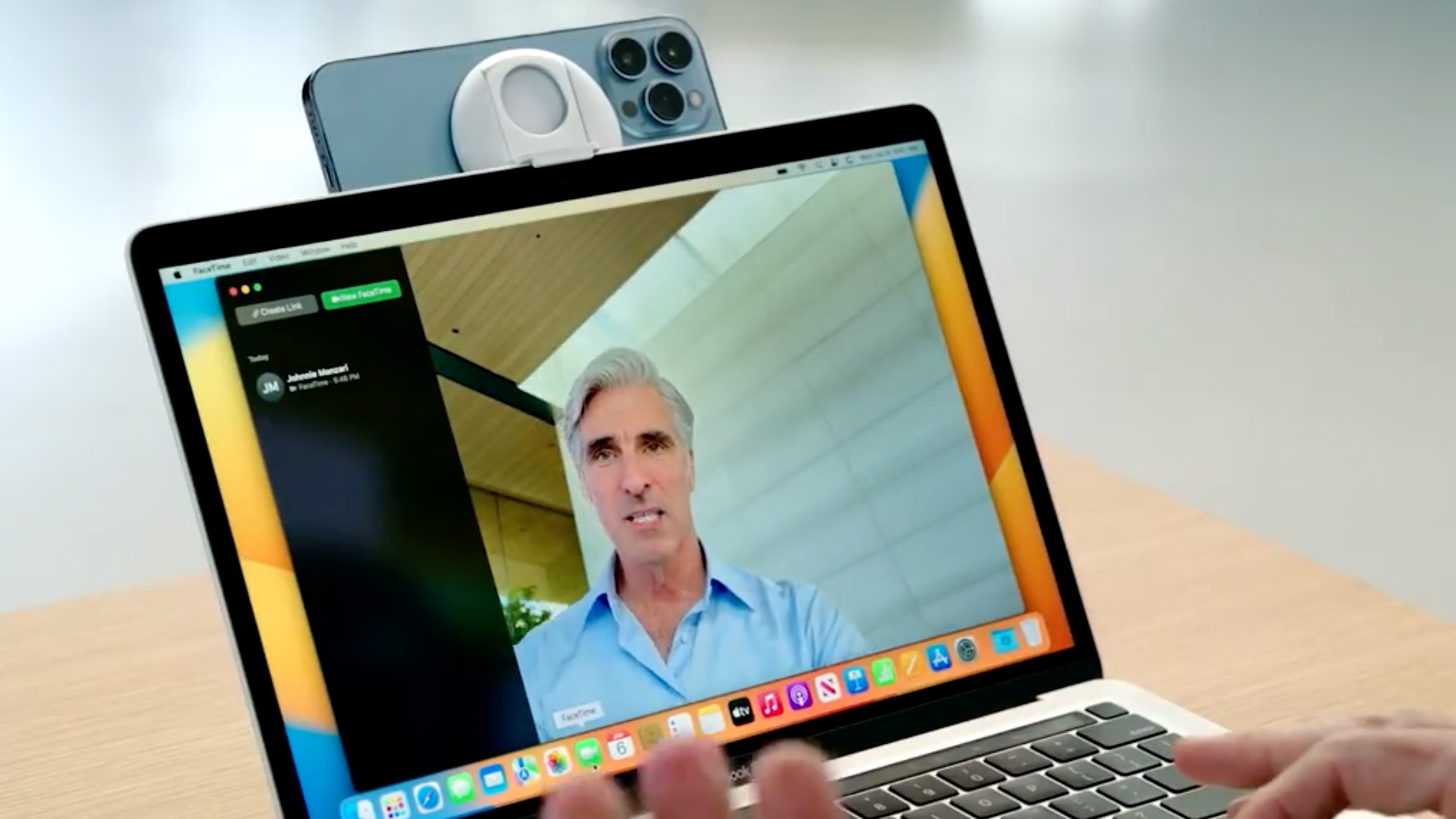 Hello everyone – Gareth here again as Matt and Lance are off looking at new MacBook Airs and meeting the CEO. As you do.
One of the things that really caught my eye during the event was the ability to use your iPhone as a webcam with macoS 13 Ventura – that's massive.
With a simple clip on, you can instantly have one of the best webcams out there, with the ability to add Studio Lighting to mimic a ring light or similar.
I will say one thing though: in the demo, Apple pointed out how that could really help if you're in front of a window, but didn't show it off, which always makes me 🤔.
The other question is whether the webcam will work across different apps – if it's just FaceTime, that's no fun at all.
Now, you can't get much better proof that we were actually at the event, right…?
Off the big screen and next to me. Hi @tim_cook! #WWDC22 pic.twitter.com/un8khdk0XsJune 6, 2022
And that's it! The end of the WWDC 2022! No VR or AR at all!
All new OS releases are available today as Developer releases! A public beta will be available next month.
No mention of any AR/VR headset though. Will it be a 'One more thing…' surprise? Or just a no-show?
Back to Tim Cook for a round up!
Plug in an external display, and your wallpaper will be extended on the larger monitor. Open an app, and Stage Manager changes the interface on the external monitor.
With it, you can have eight apps open at once across the iPad's screen and the external monitor.
Stage Manager, the new interface in macOS Ventura, is also coming to iPadOS. That makes sense, and it means multi-tasking on the tablet much easier.
Our Software Driver seems excited about Weather on iPad. Bless.
Game Center is getting an update as well. iPad is getting 'Desktop-class apps'. While iPad apps are usually designed for the iPad's screen and interface. For this new release, Apple has gone through thousands of apps, and added new features that you'd usually expect in a desktop application.
This is quite cool, as mobile apps can sometimes be rather limited, so this could be a good way to bridge the gap between iPad apps and Mac apps.
Now they are talking about gaming on iPad, especially with the M1 chip. Metal 3 is now coming to iPadOS, and games can now download in the background.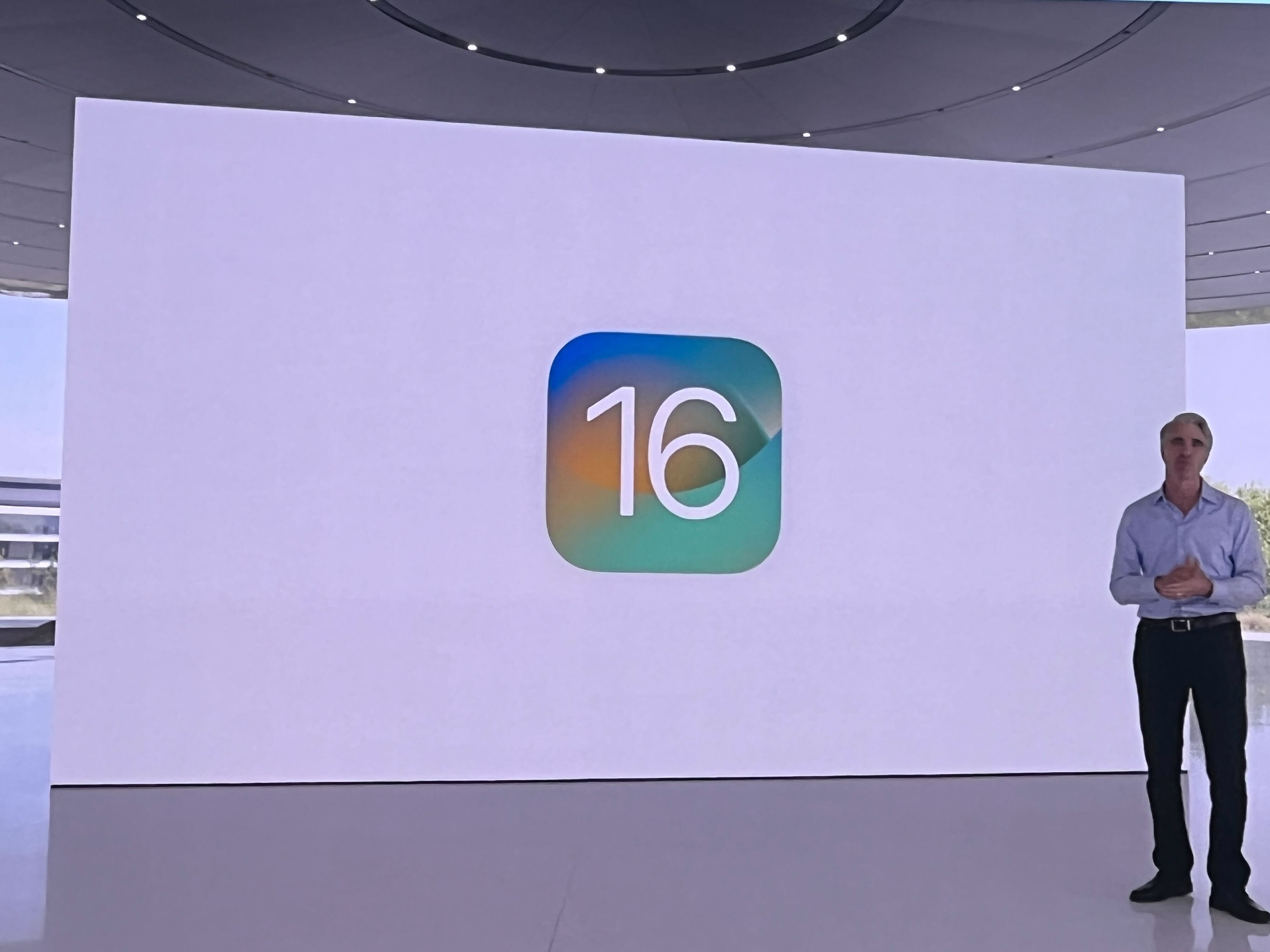 Freeform is a bit like Google Notes and OneNote, bringing all kinds of notes, images, links and more.
It'll be built into macOS, iPadOS and iOS later this year.
Collaboration APIs will allow devs to add these features to their apps, which is good.
And there's a new app! It's about collaboration, though. Ugh my bum. Definitely feels like Apple considers the iPad a productivity device at the moment, rather than an entertainment one.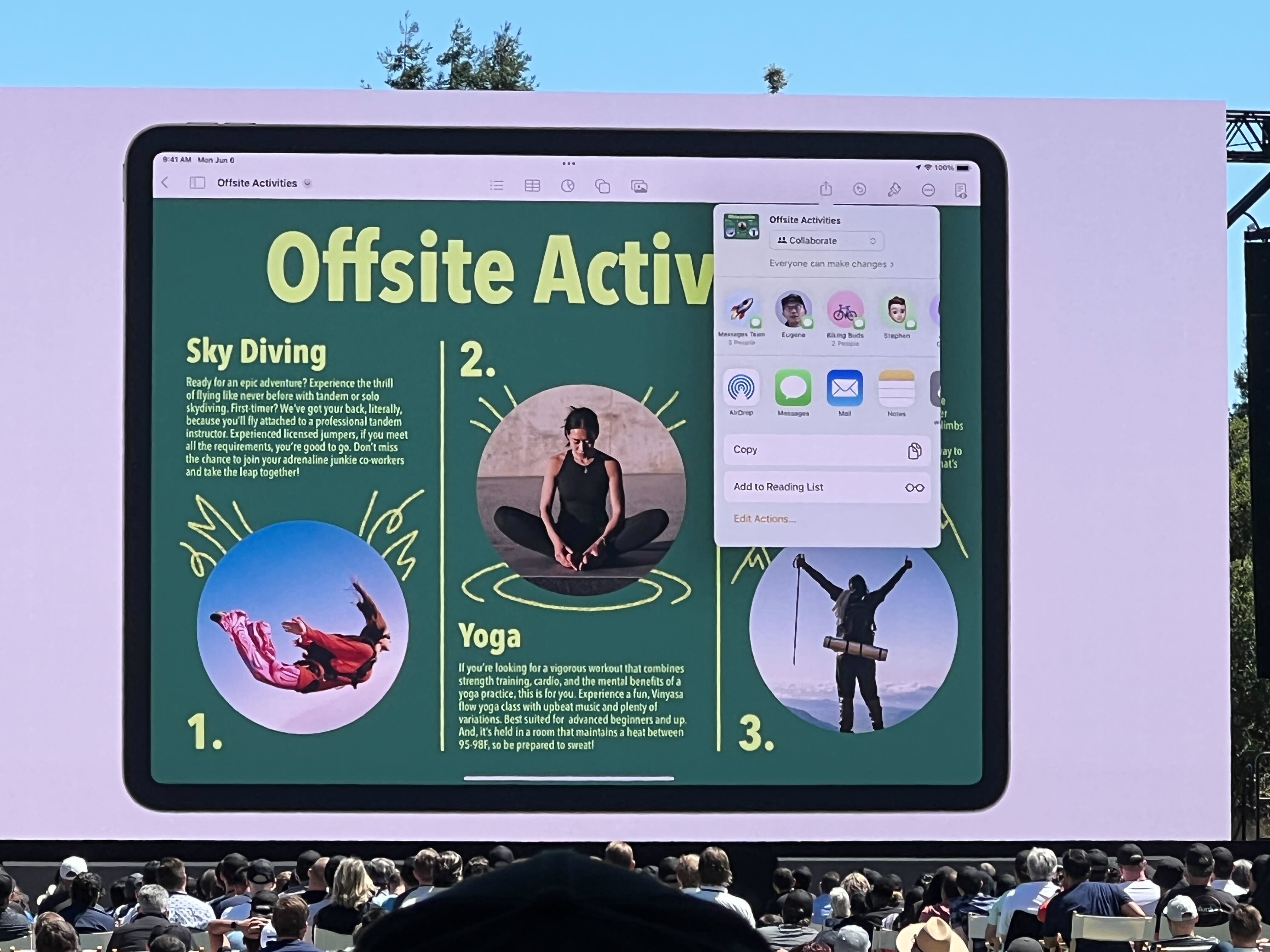 Here's what using an iPhone with a MacBook looks like: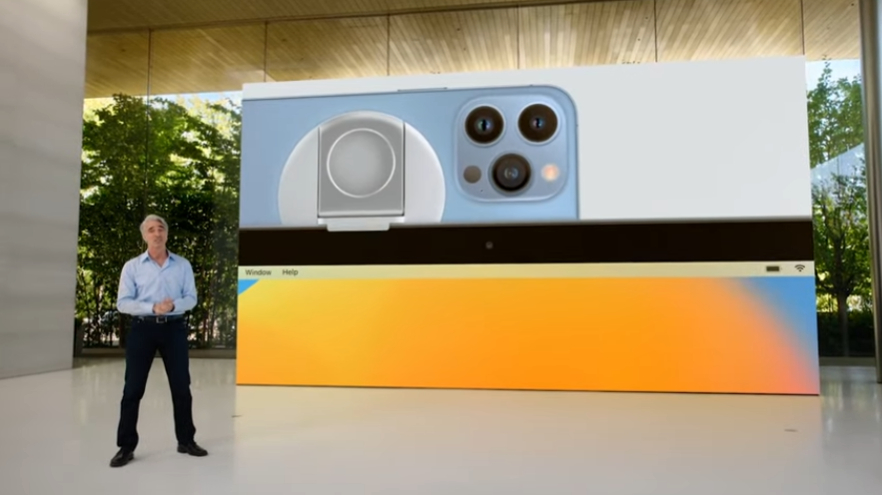 Pretty cool! Though if you get a phone call, you'll need to use Continuity on your MacBook to answer.
There's ways to make collaborating on iPads easier, like in Messages.
The sun is no longer burning me, but the wooden chairs Apple has us sat on are rather hard, so my bum is now quite numb. Talk of iPadOS will wake it up though!
Weather is coming to iPad! Oh. Nope that didn't work.
You can use the flash of the iPhone to make image quality better in the dark, and you can use it to show your desk as well as other cameras. And Belkin will make stands to hold the iPhone on your MacBook.
Now on to iPadOS.
Continuity can now use FaceID to seamlessly move your data and apps between your Apple devices. Pretty cool! The audience cheers at this. Continuity allows you to use your iPhone as a MacBook webcam in FaceTime now! 
Are we actually going to get gaming MacBooks? If MetalFX Upscaling works as well as Nvidia DLSS (and AMD's rival FidelityFX Super Resolution), then maybe we will. Exciting!
Metal 3 is the new API that will help games play. MetalFX Upscaling – is this like DLSS in Nvidia, rendering games at a lower resolution, then upscaling it using AI for better performance at higher resolutions. This is great to see, DLSS is a game changer for many games.
This is 'a new day for gaming on Mac' says Apple. And Resident Evil Village is coming to Mac.
Now on to… GAMING?!?! Apple Silicone means Macs can play the latest games with ease. Hmm, kind of, I found some games performed poorly, but there is some exciting possibilities.
Passkeys is added to Safari. Uses biometrics like TouchID or FaceID that keeps your accounts safe, and it means you can't be phished, and Mac, iPad, iPhone and Apple TV can use it.
Non-Apple devices will also be able to use it. Nice!
With macOS Ventura, it means Safari is the 'world's fastest web browser' according to Apple. Hmm, citation needed there, I think.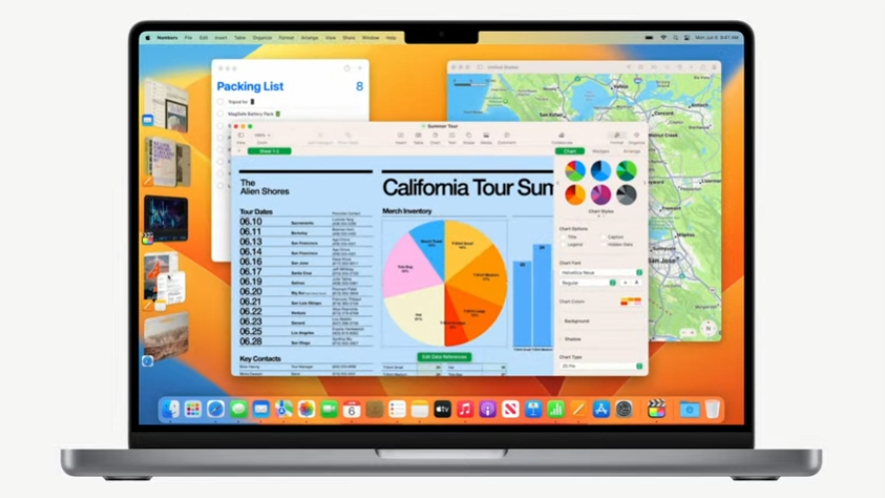 Mail app gets a big search overhaul now, so you get recently shared links, and suggestions pop up and help you find, even if you put in a typo. Coming to iOS and iPadOS as well.
Spotlight can find images from your library and the web, and use Live Text with it. Spotlight also gets better results, such as searching for bands, you'll see their albums, biographies and more.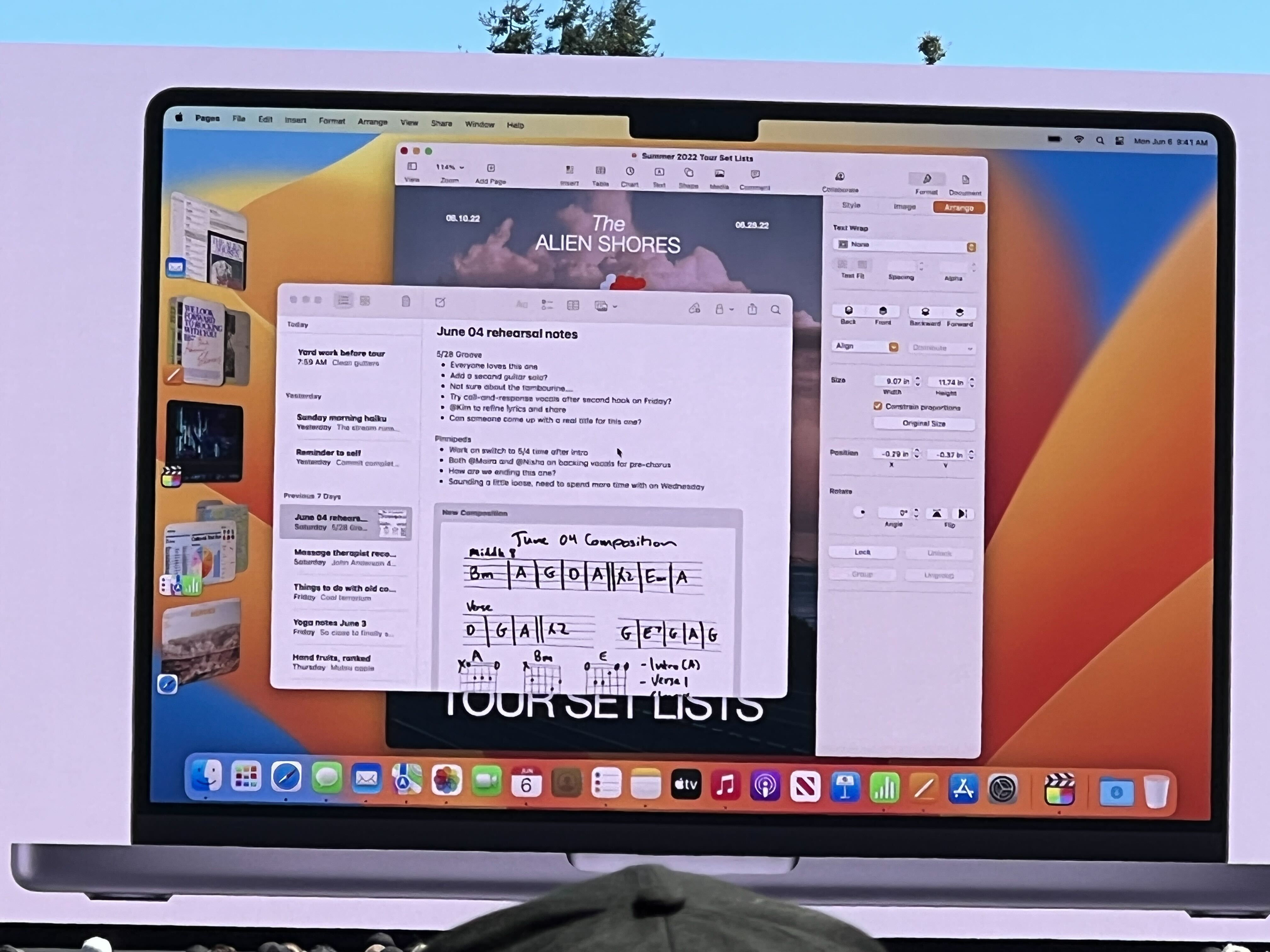 This is what it looks like: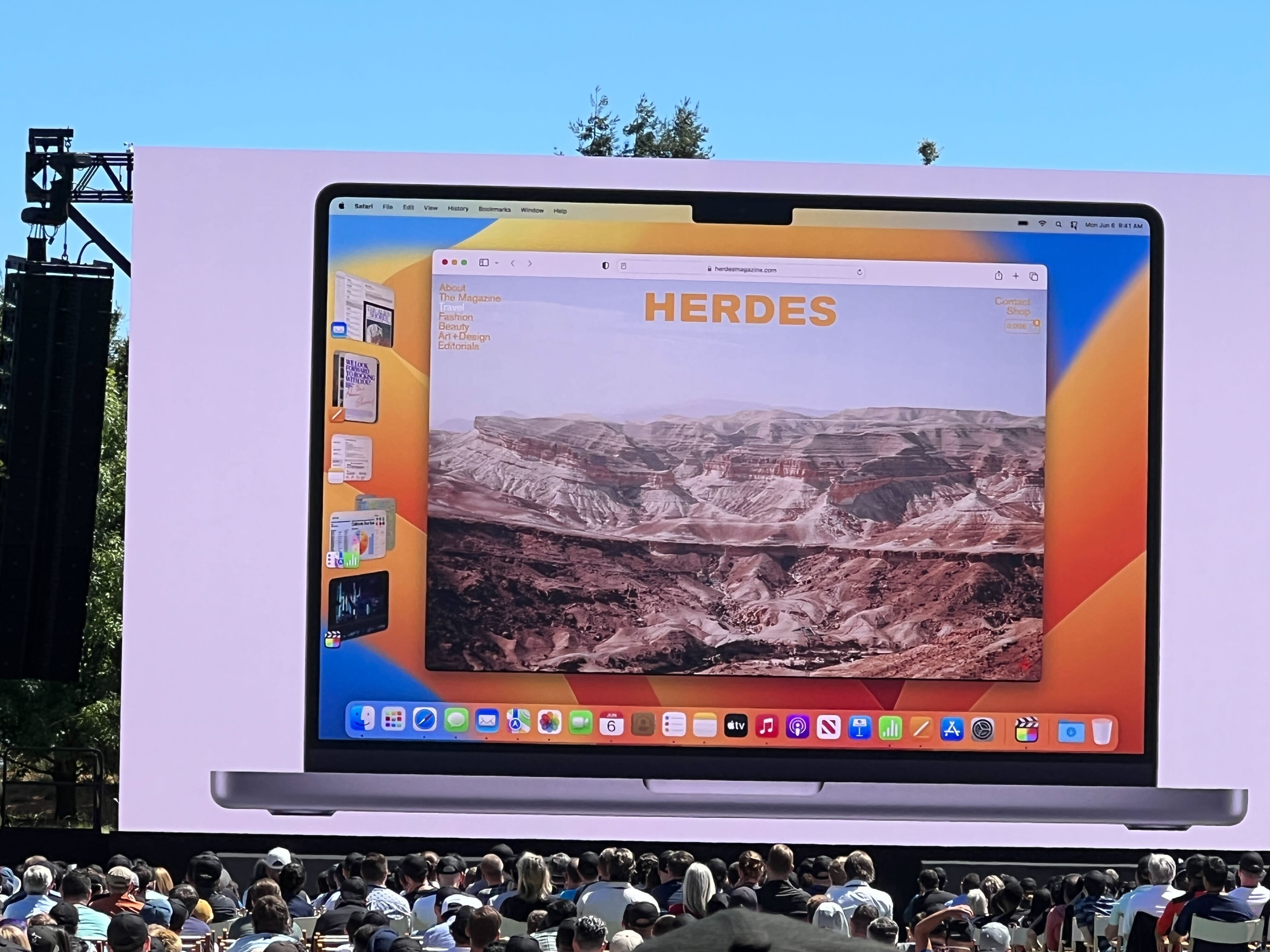 You can see the other apps are now moved to the left-hand side of the screen.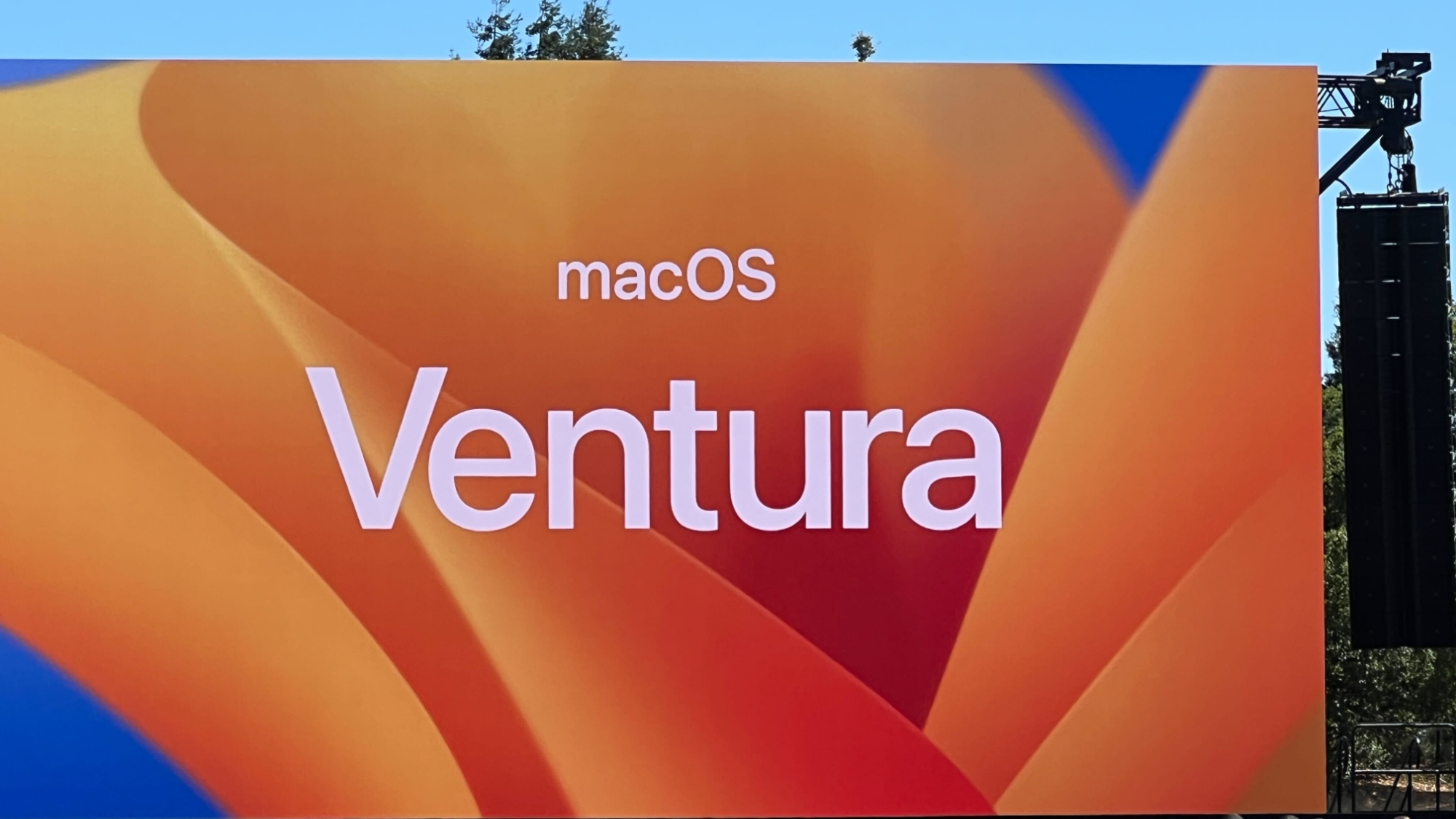 And here's the macOS Ventura logo.
New feature – Stage Manager. If you get loads of open windows, you can use Mission Control. But with Stage Manager, you can focus on the app you're using without distractions. It moves windows to the side, and the app you're using remains in the center of the screen.
I have loads of apps and windows always open, so this is definably helpful.
What could it be called? The Apple team has come up with…
Onto macOS! Here comes the name…
MacBook Air M2 starts at $1,119. M1 MacBook Air will remain at $899 and will still be sold.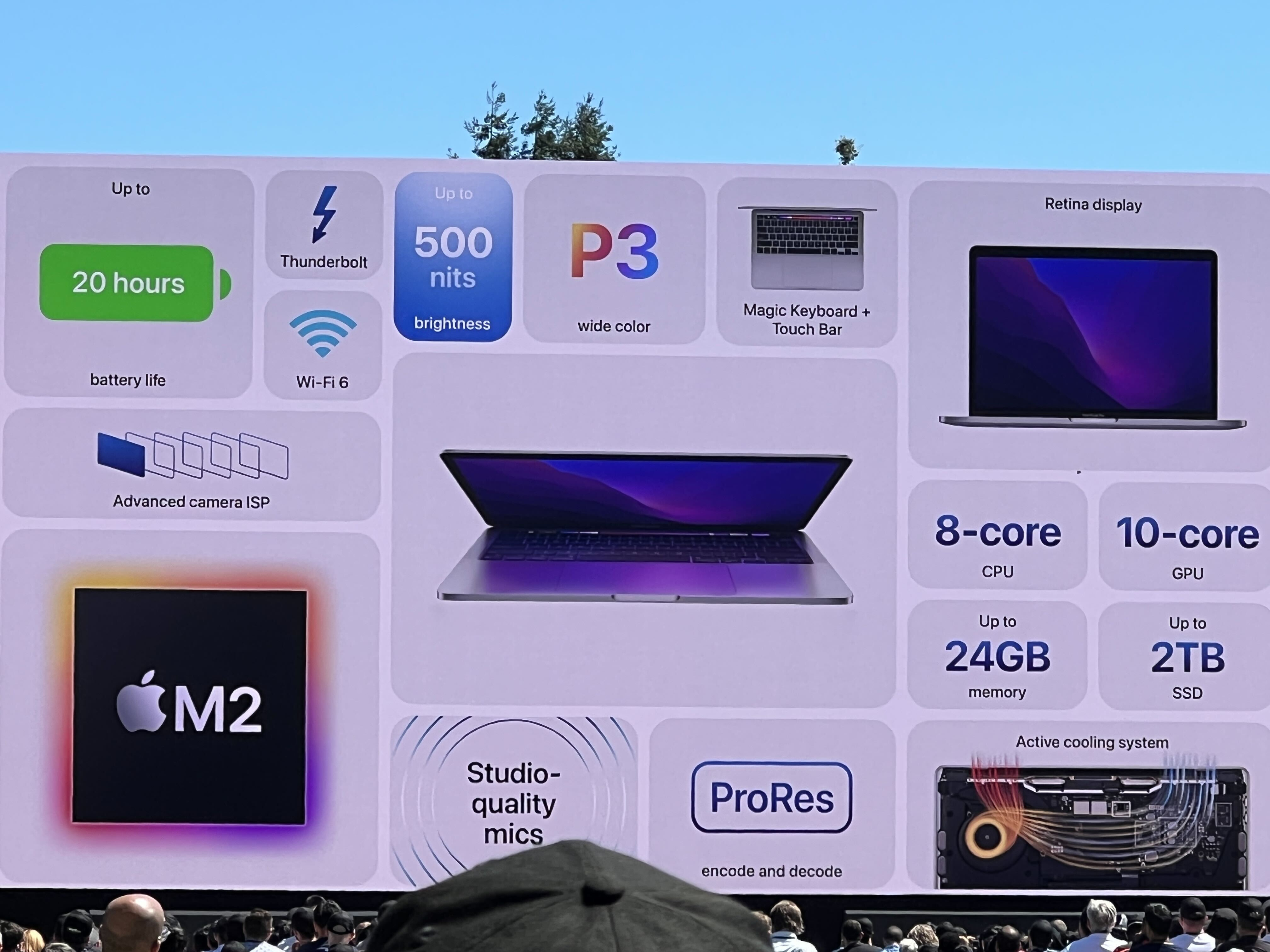 There was even mention of gaming on Baldur's Gate. 20 hour battery life.
Starts at $1,299 and both are available next month.
Only with M2 could you make a thin and light laptop like this. MacBook Pro 13-inch is also getting the M2! Bit more powerful than the one in the MacBook Air.
Silent and fanless again, and with the larger display and same 18 hour battery life. Nice! You get a compact charger with two Thunderbolt ports to charge, and it supports faster charging.
Thinner, lighter and faster.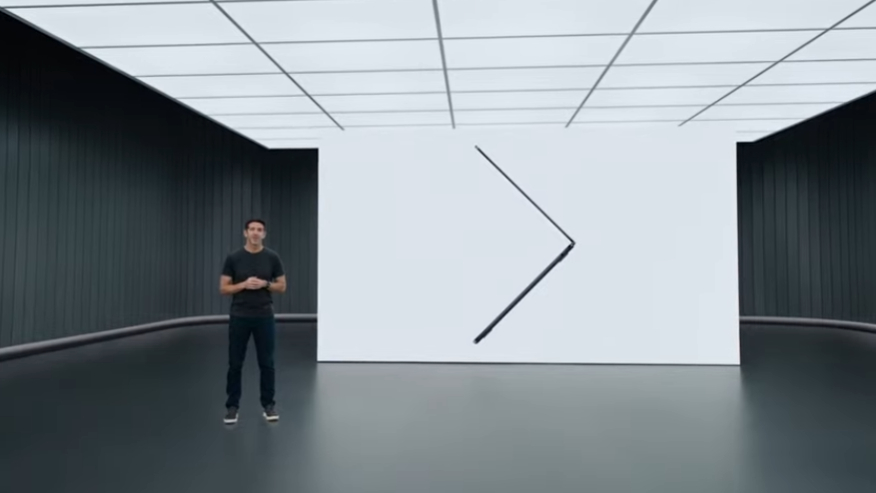 Now we get a video of it in action.
New 1080p webcam. This is great, as many of us still rely on video calls for work and school. M2's better image processing means the image should look fantastic as well. Dolby Atmos support is coming to MacBook Air, and a spacious trackpad.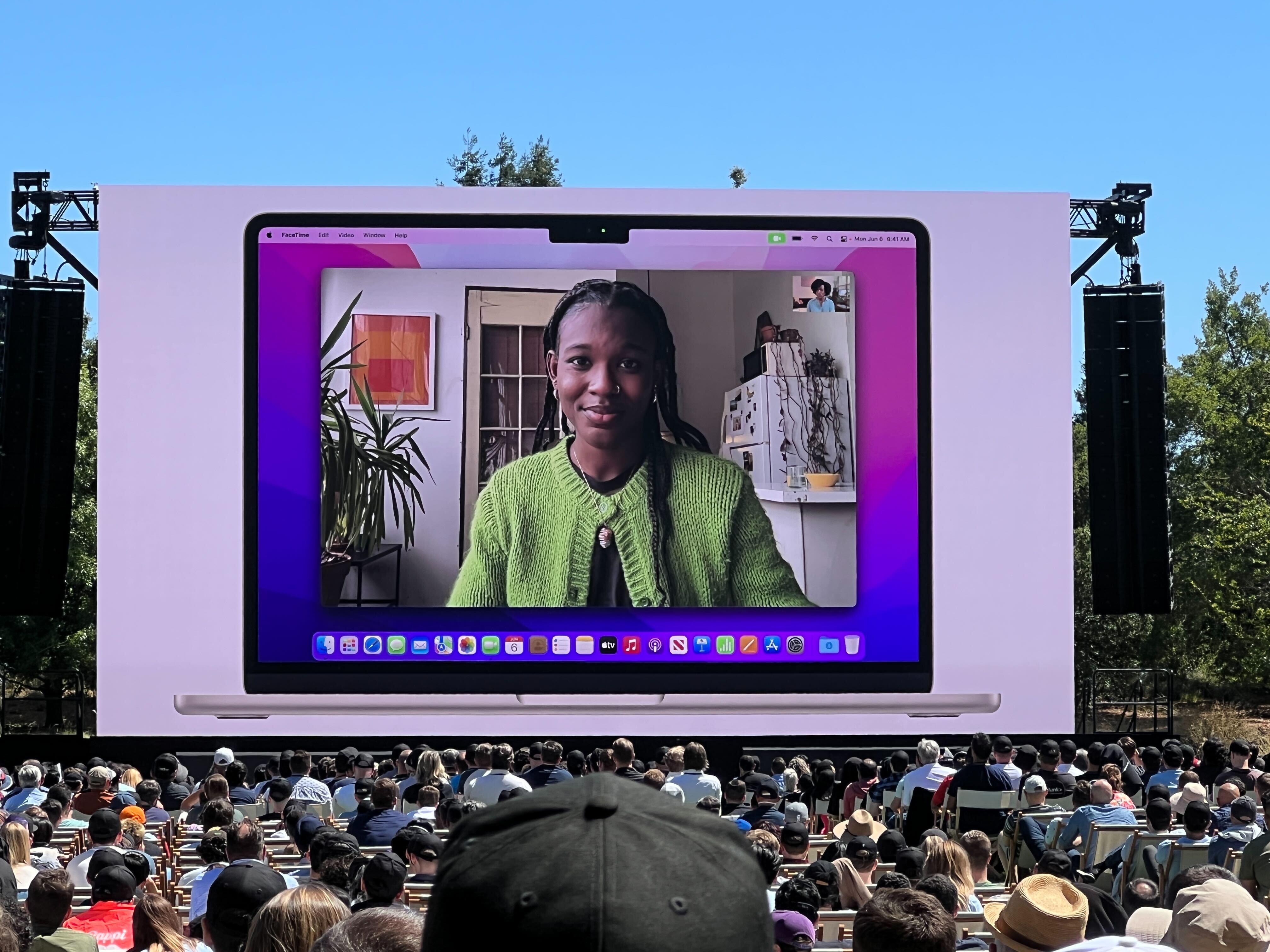 Liquid retina display. You get thinner borders and more screen – but the controversial notch from the new MacBook Pros had around the webcam.
Wedge shape is now thinner with a new design, with an all-aluminium body. 20% less body than old MacBook Air. Only 2.7 pounds. Super light. 
Magsafe is back! The four colors are a bit limited though.
I LOVE the MacBook Air, and so this is exciting. It comes in new colors!
MacBook Air is the world's best selling laptop, apparently. Now this new MacBook Air is completely redesigned around M2.
18% faster CPU, 35% faster GPU. And now the first Mac to get the M2 – the MacBook Air!
M2 also gets next-gen Neural Engine. 40% more power than M1. And new media engine.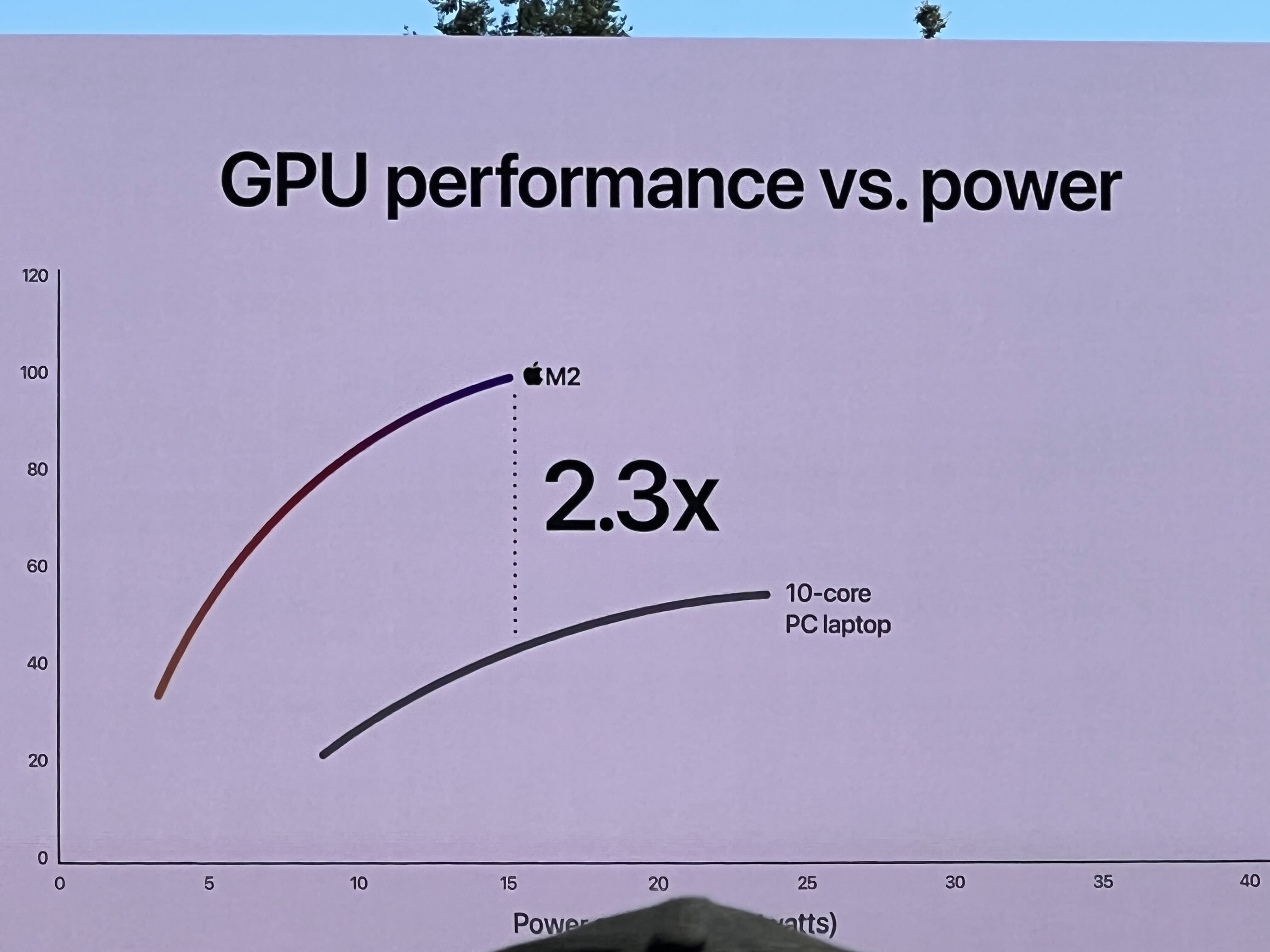 So, a big leap over the M1. Nice!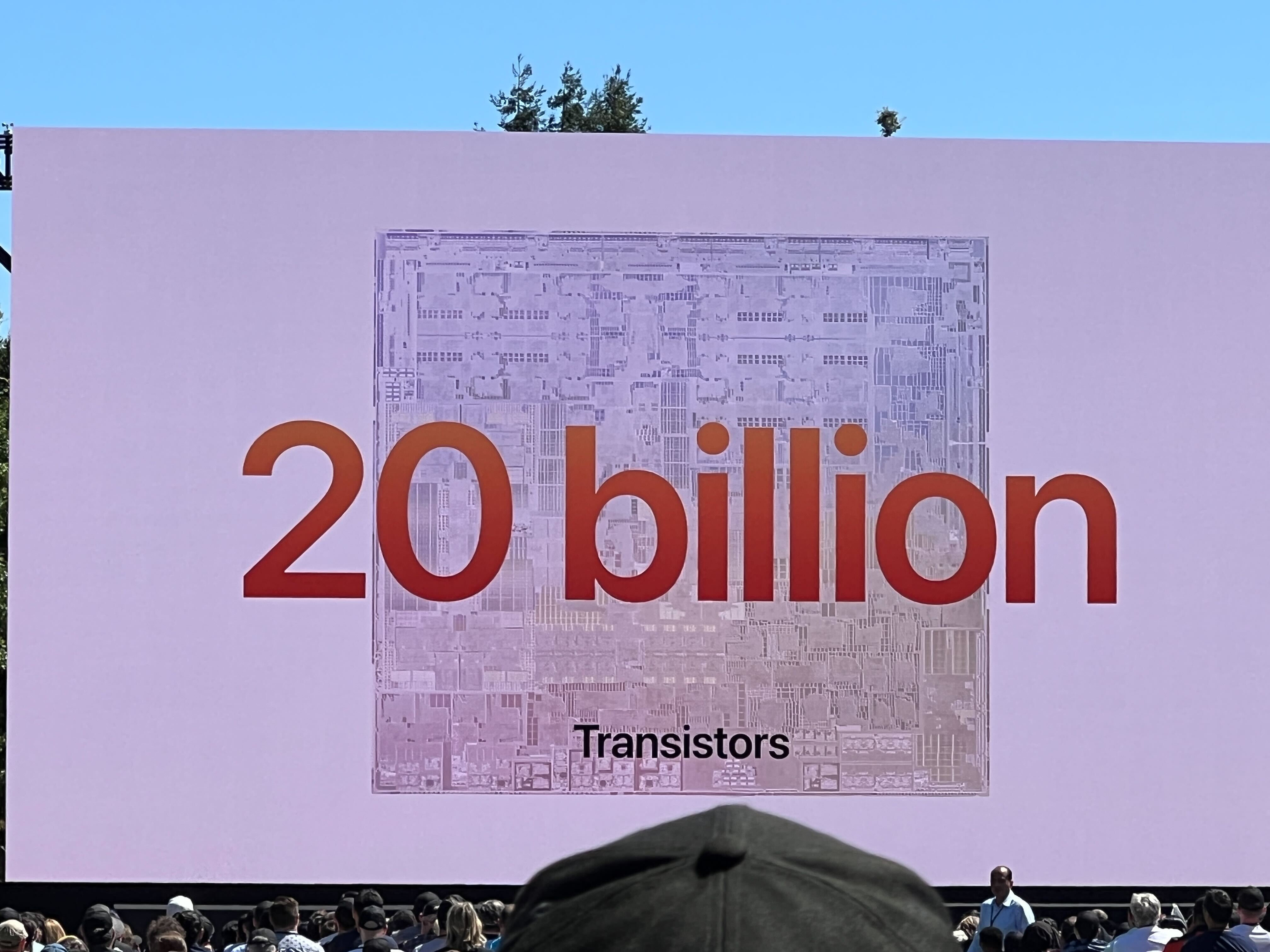 Now we get some graphs! M2 system uses just 1/4 of the power of a rival PC. GPU is now 10 core, which is 2 more than M1. 25% better on average to M1, but with the same power efficiency.
The M1 chip is excellent so excited to see the M2. It's coming to their most popular Macs.
20 billion transistors and 5nm design. 50% faster memory bandwidth, and up to 24GB of unified memory, nice! M1 was limited to 16GB.
Now it's on Macs! Talking about Apple Silicon that started with M1 family of chips. These have been great. And they are talking the next generation of Mac Silicon – M2!!!!!!!!!
The app will let you log your medication, and you'll also get warnings about side effects and other details to help keep you safe. Apple is working with big health companies to ensure this is accurate and safe.
All this health data is kept on the device and encrypted, as this is obviously VERY sensitive information you're sharing.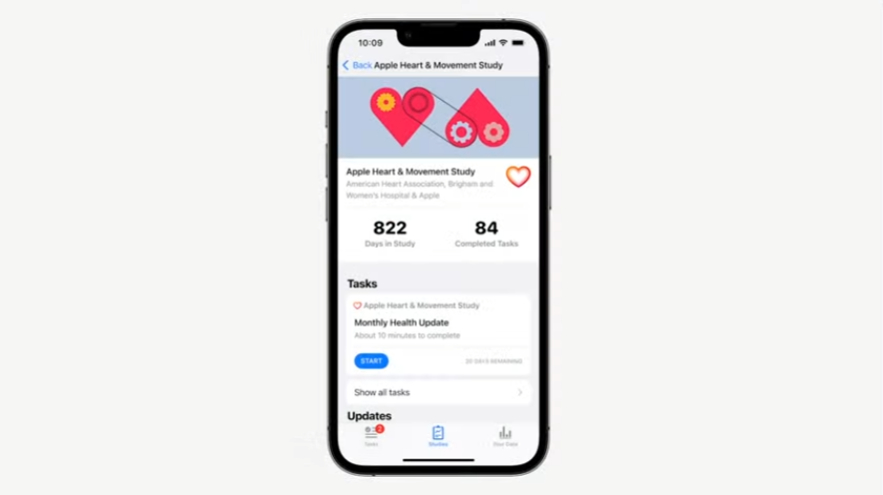 Lots of new features coming to WatchOS 9 for heart health, including afib history. There's also a new Medications apps that lets you keep track of the medication you need, and rich complications can help you keep track of when you need to take certain medication.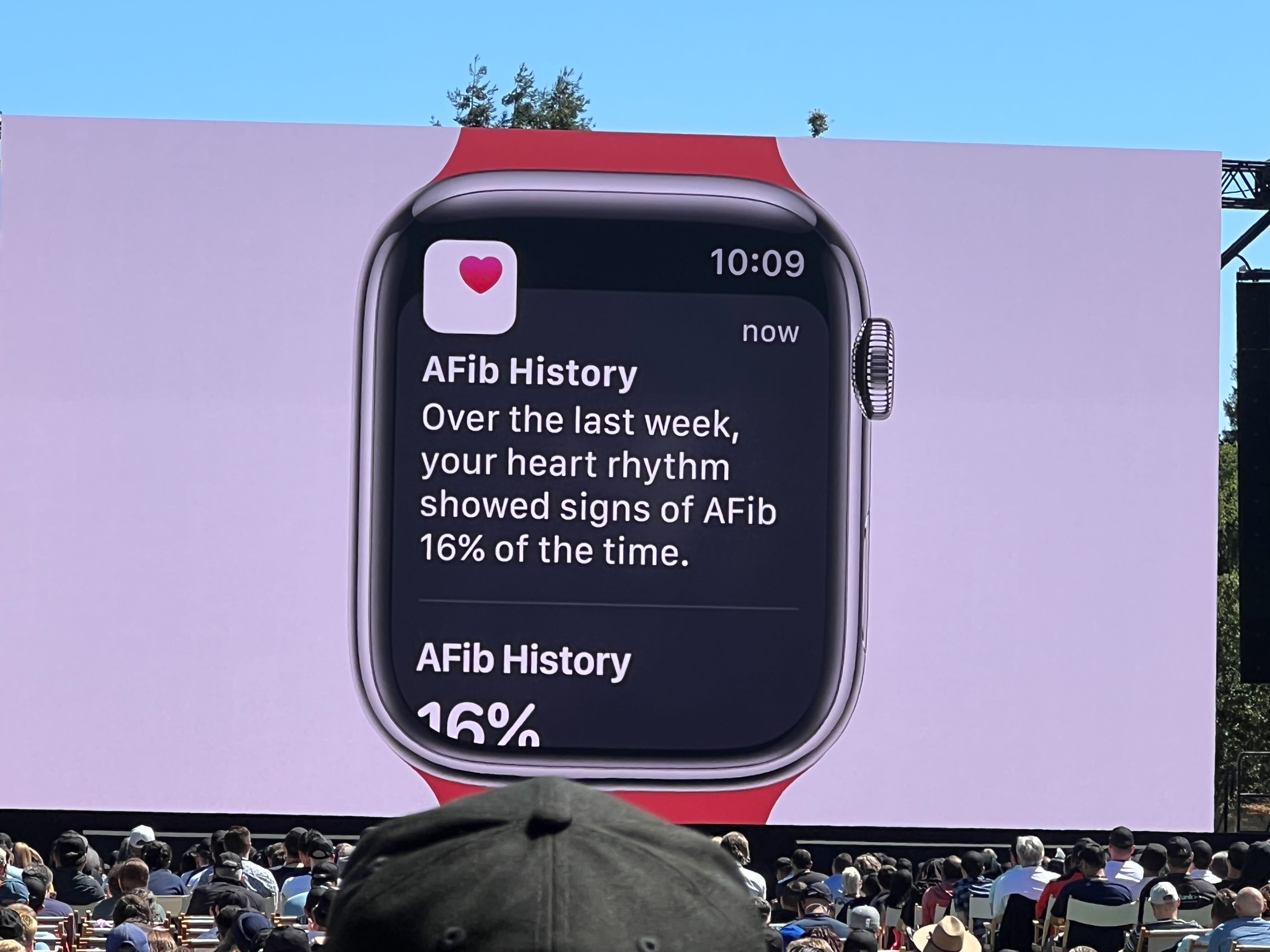 Also, the sun has now moved behind the Apple Park building and oh gosh the shade it is lovely.
Workout app looks to be getting some great updates with WatchOS 9. iOS 16 is also bringing the Fitness app to all iPhone users, using the sensors in the iPhone to track your workouts and movements.
Can help get iPhone users into getting more healthy with these features, and if they like it, then moving to the Apple Watch will give you even more features.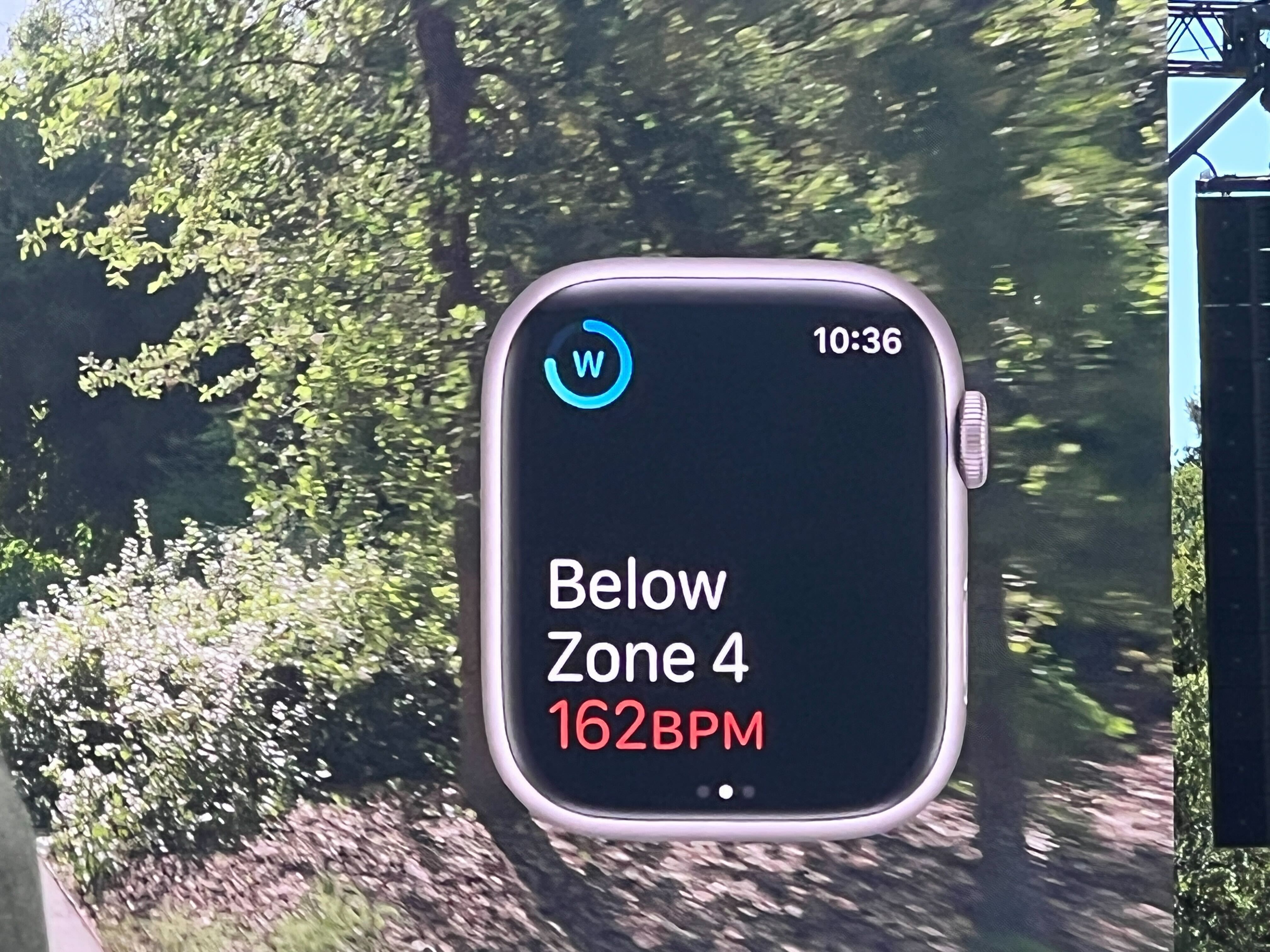 I am of peak physical perfection, so I do not need these features (OK, so not really but if you want me to run, you'll need to chase me with a stick), but people who use their Apple Watch for fitness will really like these new features. Lots of clever machine learning additions.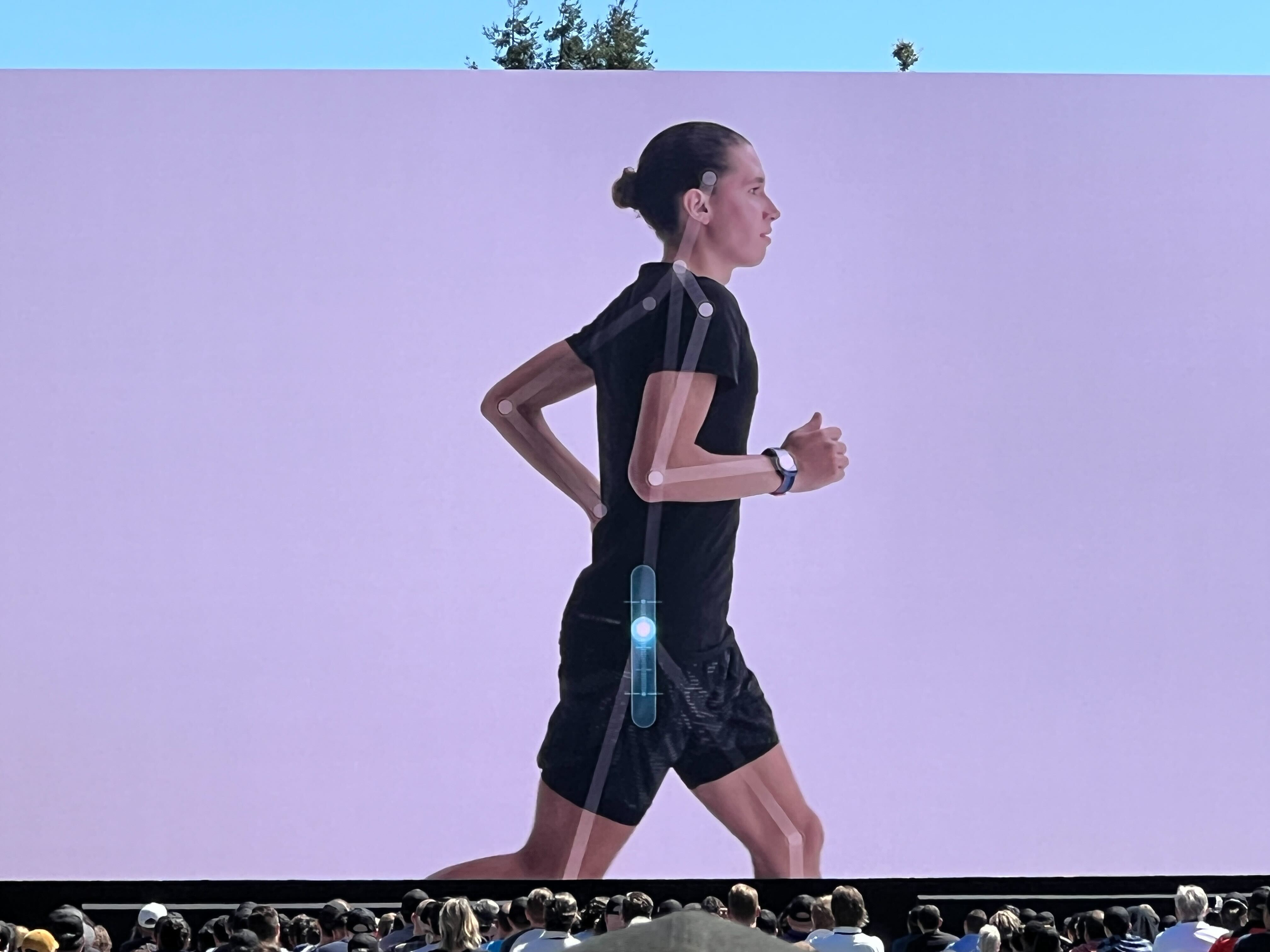 WatchOS 9 is getting workouts from professional athletes. New running metrics helps better track how you run – which is complicated when using the wrist to measure performance.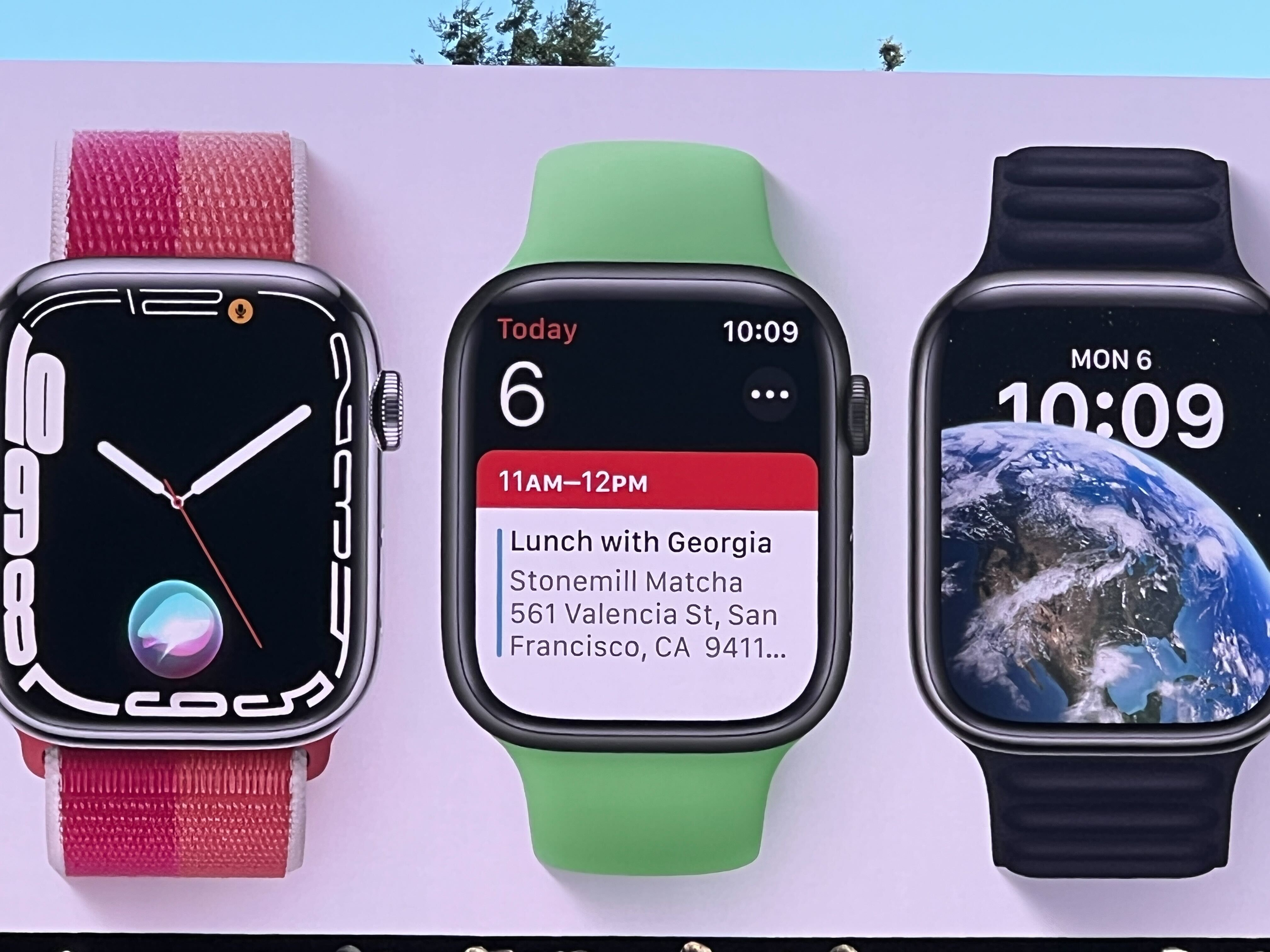 They look fun. Rich Complications are coming to more Faces, and Siri is being improved in WatchOS 9. There's a Podcast app that lets you search and add new Podcasts via Siri.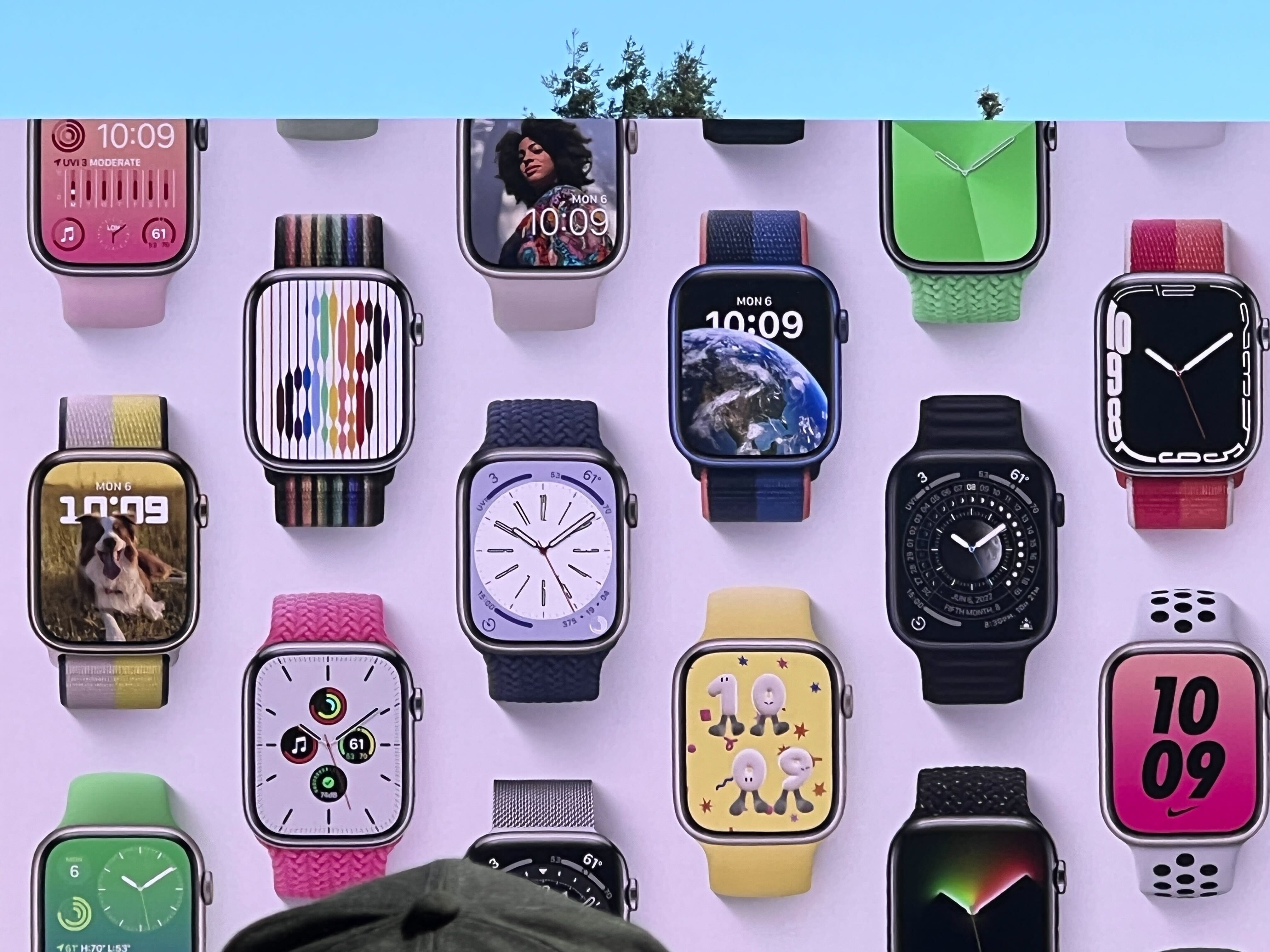 WatchOS 9 has four new watch faces.
Now we're talking Apple Watch!
It really looks great. Would love it in my car. Not that my car would be able to handle it, as it is RUBBISH.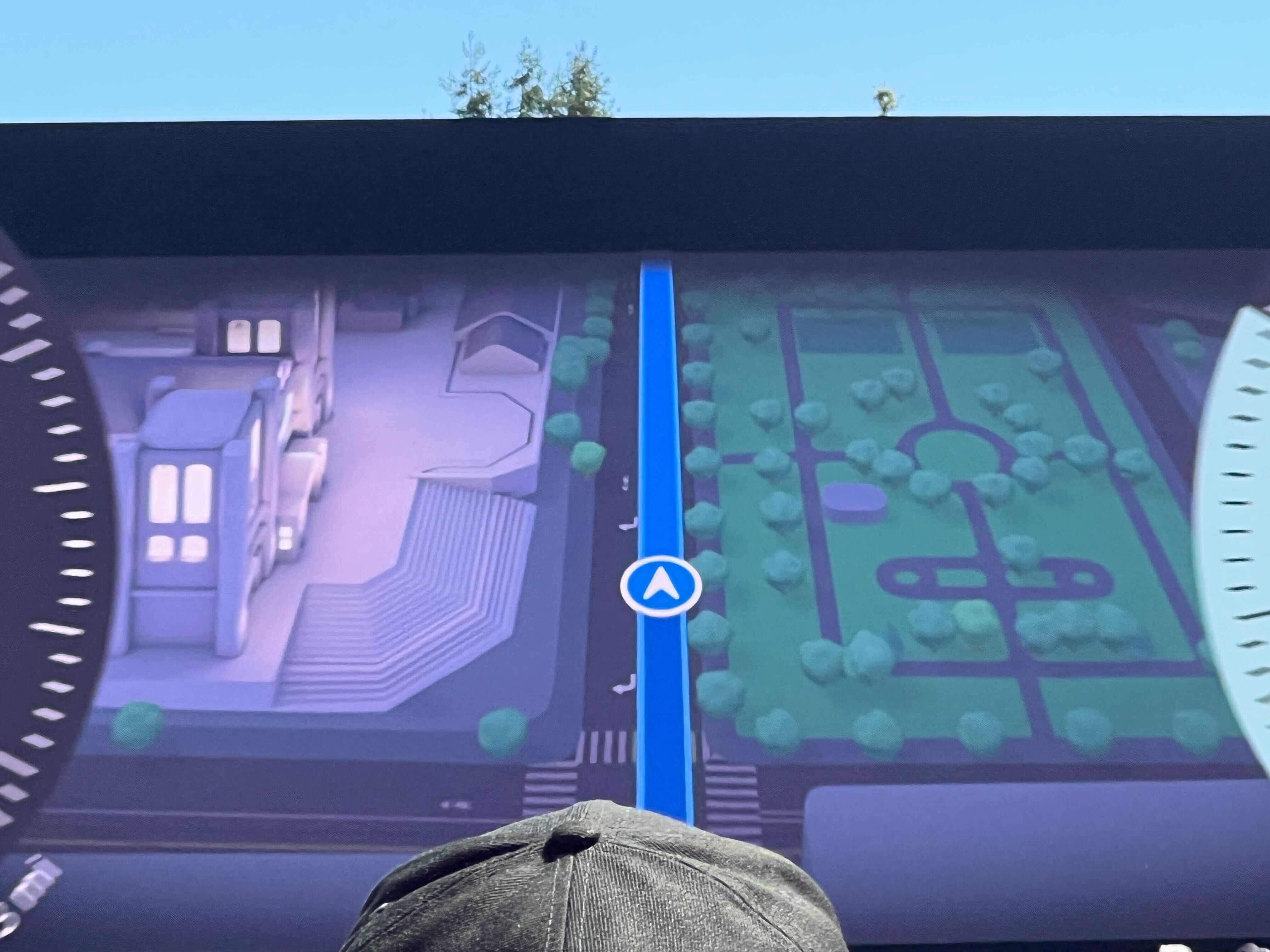 There's themes, styles and automakers around the world are excited to bring it. Vehicles will be announced next year.
It looks great. It gives a 'unified' experience that brings out the best of your car and your iPhone. You can tune your radio and change the aircon in the car without leaving Car Play. This looks big. Instrument clusters (so speed, revs, etc) and it shows all of it in a really attractive design.
Now on to Car Play. Apple has been working with automakers to make a 'next generation' of Car Play, changing the experience for drivers for all their screens.
Apple just announced a new layaway system for Apple Pay. It's named — beautifully — Apple Pay Later…And it breaks purchases down into 4 payments across 6 months, all with 0% interest.#WWDC22 pic.twitter.com/DGpO9v3jTMJune 6, 2022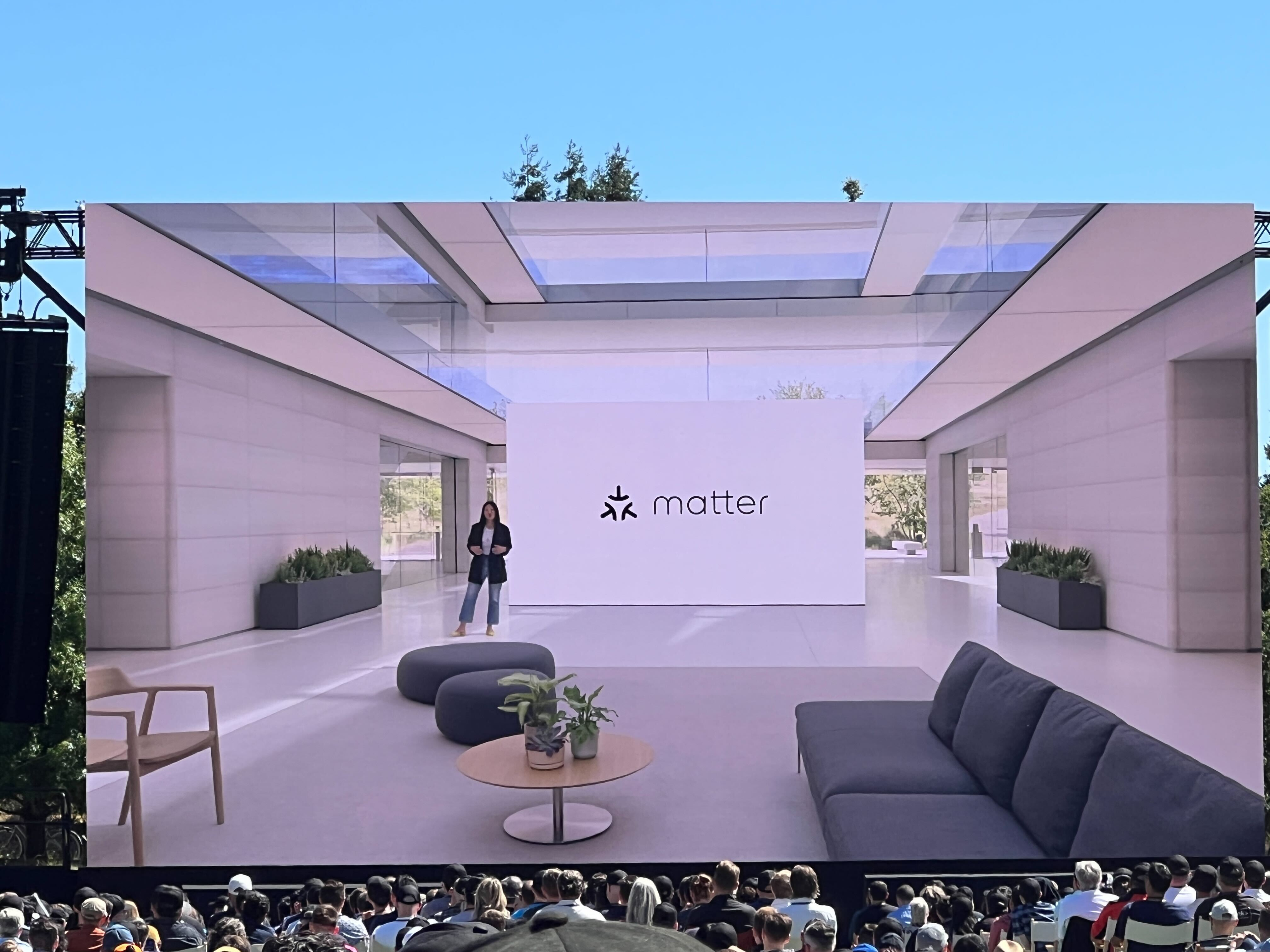 Now talking about Matter – for smart home devices to work together no matter the platform they use, and industry leaders have signed up.
Apple's talking about security, and how the company will continue to add features, while making it easy to add and control your smart home devices.
We've been getting a lot of comments from our tweet about Apple Pay Later. What do you think? Let us know!
It's an important consideration, and it's good that Apple has thought carefully about how it can protect victims of domestic abuse who may have given their abusive partner access to their accounts.
Safety Check is now being discussed, and this is a new section in settings that allows you to quickly revoke access from abusive partners. It will stop location sharing with FindMy and restricts access to messages by logging out of your devices.
The feature is called iCloud Shared Photo Library.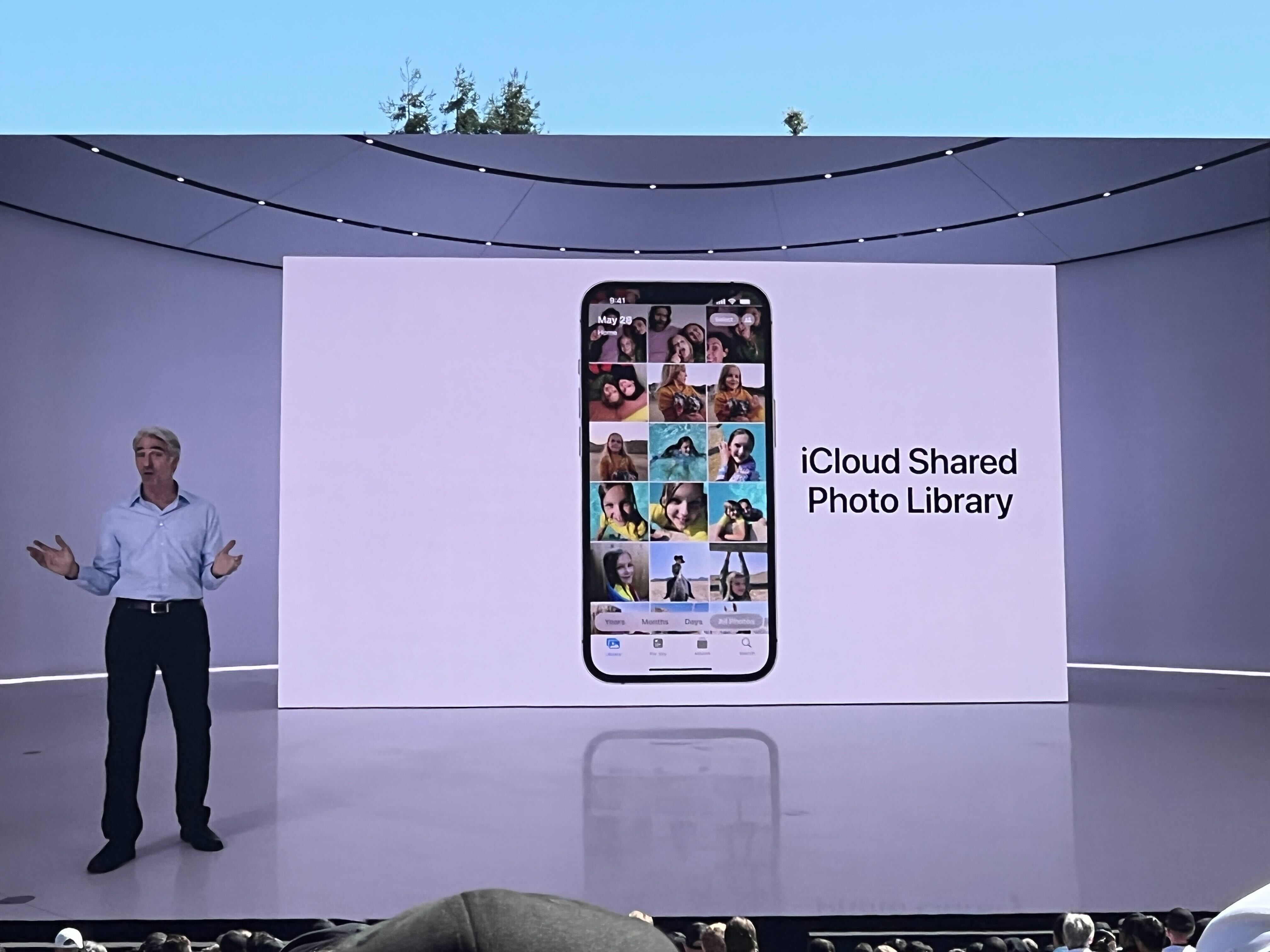 Back to Photos, and you can pick which photos you share in a shared library with other members of the family. Everyone can edit, delete and sync, and the photos will appear in all of their memories.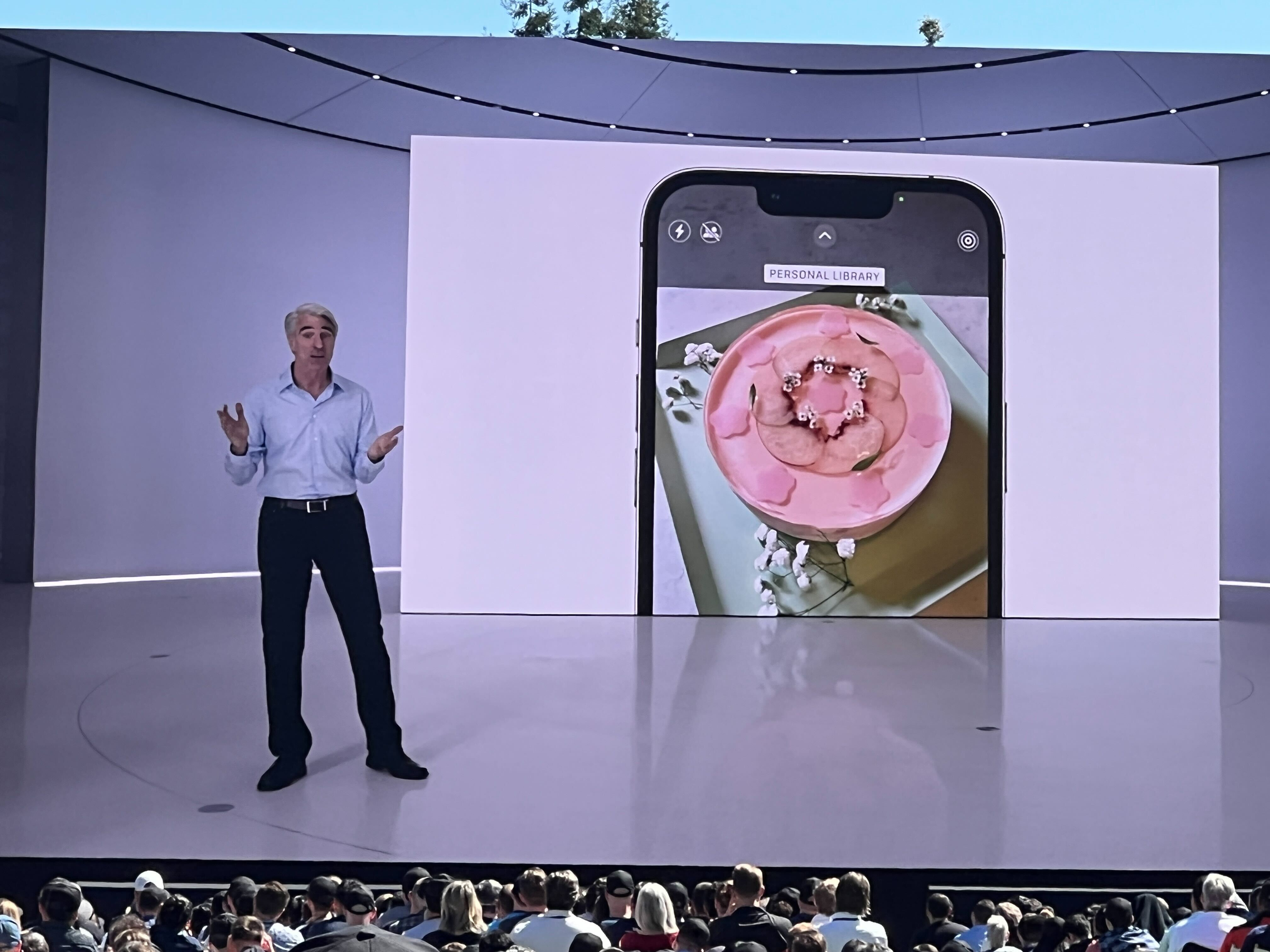 Here is Craig in a tracksuit, for anyone who wants a new iPhone lockscreen.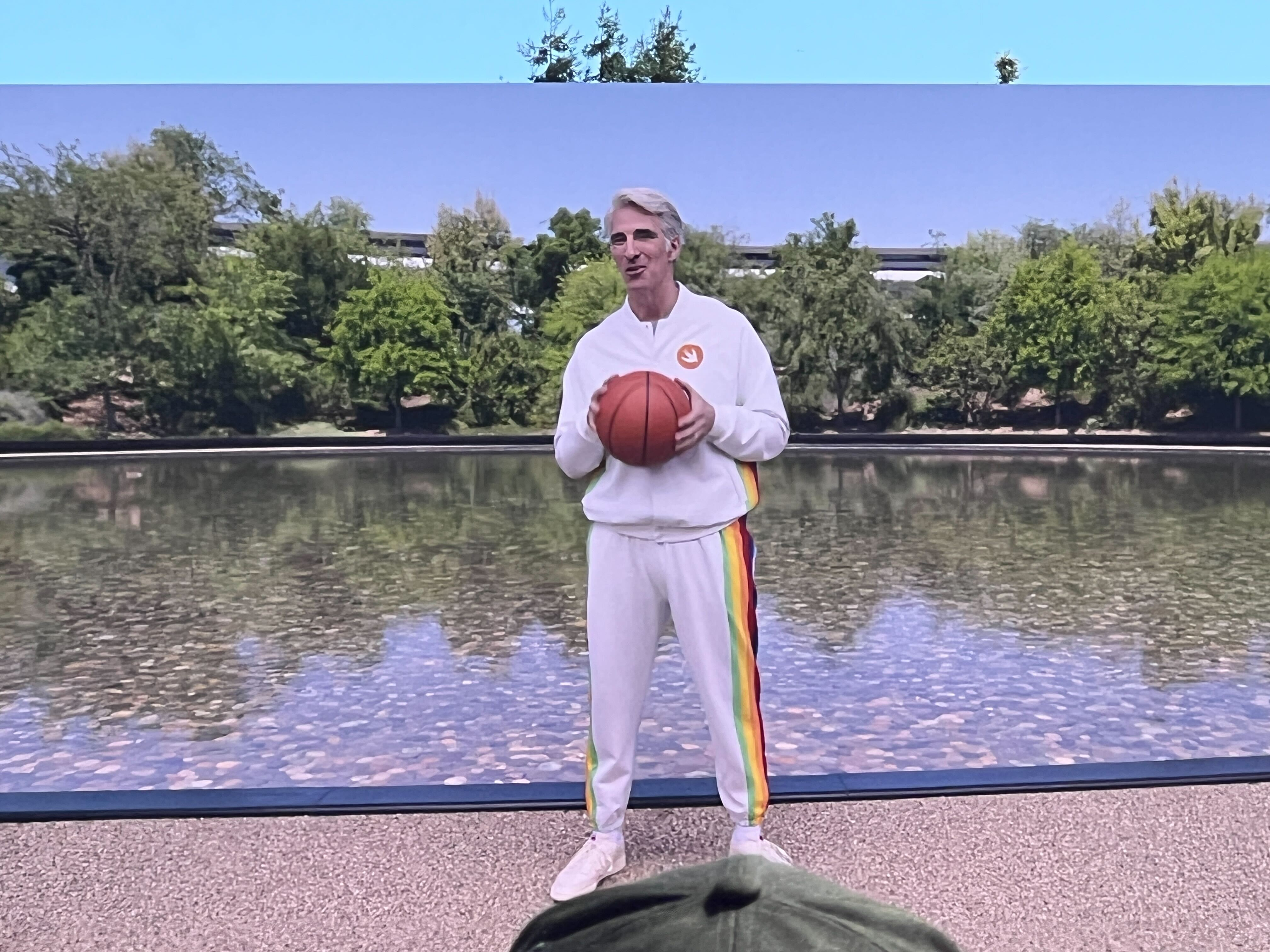 There's now more Family Sharing settings, including more parental controls to keep your children safe, while sharing your subscriptions.
Also photo sharing amongst family members is being improved.
Lots of stuff about sports that lets your favorite sports teams, in US, UK, Canada and Australia, with MySport. Not just news, but it also syncs with Apple TV+. Nice, if you like sports. I don't.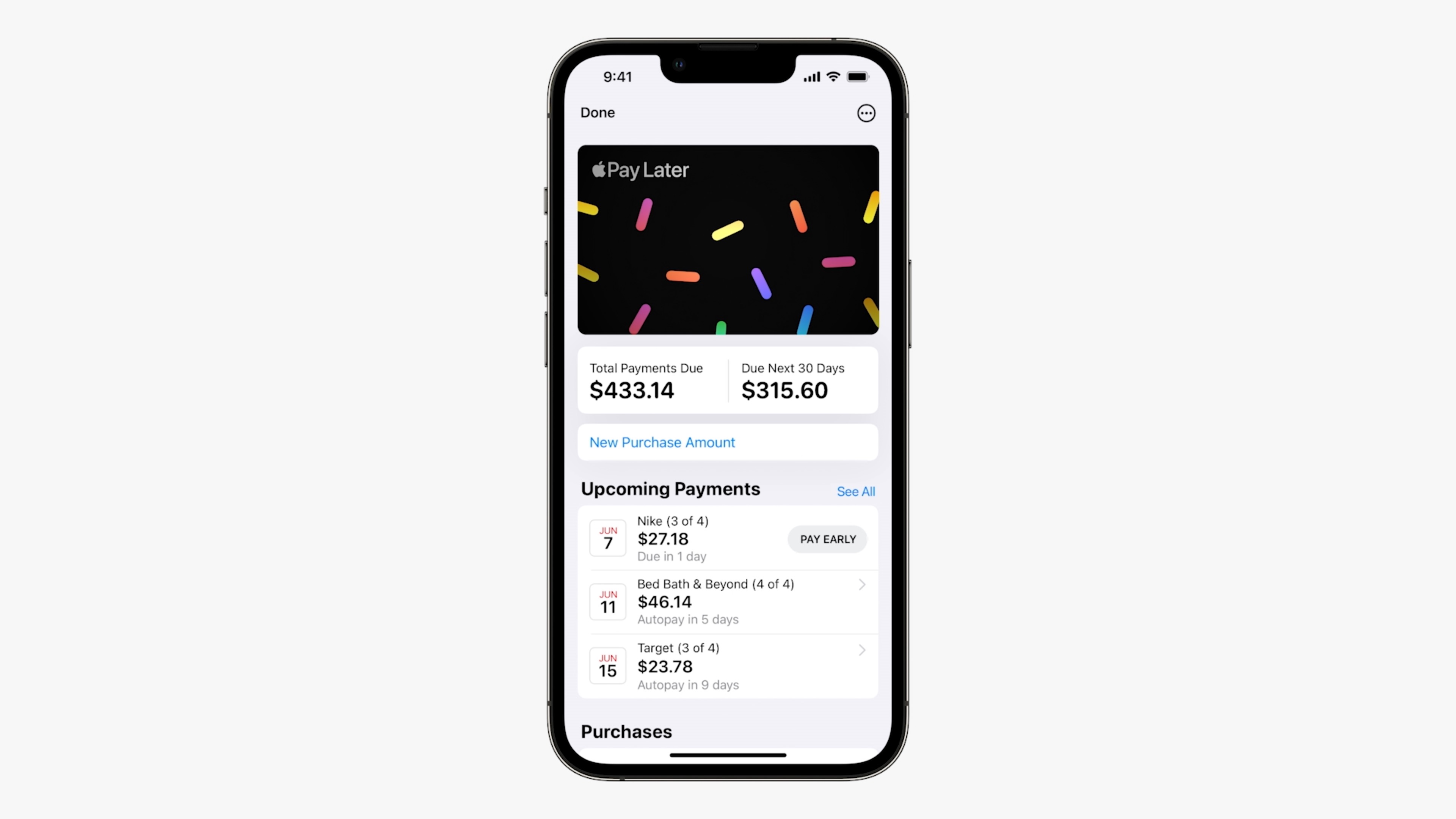 Oh gosh, Craig is back in a tracksuit to talk 'Sports'.
Devs will have faster and more flexible ways to add Maps functionality to their own apps with server-side APIs.
You can also now add transit payment cards to Wallet, as well as top it up if you need to, all within Maps.
iOS 16 gets new Maps features, with multi-stop routes, and you can make them on a Mac, then send it to an iPhone. You can also use Siri to add more stops.
Now mentions Apple Pay Later, which allows you to pay for an Apple Pay purchase in four payments with 0% interest. Apple says this mean you can pay for more expensive items easily, but Buy Now Pay Later schemes are controversial, encouraging people to buy things they can't afford and get in trouble. Apple says Apple Pay Later will make sure people stick to a budget. Hopefully this helps.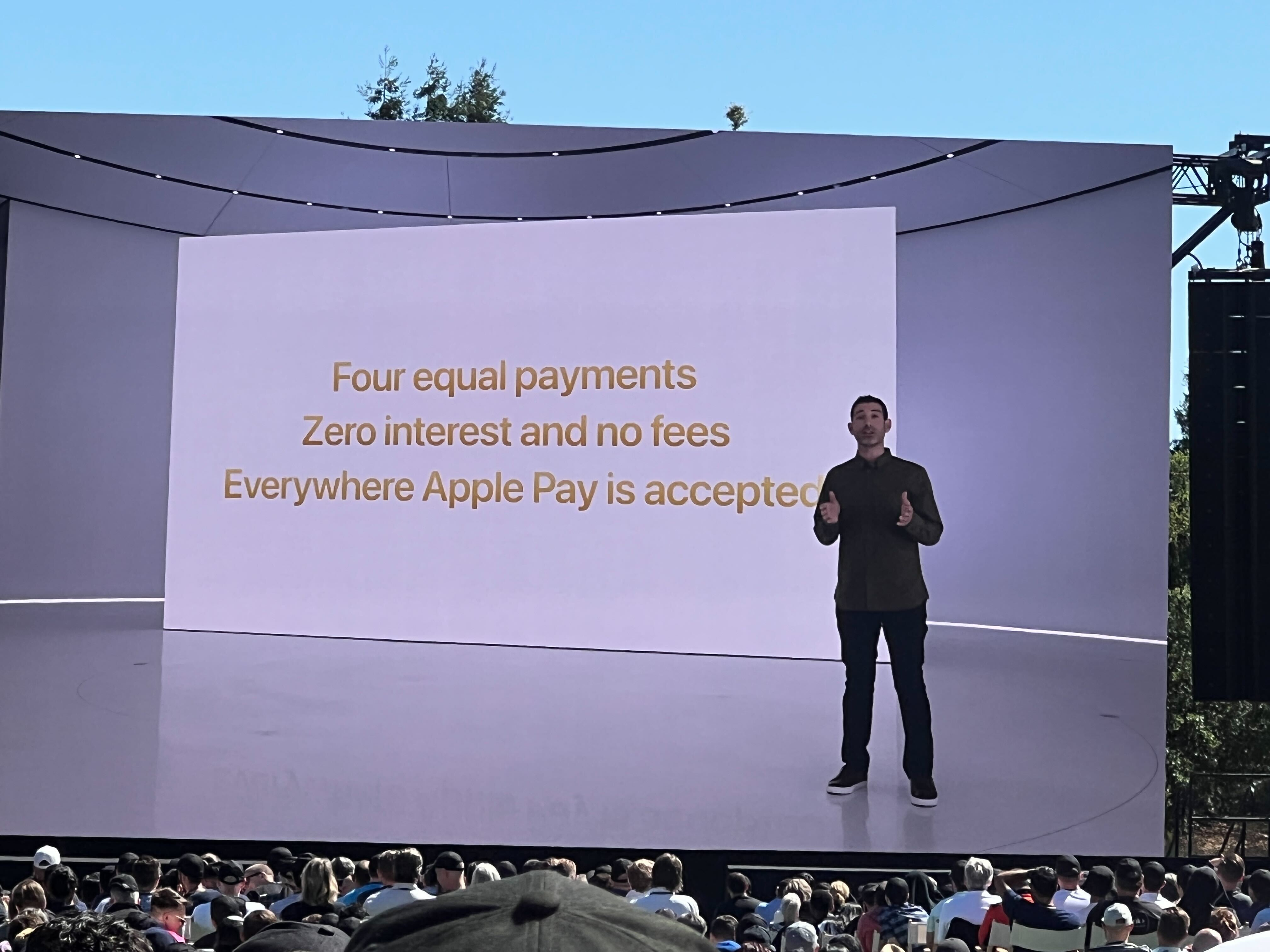 Apple Pay is expanding with Tap to Pay by iPhone, so retailers can use their iPhones, like small shops, to securely accept contactless payments. That's really cool.
Now we're on to what's new in Wallet. Has been deployed in more States in the US for ID. Only the necessary information is shared – so if you need to prove you're over 21, the app can do that without revealing your entire birthday. 
Live Text now works with Translate app, and the API has been made available for third party apps. Visual Lookup and Live Text can also identify objects in photos and let you paste them in other apps and messages. Pretty cool!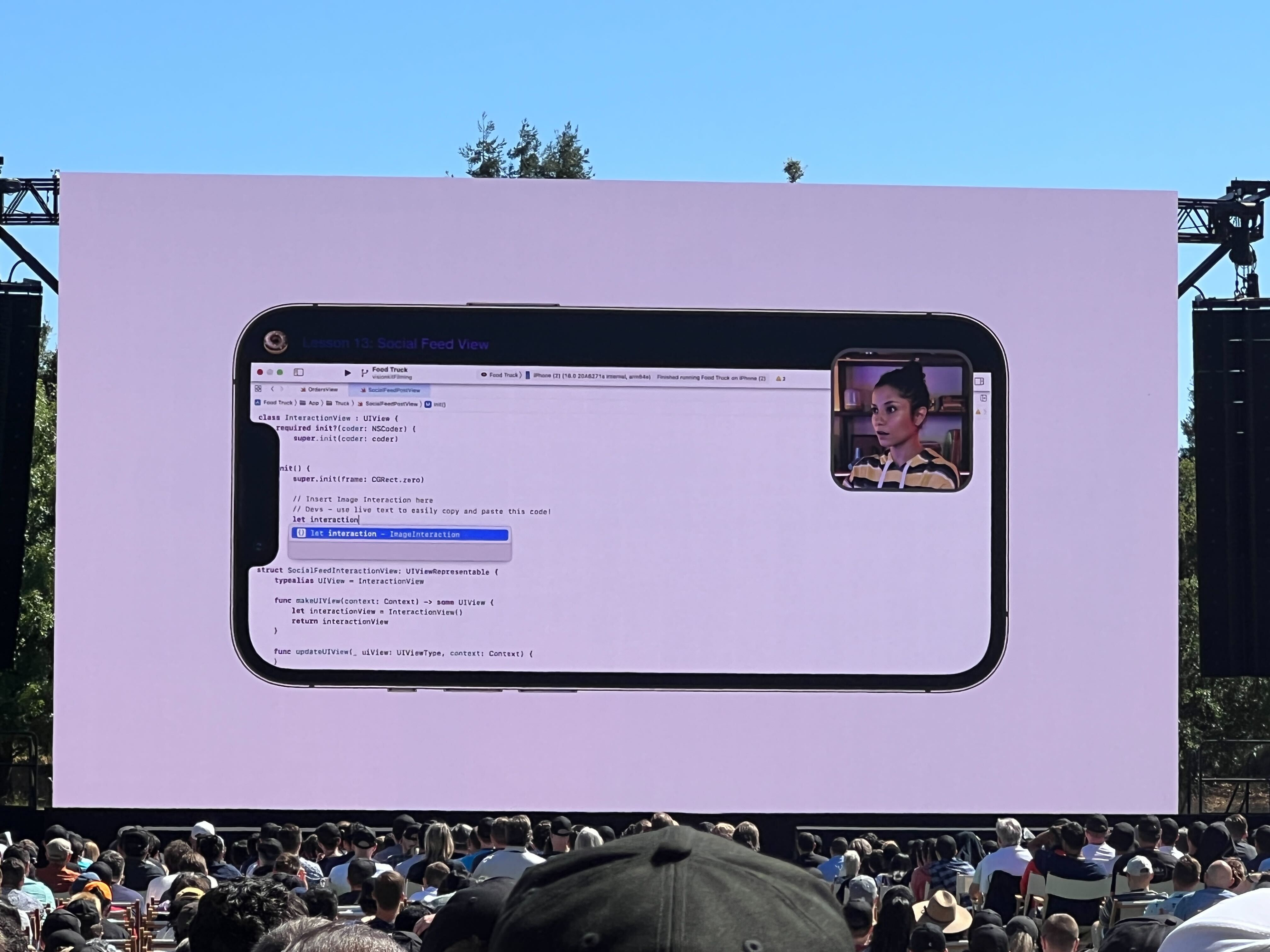 Now we're on to improvements with dictation, and using your voice to write messages and notes.
With the Neural Engine, all dictation is done on-device, so your privacy is protected. And now you can seamlessly switch between diction and typing. And you can also add automatic punctuation, as well as emojis using your voice.
This all works with Siri as well, and app devs will be able to make use of this.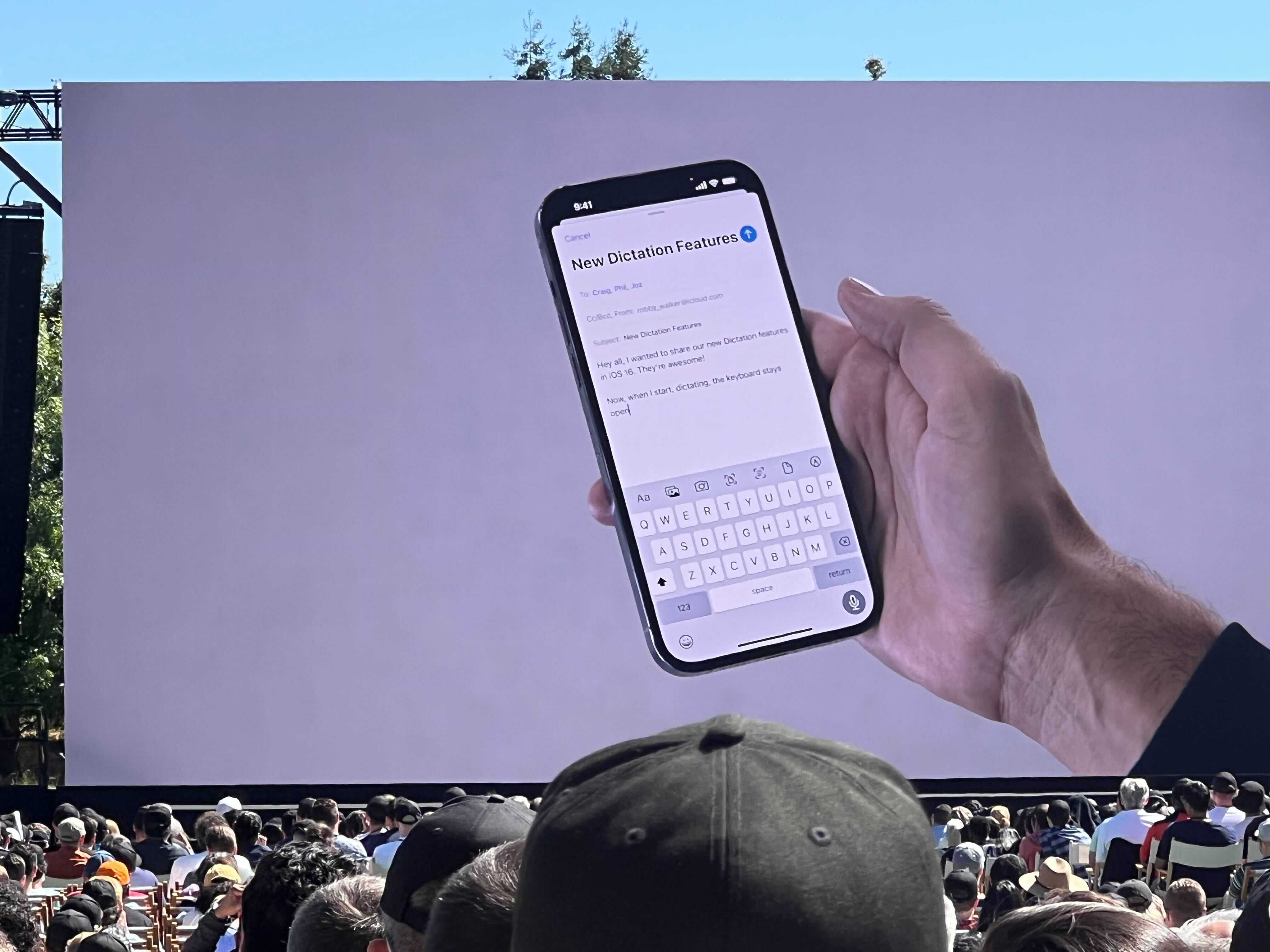 Now we're on to messages. You can now edit sent messages you accidently fired off, and even delete a sent message before it's read. It's a really handy feature, and it gets a loud cheer from the crowd. We've all been there, so this could be very useful for those of us with rubbish typing abilities. Is this the death of the typo in messages?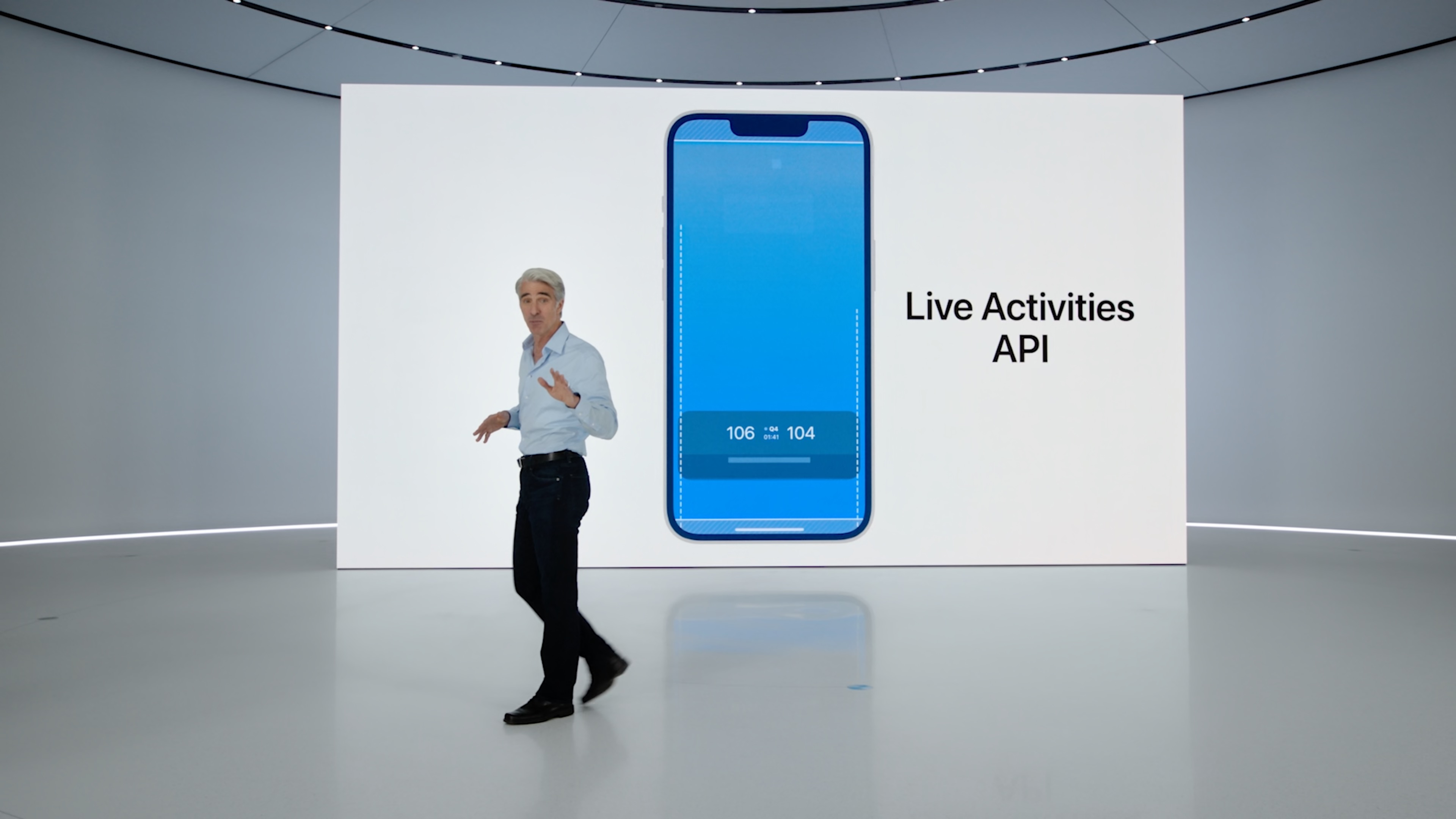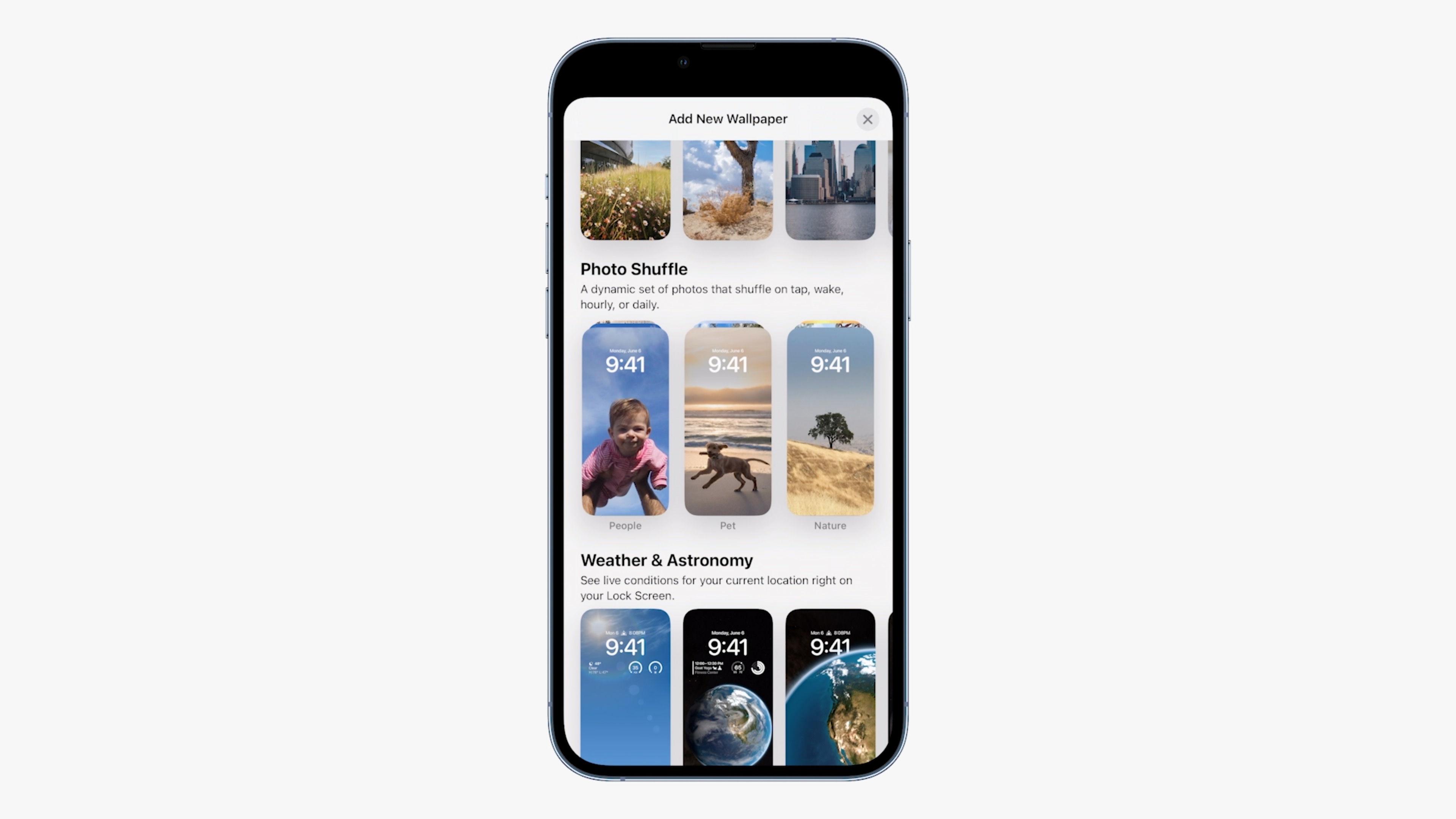 Our Deputy Phones Editor, Tom Bedford, is a bit worried about how easy it could be to accidently edit your lockscreen. "no more buttdialing, you're going to butt-edit" adds Content Director Jeremy Kaplan. Thanks Jeremy.
Here's a look at the new notifications in iOS 16 on the lockscreen.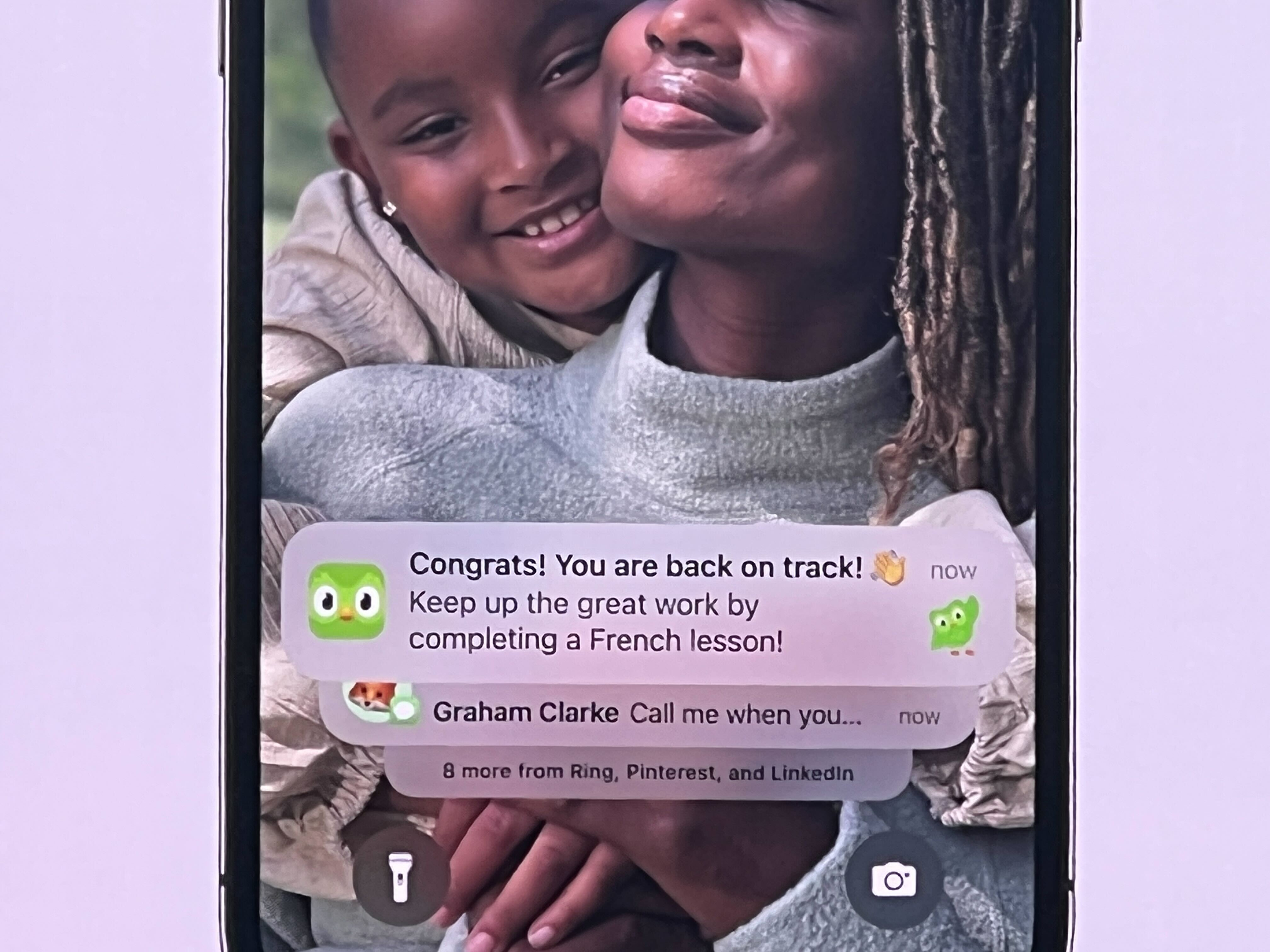 As our Senior Home Ents Editor, Matt Bolton, has just pointed out, the iOS lockscreen seems very inspired by the Apple Watch.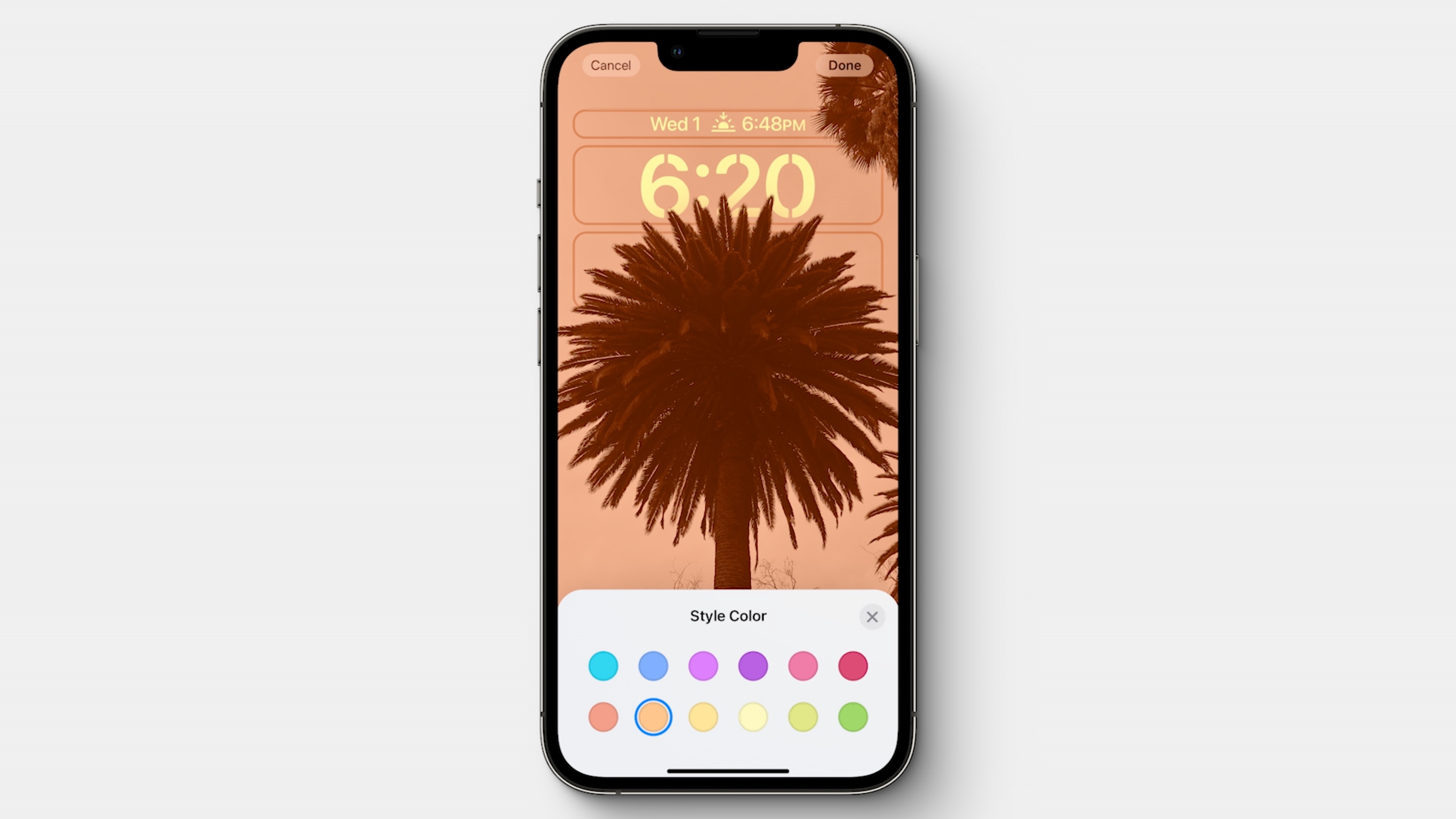 Locks great, and devs will be able to add info from their apps on the lockscreen. Notifications are now different – come in from the bottom and can be hidden.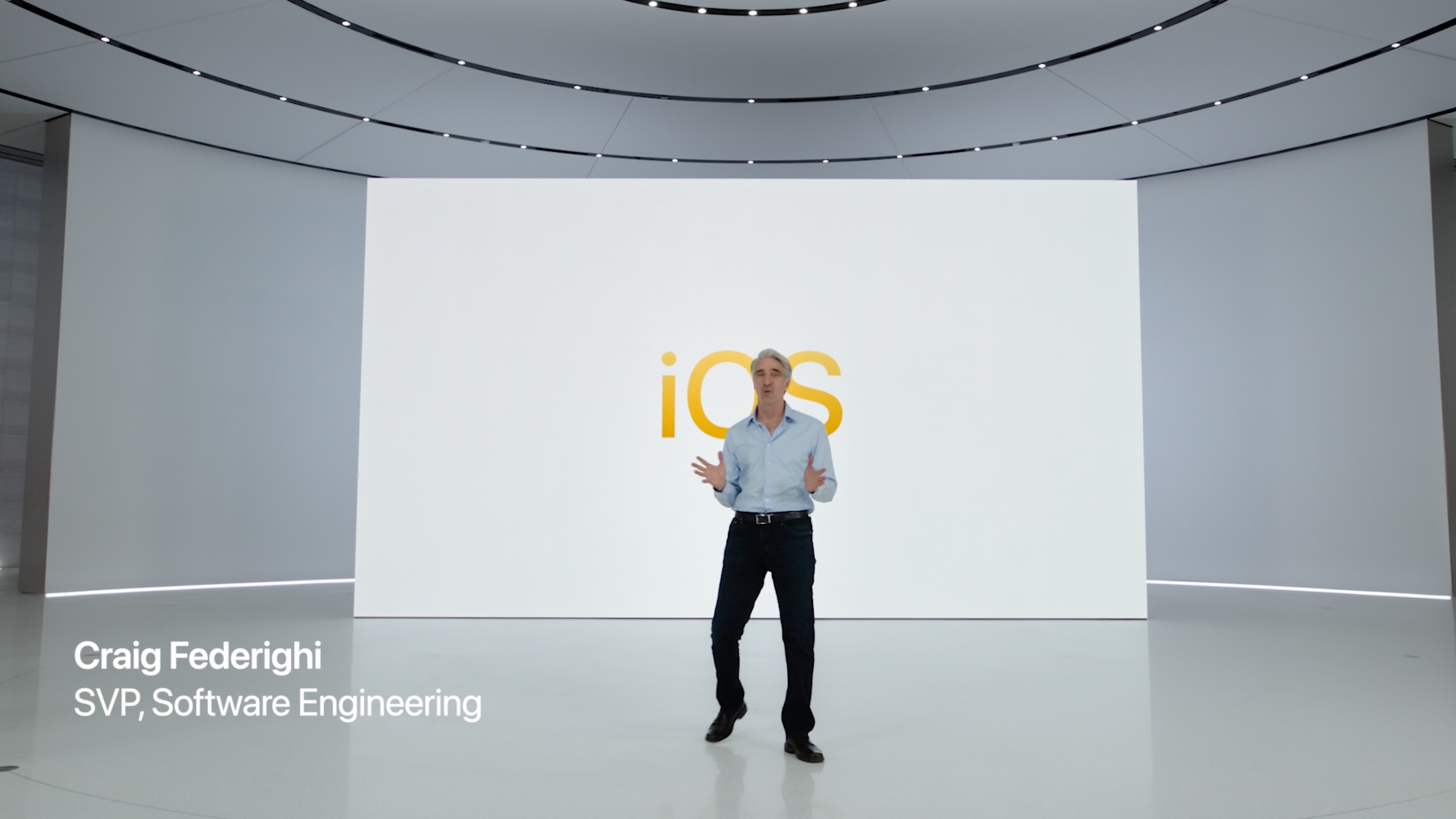 There's a brand new wallpaper gallery as well. Loads of choice for customisation, and there's 'Suggested Photos' that intelligently pick your photos that would look great on a lockscreen.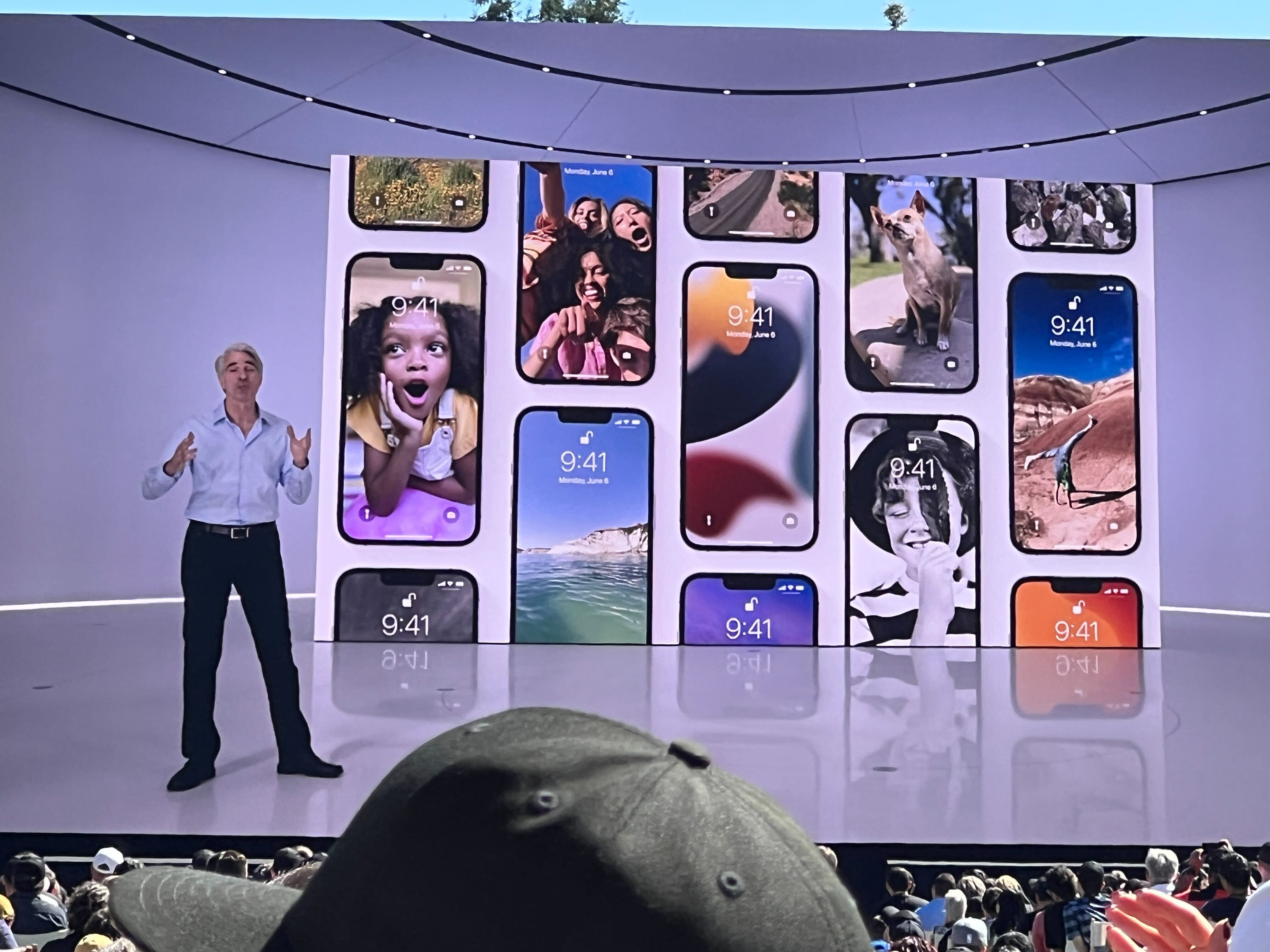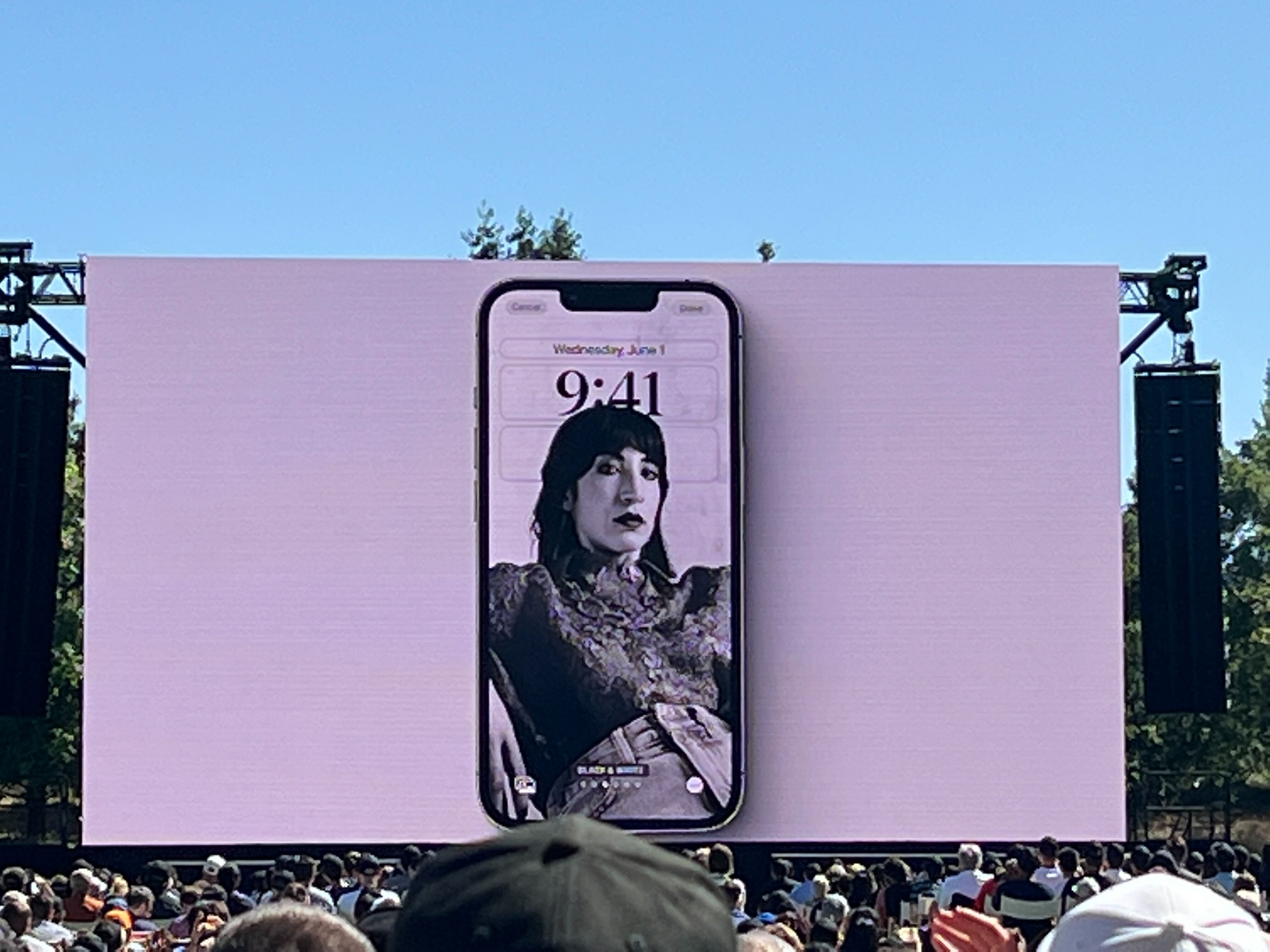 Getting a video of the new iOS 16 and a new lockscreen for iPhones. He's now showing us how he can edit and customise his own lockscreen. Filter, fonts and placement can all be done pretty easily. You tap on any part of the lockscreen to get started.
Craig is on the video and he's GOING DOWNSTAIRS. To talk about iOS. Lots of cheering.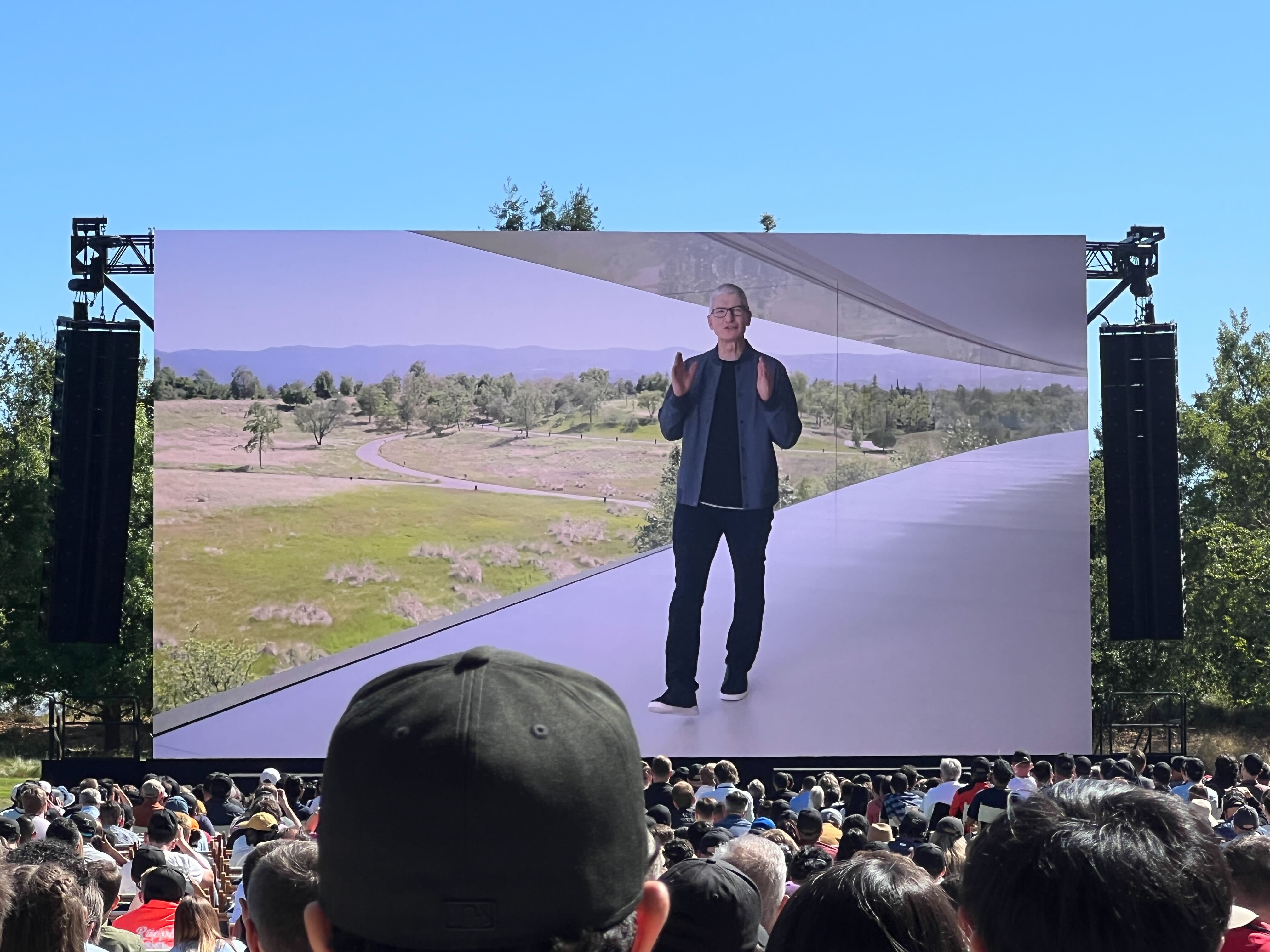 Yep, as Lance says, we're basically watching an outdoor Apple movie.
Wants to reach under represented communities in Academies to help boost diversity in the app development scene. There's mentorships, access and much more. It's nice to see, and many of these communities have created apps that have found "great success" on the App Store, according to Cook.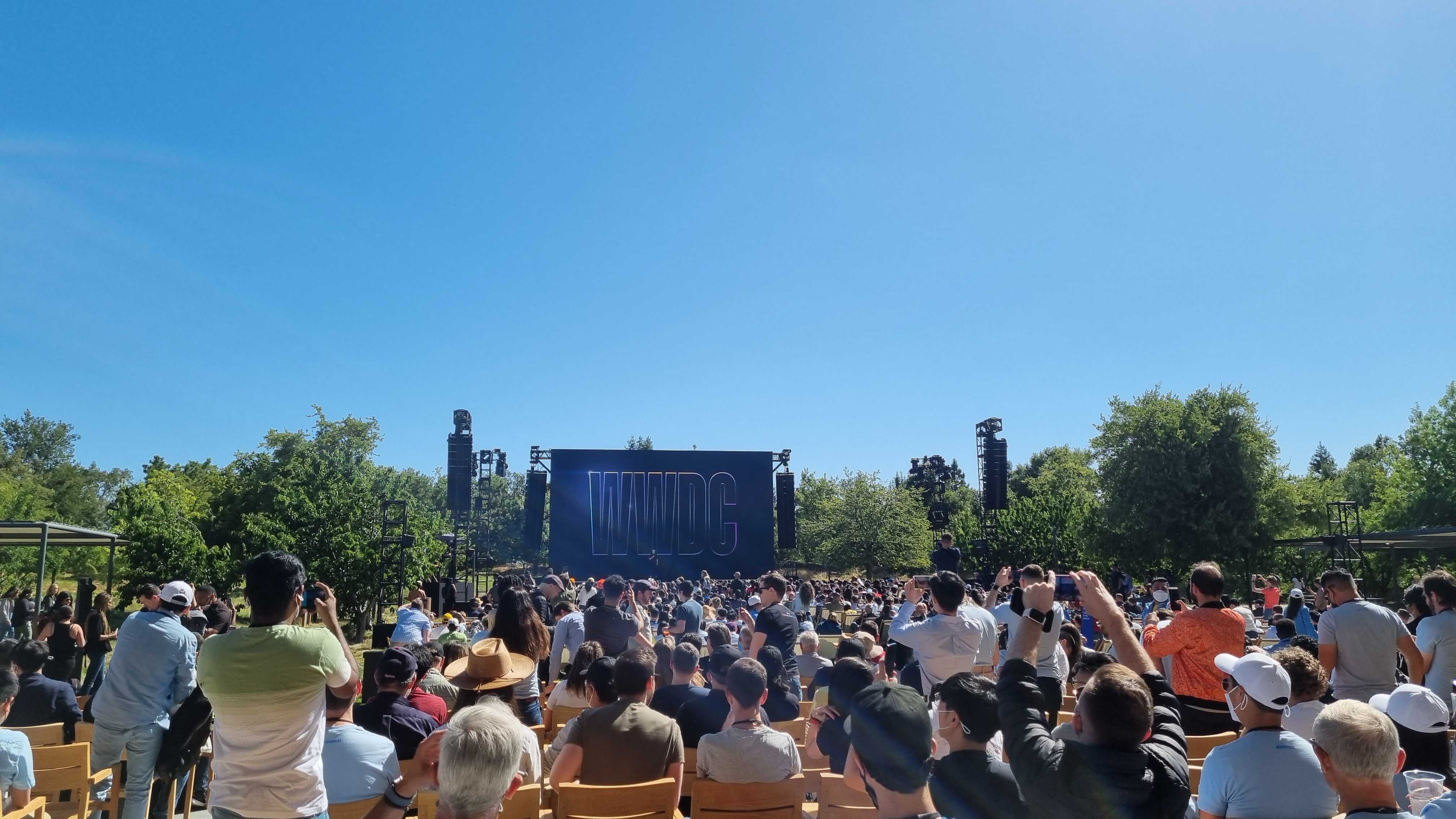 Tim's now in the video! Promises some big announcements, talks of super powers of devs, making "apps that change the world."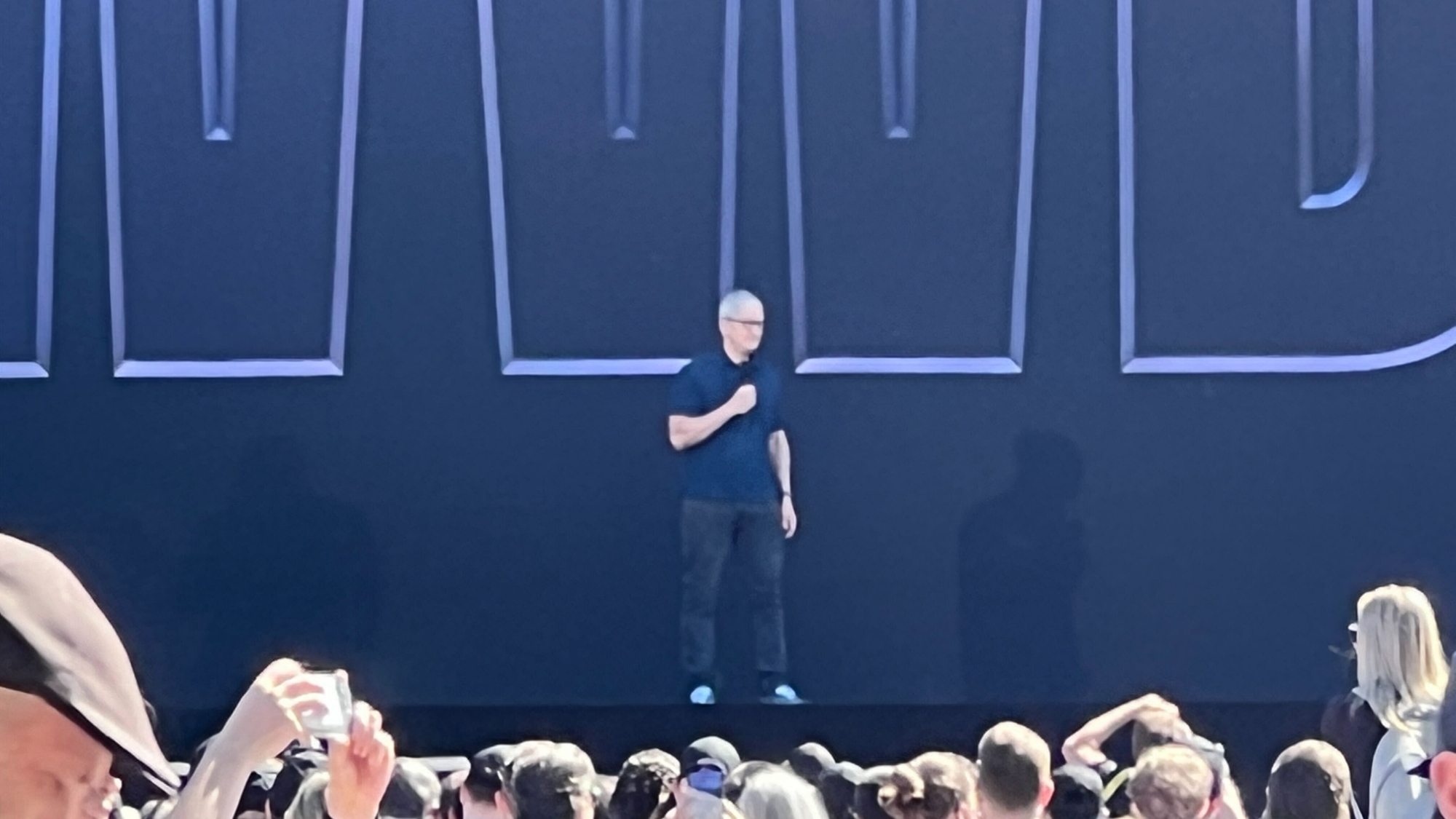 We're getting a video now. This is what you'll be seeing I guess if you're watching the live stream.
Back to Tim.  "Let's start the show!"
Craig is now here. "WWDC is such an exciting time for people who work in software at Apple."
"The focus of our life's work is to create a platform for our users, for a future for our friends and family and everyone around the world."
"Go developers!" Big cheers there.
The music has started! Crowd is cheering. Sun is shining. This is bloody nice to be fair. Very feel-good, even to an old cynic like me.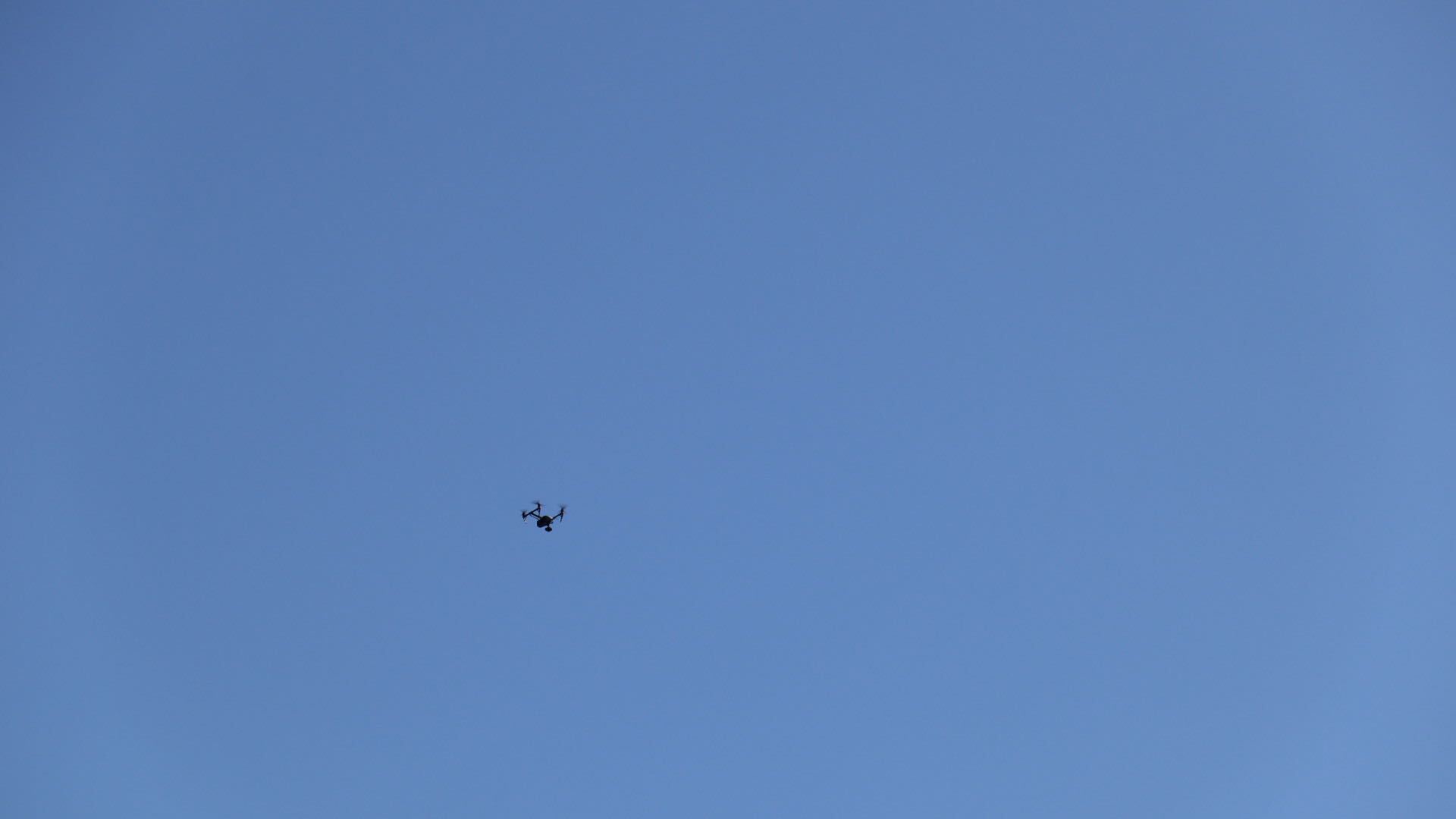 And Tim Cook is here on stage! "Great to see you all in person at WWDC!" There's also a drone overhead.
Here we go! There's a lot of excitement here from the press, devs and Apple employees. Not just about what Apple's gonna show, but just how nice it is to have a (semi) in person event again!
OK event is kicking off in 10 minutes we've just been told. I'm gonna quickly fill up my (Apple branded) drink container. Rehydrate people!
Here we are. Apple is taking Covid precautions very seriously, so we're all wearing (Apple made) face masks, even outside.
We're inside..or outside. Maybe a little bit of both. #WWDC22 pic.twitter.com/4n7EPU2xkuJune 6, 2022
The space in front of the main screen is filling up quickly. We've got some nice seats, but this sun is INTENSE. My poor British complexion is suffering. Classic Brit, come out to see Apple and moans about the weather.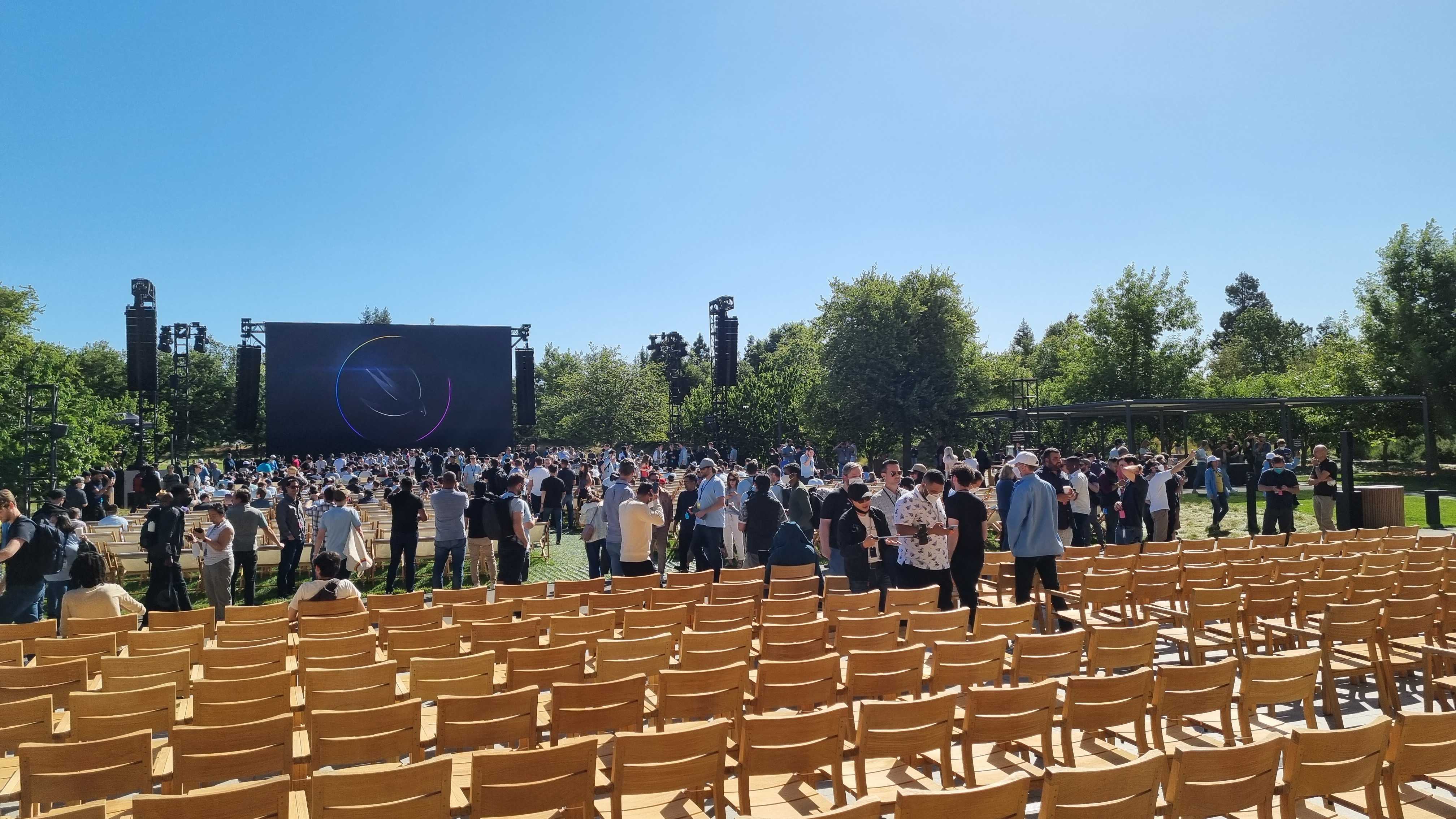 We're taking our seats, and I'm here with Lance, our US Editor-in-Chief!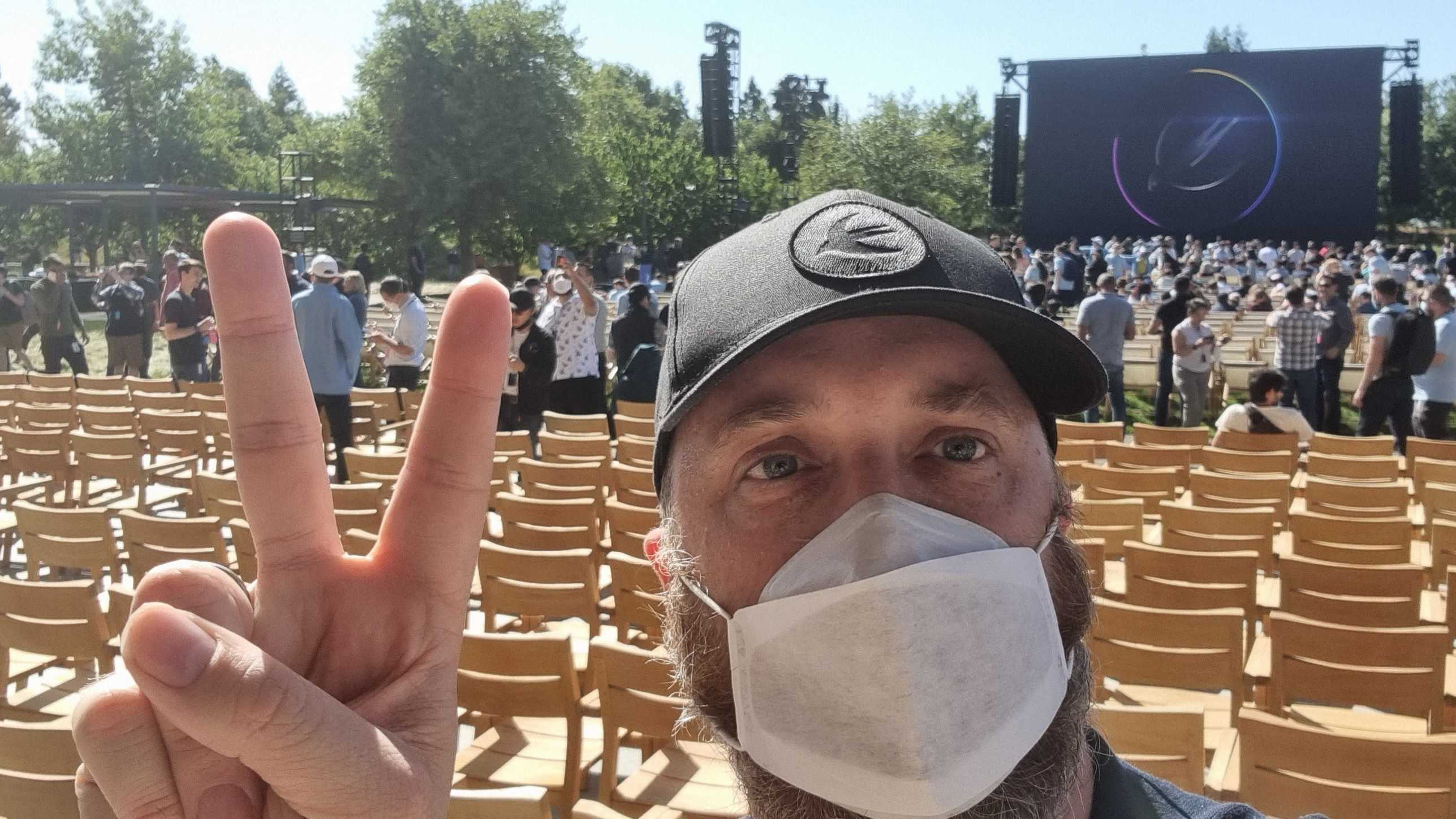 Due to ongoing Covid restrictions, this year's WWDC event is rather different. It's in-person, but the actual keynote will be livestreamed to large outdoor screens for attendees, hence why we're all out in the sun.
Just overheard someone official-looking saying we'll be starting soon. Exciting! I really hope I don't melt in this heat, though.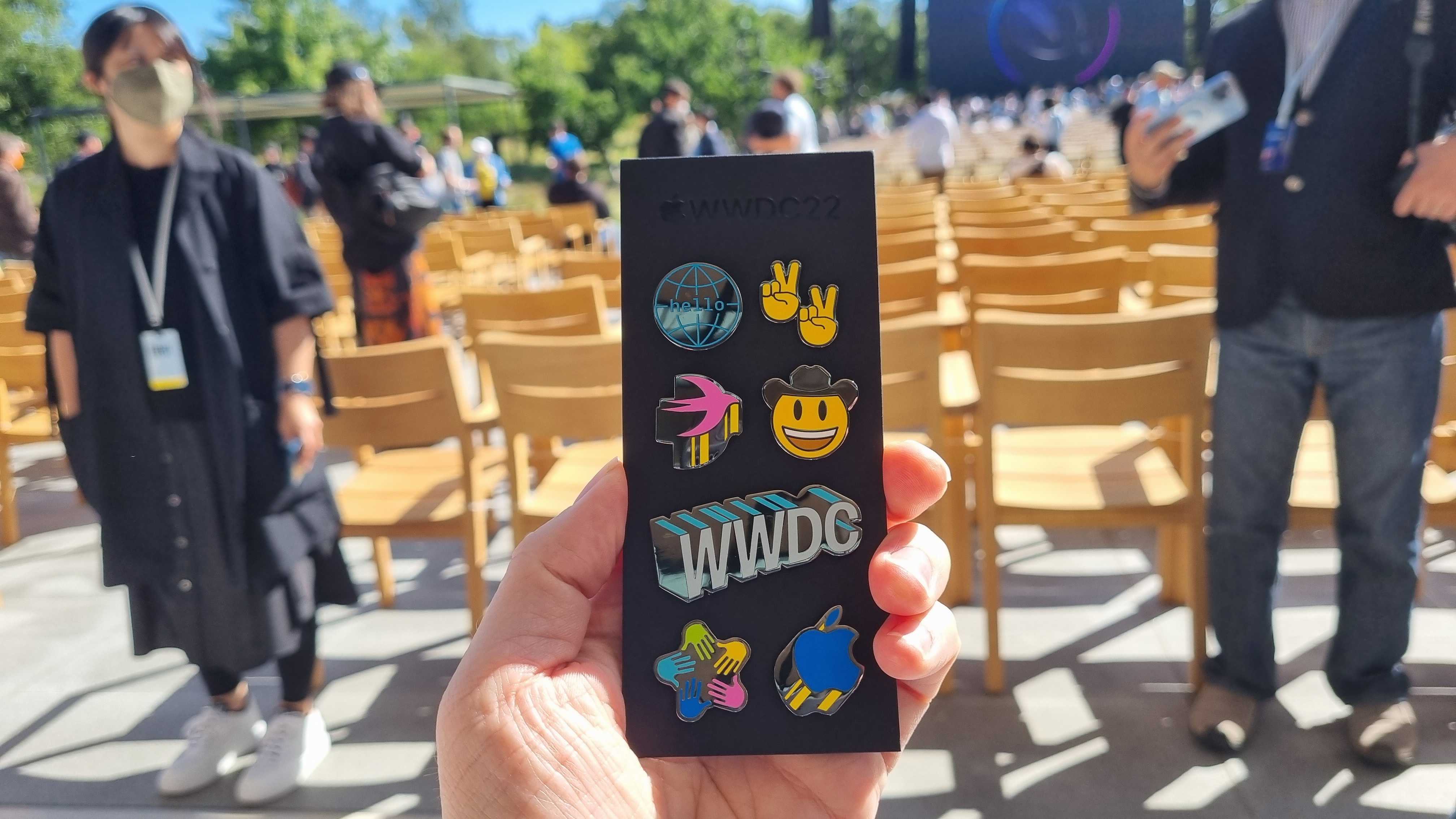 I got some nice badges for attending! That's nice.
Apple Park is a very impressive complex in Cupertino, one of Steve Job's final vision for the company. It's got lovely open spaces, inside trees and some of the largest windows I've ever seen. 
It's very impressive.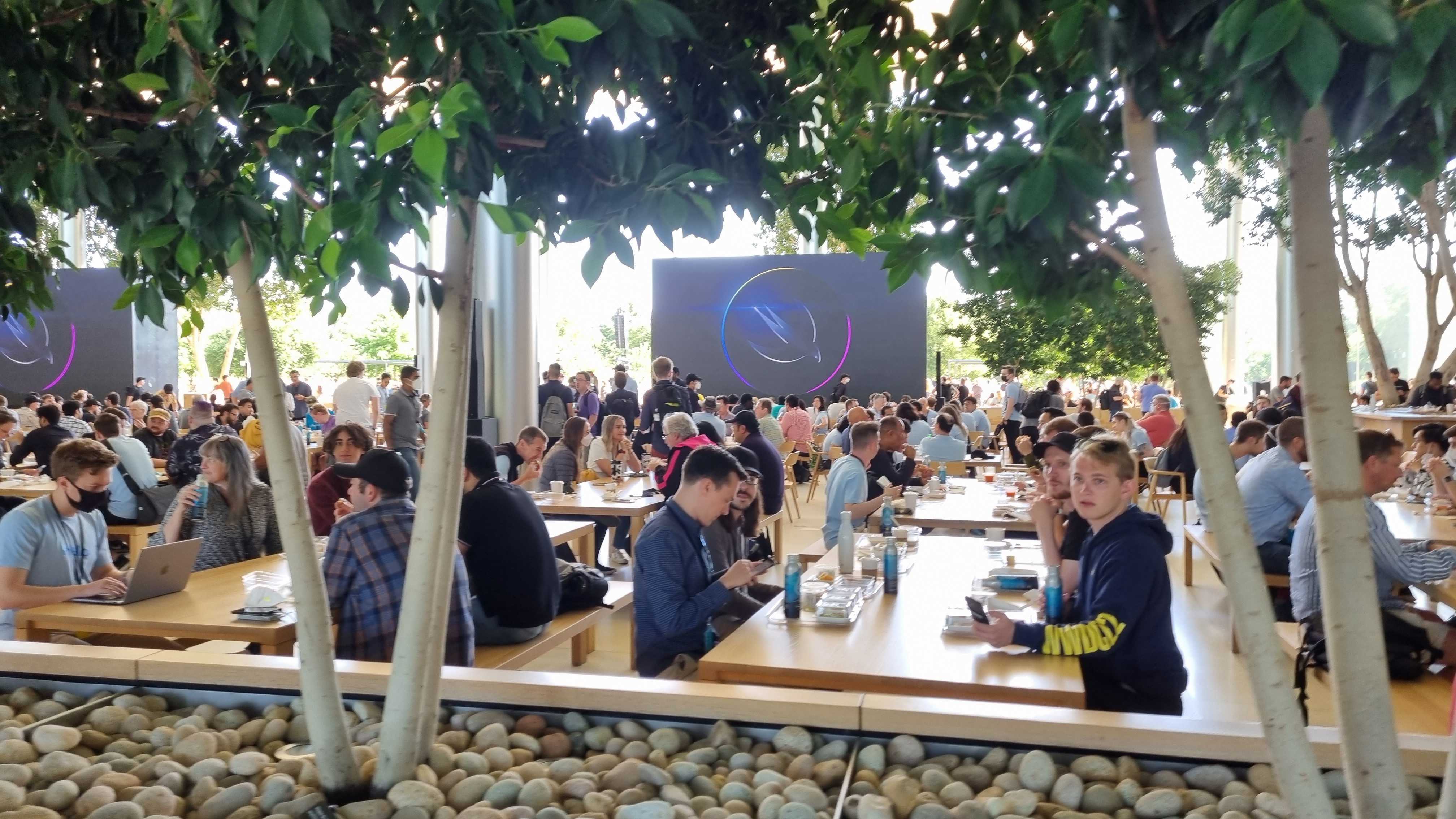 Thanks Gareth! I'm Matt Hanson, here to hopefully cover any exciting Mac, macOS and MacBook announcements, and as Gareth said, I am currently sitting in the VERY hot sun in Apple Park, Apple's stunning HQ in California. I've put lots of sunscreen on in case anyone (especially my mum) is reading this and worrying.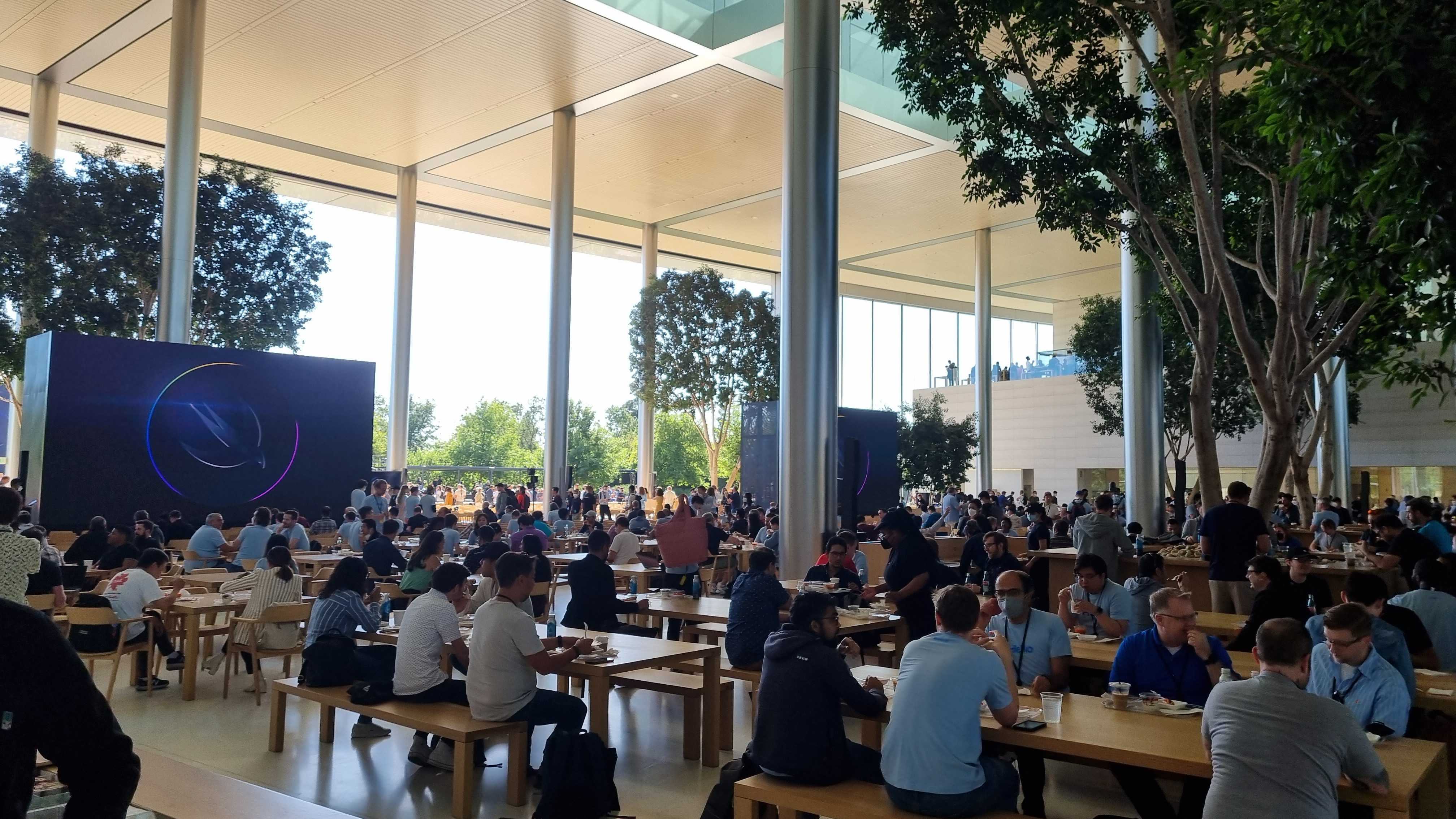 Well, that's me done for now – I'm about to hand you over the esteemed Matt Hanson, our managing editor of Computing and Ents, who is currently sweltering in the Cupertino sun.
Thanks to you all, it's been a blast!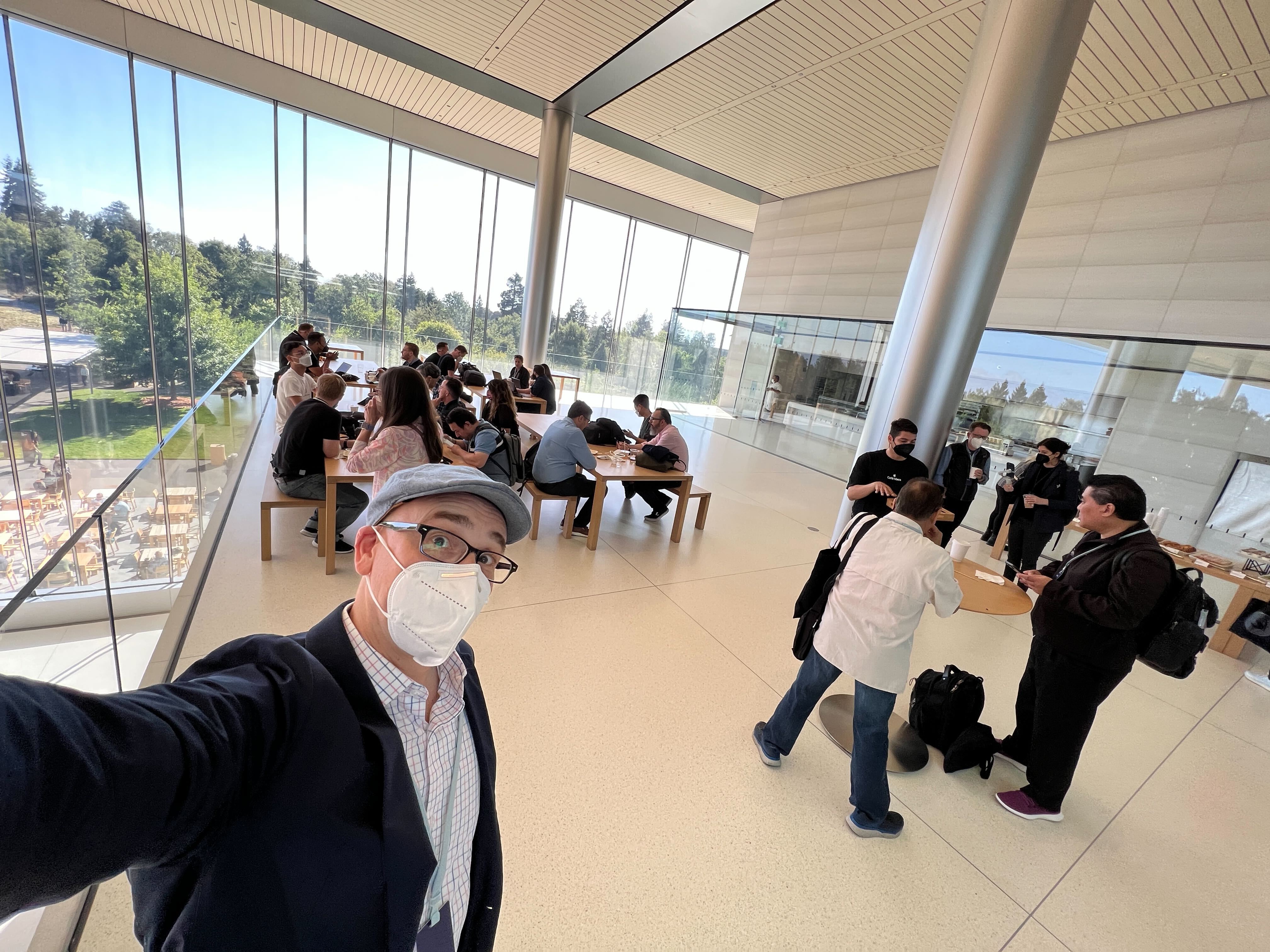 OK everyone, we're under an hour away from the big event. The TechRadar team are in and starting to think about taking their seats… are you ready?
Honestly, I don't get this. Why is there no Weather app on the iPad already?
If the Weather app with its great rain animations come to iPad and macOS today, I'll be content.#WWDC22June 6, 2022
While we're talking Twitter, here's one from Lance Ulanoff, who will be taking over this live blog later today from deep within Cupertino itself.
Five years ago, Apple took a little chunk out of WWDC17 to introduce the HomePod. That device didn't last but spawned the much more popular HomePod mini. Is it now time for the HomePod in-between? #WWDC22 https://t.co/OxhZxsfKvFJune 6, 2022
I can't see a HomePod Max or Pro or Air launching today, mostly because the HomePod Mini is doing just fine and the larger HomePod, which was great but too expensive, just didn't work out.
Getting to be one of the first to look at and snap the thing was amazing though.
TIM COOK KLAXON! 🚨🚨🚨
He's definitely awake, everyone. Chances are he'll make it to the conference on time. #journalism
Developers assemble! It's going to be a great day! #WWDC22 pic.twitter.com/OZvER1gIiNJune 6, 2022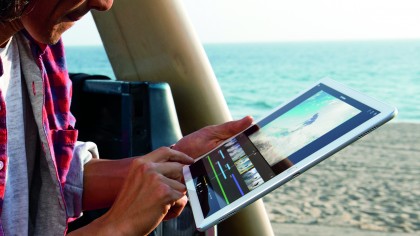 If you're one of 'those' people who want to see their iPad being more like a laptop, then I've got good news for you: it's likely that we'll see it becoming even more like macOS this year.
That means, primarily, that you'll be able to move and resize apps in a similar way to Windows, giving you more control over the real estate on your device.
This is an interesting move from Apple. While yes, making the iPad more Mac-like is a good thing (especially as more models have the high-end M1 chipset inside, making them similar in power) on the smaller iPad Mini screen, for instance, this kind of mobility could be a nightmare with less screen estate to poke at.
If this does come to pass today, I suspect Apple will be modifiying it for different screen sizes… let's wait and see, but it could make your iPad Pro more laptop-like than ever.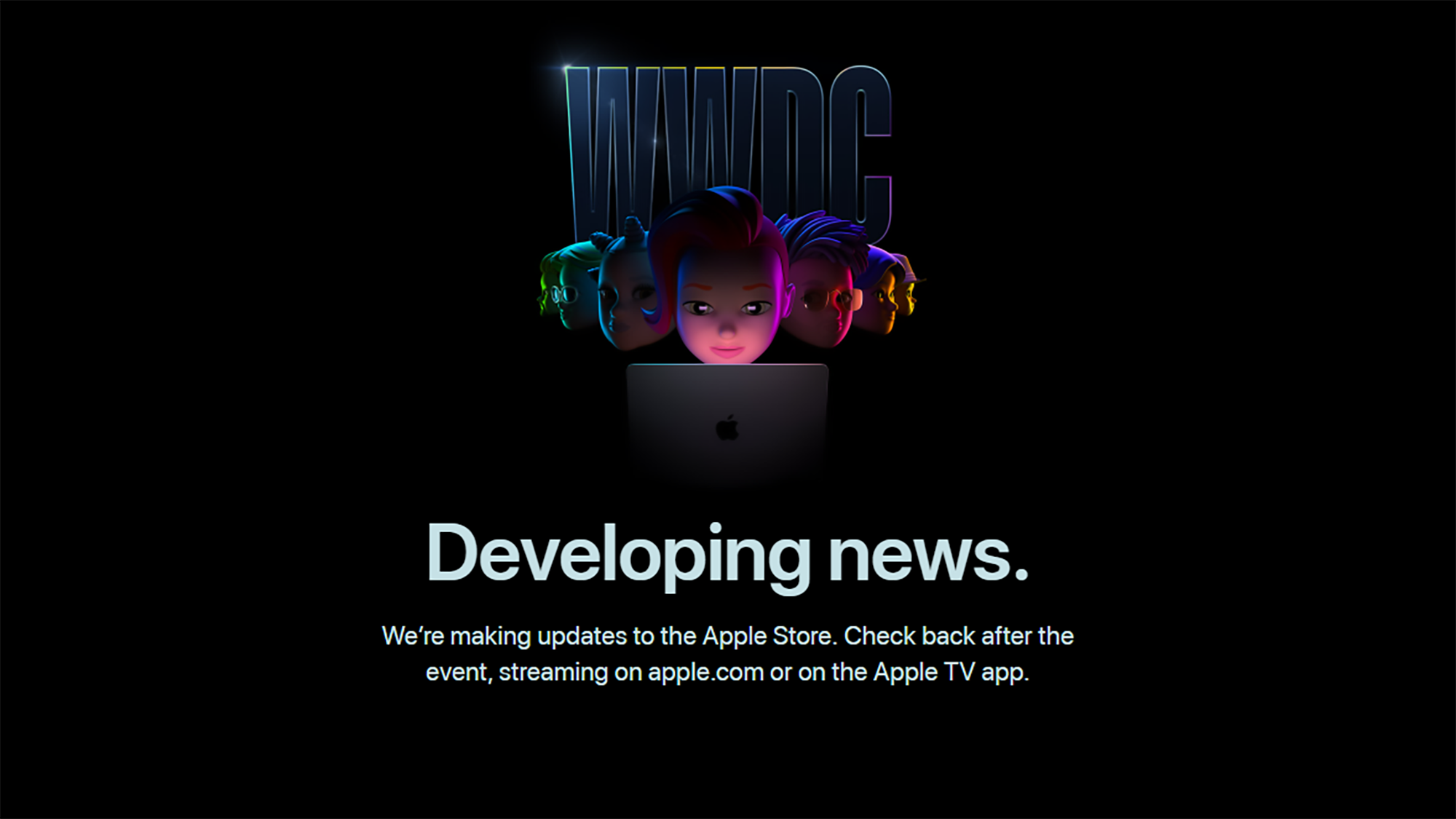 I've been at this Apple event gig for many years now, and there's almost something comforting about the Apple Store going down ahead of a big event.
What this does tell us is that, again, there's going to be an announcement that affects products on sale today – Apple doesn't want you buying anything on the day only to find that it's been upgraded within 24 hours.
This doesn't really tell us that much – I'm almost certain there's not going to be a new iPhone 14 at this event, but you can't buy an iPhone 13 today – but it's always interesting that Apple would lost likely hundreds of thousands of dollars in sales in order to push its event.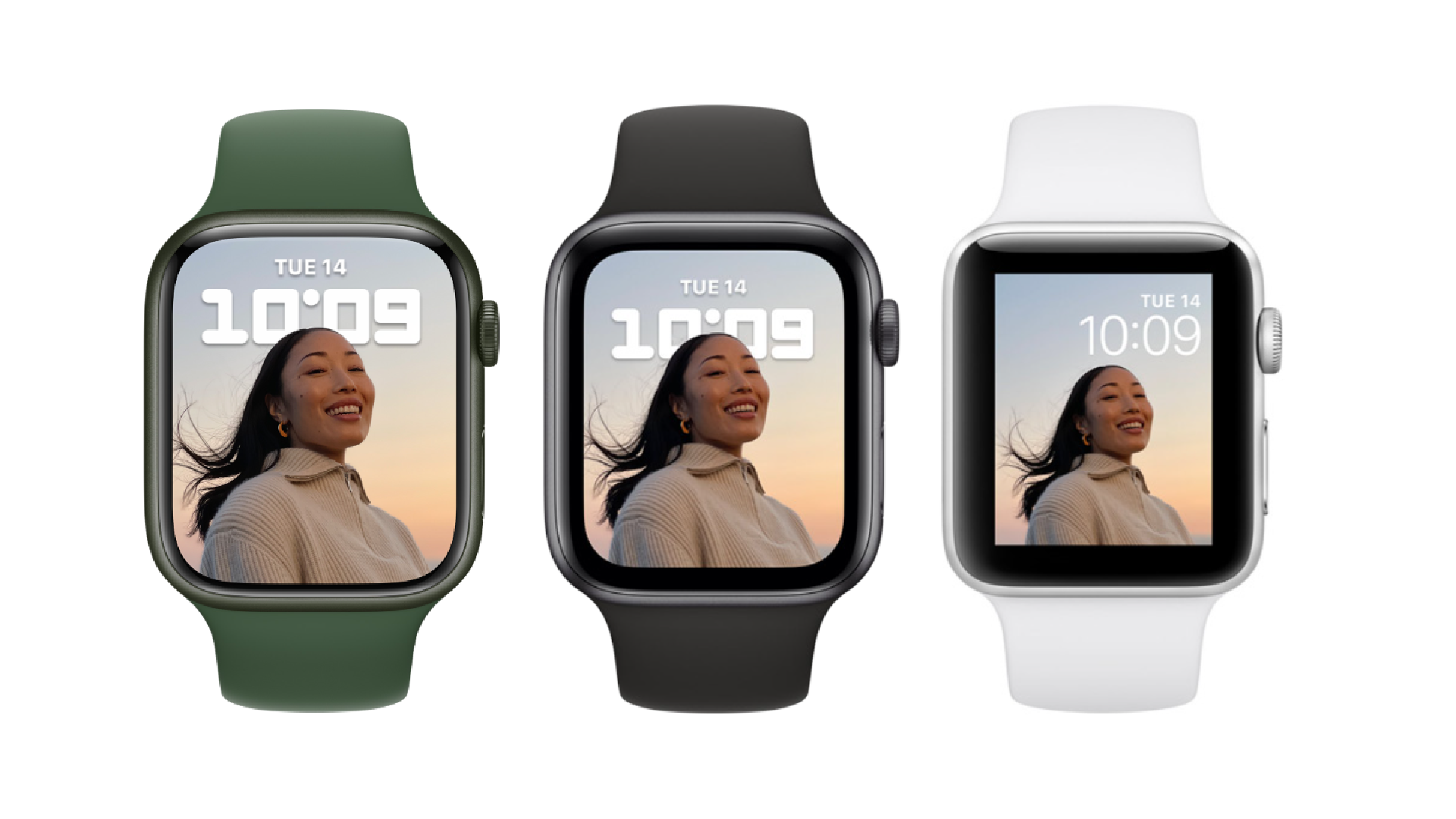 I'm a semi-fan of the Apple Watch – I think it's one of the best all-round smartwatches out there, but for something that's been around for so many years, it badly lacks a pro version.
Word is that we could see that in the next Apple September event, which would be mega – and here's hoping that watchOS 9 comes with some great extra fitness ideas today.
While I'm, of course, super fit and wonderful and stuff, I do admit that there are better fitness experts out there – we got one in to tell us the five things they wanted to see from watchOS 9, so go and see if you agree.
Let's keep the Bad News Bear chat coming, shall we: it looks like that we will get to see new MacBook Air models today, but they won't be coming in loads of fancy new colors to get the creative juices flowing.
The much-reported idea of the new MacBook Air coming in a range of "several colors" is probably exaggerated. Right now it comes in space gray, silver and gold. I wouldn't expect more than those colors (though the new gold will be more champagne like) plus my favorite iMac color. pic.twitter.com/vYl56FOikgJune 3, 2022
While I get that Apple wants to keep the look and feel of its MacBook range premium, it's missing a trick here. 
There are loads of colors of the Mac, so a wider color palette wouldn't be a departure for Apple. 
The Air is definitely one of the most appealing laptops to creatives that don't need a lot of power but want to express themselves with a laptop that can slip into a bag (or an envelope, for those that remember the first ever MacBook Air unveiling…)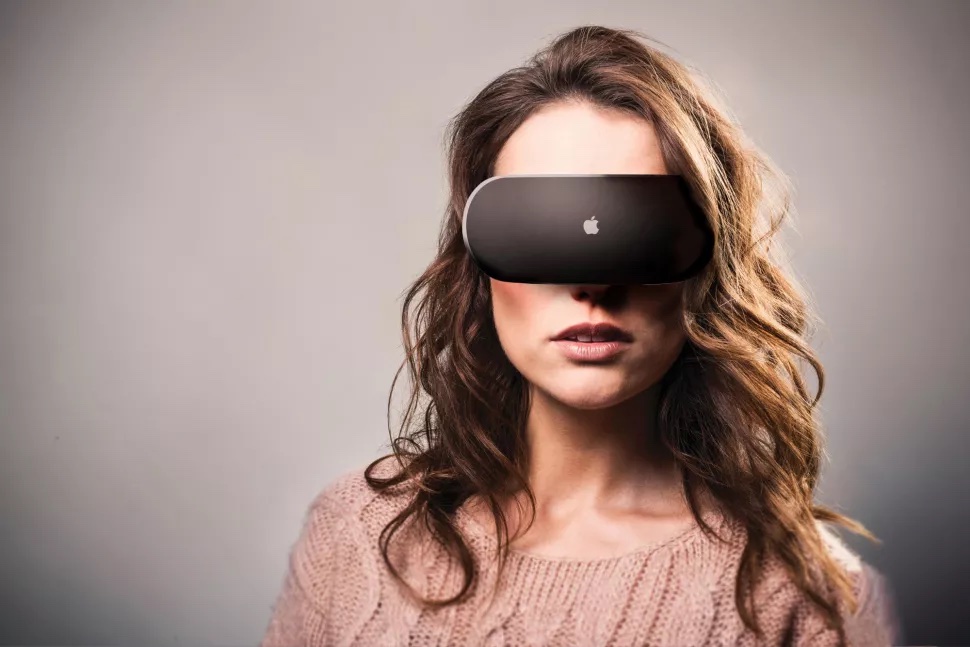 I suppose we should get the Big Bad News out of the way first: the augmented / virtual reality (AR / VR) headset that Apple is (almost certainly) developing isn't going to be appearing today (opens in new tab). 
That's because, according to the NY Times, the battery life issues are holding it back from being market ready, and Apple is looking to get it right.
We're still going to see loads about AR at the keynote today, because Apple loves it – but we won't get to see the hardware that will make this constant excitment about an augmented world finally make sense.v
Good morning! Gareth Beavis here, bringing you all the key news and info as we build to the big WWDC keynote.
The day is finally here, and an in-person Apple event is going ahead. We've missed heading out to Cupertino to see all the big changes Tim Cook is unveiling in person – and we're going to be there in full force.
A recent Developer Center open house from Apple suggested refreshments will be available – that's good to know.
For folks coming to today's Developer Center open house at #WWDC22, coffee and donuts from Caffè Macs 😋 pic.twitter.com/n9QJGMG3YNJune 5, 2022