A woman has found support online after revealing her husband's ex-wife sent her an old video of the former couple having intercourse on the eve of her wedding.
The now-viral post was shared to the subreddit "True Off My Chest" on May 26 by Redditor @throwawa65799. The short post is titled, "My husband's ex-wife sent me a video of them having s*x the day before our wedding," has garnered 10,500 upvotes and over 1,100 comments.
According to a Neighbor.com survey, 65 percent admitted they have an item that's from a former relationship. The most popular reason why they keep the items is due to the "memories attached," and the second reason is that the items are "functional." The most popular items people keep are love letters or cards, photos and albums, and jewelry.
The original poster (OP) revealed her husband was married to his ex for four years, and ended things, revealing "she was impossible to live with." However, she made "claims about him abusing her, which [has] never been proven."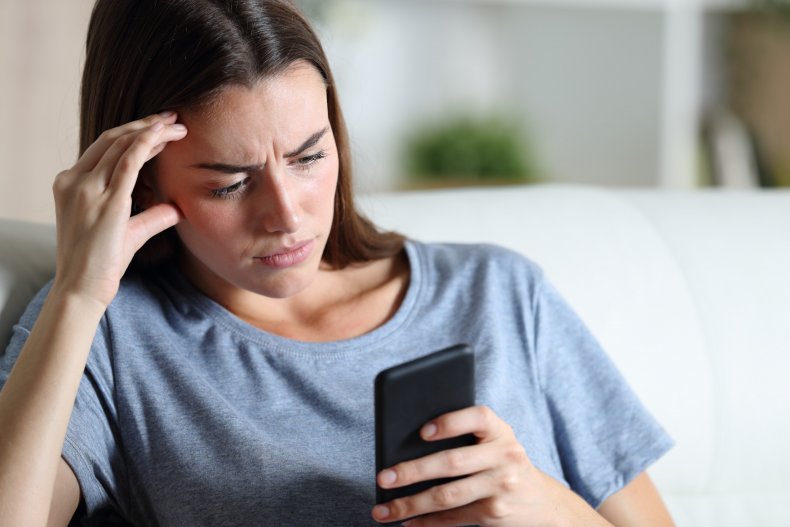 The ex-wife sent the OP an old video via social media of her and the man having intercourse the day before the Redditor's wedding to her fiancé. The woman admitted it was not something she expected, and it made her feel "unwell and uneasy."
"It certainly affected me mentally because everyone noticed how I looked and behaved at the time," the woman continued. "My husband found out after the wedding, and he swore he had no idea his ex was still keeping this stuff because he made sure everything they shared was deleted/wiped."
The OP admitted her now-husband was just as "shaken" as herself, but he told her to "let it go" and not let it take more of their time together. However, she admittedly can't get it off her mind, especially when she's intimate with her spouse.
"It feels off, really off and I hate that this is how it feels when it's supposed to be our best time together," she said. "I feel like his ex's anger and resentment ruined the best time of my life for me and my husband. I don't even get why she would do such thing and what she would gain. I could never understand."
Many people had sympathy for the woman in her plight, and some gave their own advice on how to handle the situation going forward. Still, others were completely shocked over what the woman had to deal with.
Some thought it could constitute revenge porn, with one user insisting she take legal action. "OP, pretty sure that's a crime (revenge porn)," a Redditor said. "Consult a lawyer/have your husband go down to a station and file a police report."
Another user thinks the ex-wife did the exact thing she aimed for, and that's to get in the OP's head. "What kind of disgusting and terrible human does this?" they wondered. "I mean think about it…and for God's sake don't take it out on your husband. It's not his fault that b**ch wanted to ruin y'all's life."
While one Redditor didn't mince words with their feelings on the matter. "I wish I could beat her a** for you OP," they said. "I'd have raged for you. I already am. Man, I'm so sorry. She'll get hers."
A user thinks the OP is reacting exactly how the woman wants her to. "She is a jealous pathetic loser," they added. "Ignore her and live your best life. That sex video was then and this [is] now. Remember that and smile."
Another Redditor thinks the woman is "so jealous" because she did "such a disgustingly selfish and filthy thing." The added: "Technically we have laws on the books for that and that's definitely a form of revenge porn. Contact the magistrate and have her locked up then try sex again. Prayers."
The situation provoked emotions in some Redditors. "This made me really sad to read, I'm sorry that happened to you during such an important memory, and rest assured the good moments will hold more weight with time," a user expressed.
Another person insisted the OP talk to a lawyer about the situation, insisting, "What she did is terrible and I'm sorry that happened to you. I know it can be difficult, but the best revenge is to be happy with your husband and ignore her."
Newsweek reached out to Redditor @throwawa65799 for comment.
This isn't the only viral moment involving relationships. The internet backed a man for leaving his "Instagram-obsessed" wife earlier this week. Meanwhile, a woman found support for leaving her boyfriend at the Grand Canyon after a "cruel" joke. In addition, a spouse was also backed for divorcing their wife because she's always late.