Microsoft introduced new Windows 11 emojis yesterday in the latest preview build 22478, but many Windows Insiders were surprised because the new emojis are quite different from the 3D emojis previously teased by Microsoft's design team. Windows 11's new emojis use a 2D design, and it's safe to say they don't look as good as the much more detailed 3D emojis we've seen before.
The Windows Insider team yesterday called the new emojis "new emoji designed by Fluent that will be rolled out across Microsoft 365, including Windows." July below.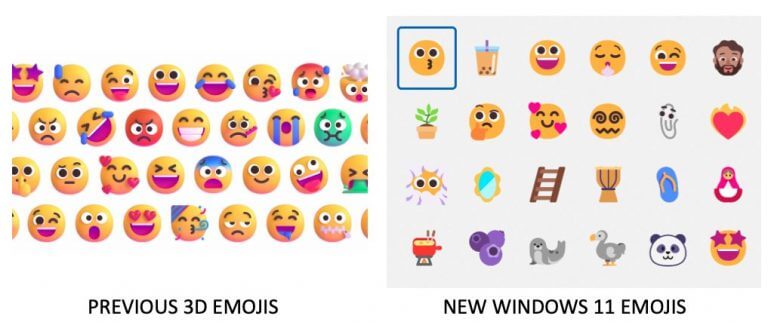 After some Windows Insiders started wondering what was going on with the original 3D emojis, Brandon LeBlanc of the Windows Insider team confirmed on Twitter that Windows 11 will use 2D emojis:
No, for Windows 11 we are using the 2D versions. Thank you!

– Brandon LeBlanc (@brandonleblanc) October 14, 2021
although he said later "I have nothing more to share on where the 3D versions of the emoji will appear today – we're only talking about what's in the version that was released today for Insiders in the Channel. development."
Responding to another tweet accusing Microsoft's social media of being a "scam" for using previously seen 3D emojis, LeBlanc explained that it was a mistake and that the "bad graphics" had been used .
No, they didn't rip you off. You are exaggerating a bit. They just used the wrong graphics. Sorry about that. Make sure they use the vouchers in the future.

– Brandon LeBlanc (@brandonleblanc) October 15, 2021
Thinking back to the original Microsoft Design team blog post showcasing 3D emojis, this post explicitly stated that the team had "gone for 3D designs over 2D and chosen to animate the majority of our emoji." confirming along the way that the 3D emojis "will roll out into the product over the next few months" and that "(the) set will be coming to Teams and Windows this holiday season". However, the Windows Insider team pretty much contradicted this yesterday by claiming that the new Fluent-Designed emojis "will roll out across all of Microsoft 365, including Windows."
Microsoft may have had good reason to implement 2D emojis in Windows 11 instead of the 3D versions we've seen previously, and we've reached out to the company to find out more about what happened. While there's nothing wrong with these new Fluent-Designed emojis, it's still easy to point out this as another example of miscommunication from Microsoft. It's always a risky thing to promise something and later not deliver it, although there are probably more important things to be crazy about these days, right?
Share this post: