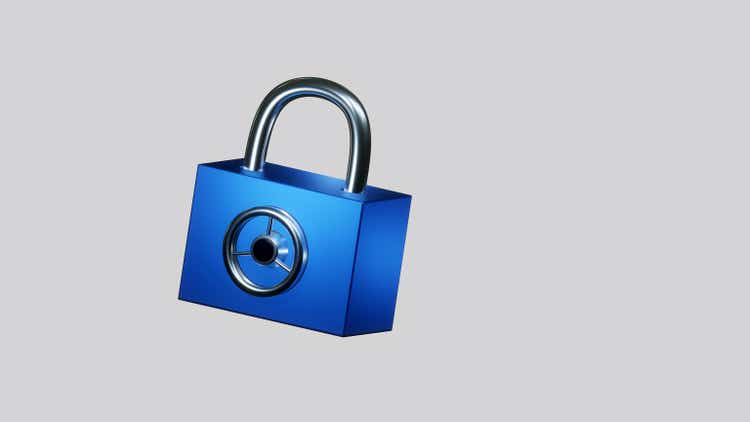 Investment Thesis
While new entrants could significantly reduce the gross margin and revenue growth of Varonis Systems, Inc. (NASDAQ:VRNS), I do believe that the company has a strong product to capture the very attractive data security market opportunity. Furthermore, its valuation ratio is reasonable for a growth stock. As a result, I consider the stock a buying opportunity.
Introducing Varonis Systems
Varonis Systems is a U.S.-based provider of software that can protect data from both insider and outsider cyber threats. Such software allows organizations to protect data stored on-premises and in a cloud, such as
sensitive files and emails

confidential customer, patient, and employee data

financial records

strategic and product plans

and other intellectual property
Industry Outlook
The amount of data that is produced is expected to increase from 45 Zettabytes in 2019 to 181 Zettabytes in 2025, according to an IDC Research report. The same report also estimates that nearly 90% of the data requires a significant level of security, but less than 50% will be actually secured. I believe that these statistics indicate that there is a great market opportunity for the data security market.
MarketsandMarkets data estimates that the global data-centric security market value will grow from roughly $4 billion USD in 2022 to roughly $12 billion USD by 2027, at a compounded annual growth rate of a very high 23.9%
Competition
Varonis in their latest annual reports believes that:
While there are some companies which offer certain features similar to those embedded in our solutions, as well as others with which we compete in certain use cases, we believe that we do not currently compete with a company that offers the same breadth of functionalities that we offer in a single integrated solution.
And
We believe that the diverse functionalities offered by our platform position us at the intersection of several powerful trends in the digital universe. We further believe that the business intelligence and functionalities delivered by our platform define a new market
While they are seemingly confident in their competitive position, they do acknowledge that there is potential future pressure from much larger or more niche cybersecurity firms, would they develop a technology that can compete. I also believe that this could form quite the risk, as there are extremely large cybersecurity firms luring for new opportunities. They could form a powerful pressure due to their large amount of resources. In the next section, I will review its competitive position.
Competitive Position
Varonis believes that the primary competitive advantage of Varonis Systems lies in its patented technology used for its Data Security Platform, as well as the technical expertise in the business to continuously improve and expand its technologies.
The technologies offered give businesses the chance to examine data, account activity, and the behavior of users to identify and stop cyberattacks. Its Data Security Platform automatically locks down data, grants access to only those who need it, and automates the removal of outdated data when it is no longer useful. This is in order to prevent or limit unauthorized use of sensitive information, detect and prevent potential cyberattacks, and limit potential damage. Its products handle other crucial use cases like data security, data governance, compliance, data privacy, categorization, and threat detection and response while also effectively maintaining a safe state through automation.
I believe that the broad functionality offers many essential data management and security functions, and the advantage is that it can be found in just one platform. This might be very beneficial for enterprises seeking a single platform solution to streamline their operations and become more efficient.
Another aspect of its software that is advantageous is its many licenses across cloud data stores and applications. This could benefit enterprises as they use many different data stores: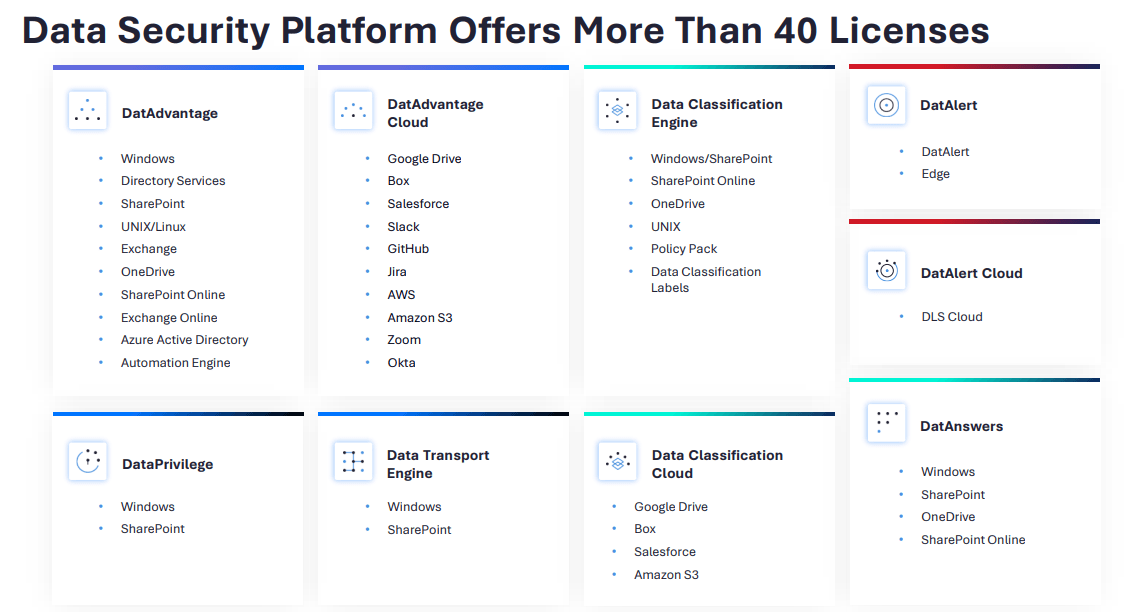 The need for such licenses is underpinned by Tony Hamil, a senior cybersecurity engineer at a real estate organization, who said:
I'd heard horror stories about Salesforce permissions and how literally hundreds can be applied in a manner of different ways, but I didn't realize how complicated our permission sets had grown. DatAdvantage Cloud is a single pane of glass that not only helps us secure data in Salesforce but also gives us cross-cloud visibility that we couldn't get otherwise.
Users on Gartner rate the platform a nice 4.7 out of 5. They are really positive about the ease of use, implementation, software as a system ("SaaS") connection uses, and breadth of essential enterprise data-related uses.
I tried to compare its data security product with alternatives on Gartner, but out of the few that I could find, there were no reviews or just under 4 reviews. This could potentially indicate its products' uniqueness and solid market position.
Overall, I believe that Varonis has a really solid position in its market.
Financial Performance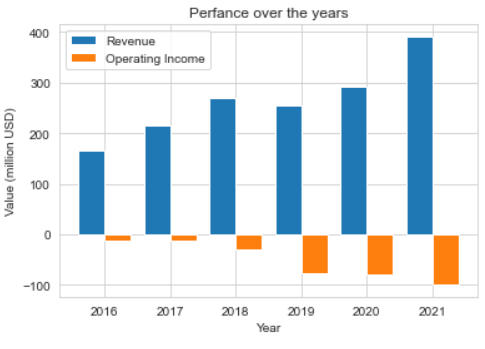 Due to increasing demand for its services, Varonis has had strong revenue growth over the years. There was only a dip in the revenue of 2019, which according to its 2019 annual report was caused by:
Our transition to a subscription-based model has resulted in a decline in perpetual license revenues and total revenues for the year ended December 31, 2019; however, our subscription revenues increased significantly from $8.8 million for the year ended December 31, 2018, to $76.7 million for the year ended December 31, 2019. The increase in subscription revenues was a consequence of our transition to a subscription-based model which also resulted in our customers' demand for a higher number of subscriptions.
Furthermore, due to high operating expenses to further invest in its growth, the company's operating losses have grown over the years as well.
Varonis continued its strong sales growth momentum until this day, as is clear from the Q2 financial earnings numbers. According to the CEO in the earnings call:
Our Q2 results once again demonstrated the strength of our platform and the durability of our business model, highlighted by 30% year-over-year growth in ARR. We are especially pleased with the performance in North America, which contributed significantly to this quarter growth.
Valuation and Financial Performance Comparison
I computed valuation and financial performance-related statistics for Varonis and other players – NetApp (NTAP) and Broadcom (AVGO) – that offer services in the data-centric security market:
| | | | | | |
| --- | --- | --- | --- | --- | --- |
| Index | P/S Ratio | Gross Margin | Price to Gross Profit | Forward P/E | 3Y Sales Growth |
| Varonis Systems | 6.76 | 84% | 8.05 | 149.25 | 26% |
| NetApp | 2.50 | 66% | 3.79 | 13.14 | 8% |
| Broadcom | 7.24 | 64% | 11.31 | 13.46 | 12% |
Source: Seeking Alpha
Varonis' forward P/E is extremely high. By buying its competitors, you know you get a very reasonable forward P/E multiple. However, I consider them much more stable stocks, whereas Varonis is much more of a growth stock, which we can also see from its sales growth. To maximize its growth, the company is investing a lot of money in R&D and sales, leading to low current profits.
For a growth stock, it makes more sense to look at the price to sales and price to gross profit ratios to consider its valuation levels. Varonis has an excellent gross margin, and its price to gross profit value is lower than that of Broadcom. On the other hand, it's much higher than that of NetApp. For broader comparison, the current S&P 500 price-to-sales ratio is 2.5. With a gross margin of roughly 50%, the S&P500 would have a (roughly) price to gross profit value of 5. On the other hand, the advantage of Varonis lies in its very high (historical) sales growth, which is multiple times higher than the compared companies and the S&P 500.
Final Take
I believe that Varonis has a very solid market position, which paved the way to expand quickly and increase its revenue consistently at a very high rate. You can get much safer bets in the data security market. However, with a price to gross profit value that is below that of Broadcom and not crazy far off from the S&P 500, combined with high sales growth, I believe that there is a very nice risk/reward ratio to be found here.
While new entrants could significantly reduce the gross margin and revenue growth of Varonis, I do believe that the company has a strong product to capture the very attractive data security market opportunity. In other words, I do consider Varonis Systems to be a buying opportunity right now.