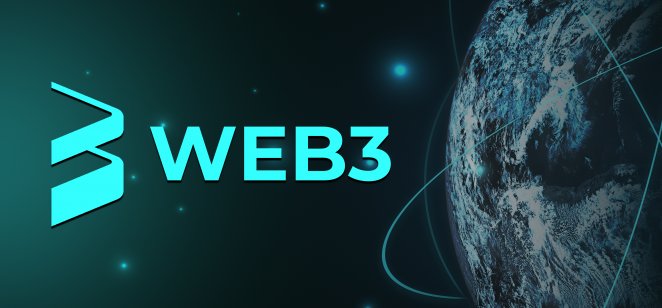 Web3, or Web 3.0, is heralded as the next stage of the Internet. While Web3 is still in its infancy, elements of it such as decentralized finance (DeFi), non-replaceable tokens (NFTs), and gaming to earn have attracted attention.
Top executives of technology companies are migrating to blockchain companies to create Web3. Ryan Watt left his job as head of gaming at YouTube to join Layer-2 Network Polygon's (MATIC) NFT unit. Sherice Torres jumped as chief marketing officer at the crypto and payments unit of Meta Platform to join Circle, the company behind USD Coin (USDC). Former Google CEO Eric Schmidt joined blockchain oracle Chainlink (LINK) in late 2021 as a strategic advisor.
Web3 is as diverse as it is exciting. In this article, we have listed blockchain projects that are unique in their own respective offerings. The top five web3 coins selected below are based on a list of web 3.0 tokens by market cap compiled by CoinMarketCap.
Are these the best web3 coins to invest in this year? Let's dive deeper into the projects and look at their performance so far this year.
Top Web3 Coins 2022 by Market Cap
As of April 11, 2022, Polkadot (DOT), Chainlink (LINK), Filecoin (FIL), Theta Network (THETA), and Helium (HNT) were the top web3 crypto projects by market cap. Despite all of them having double-digit losses (YTD), they remain strong players in Web3.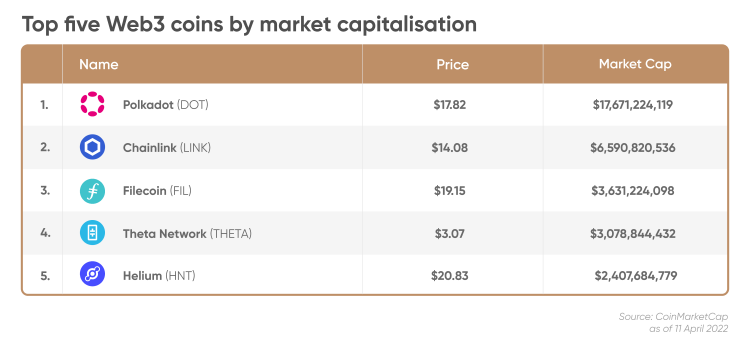 Polkadot (DOT): Interoperability of blockchains
First on the list of top web3 crypto coins compiled by Coinmarketcap is the blockchain platform Polkadot and its native coin, DOT.
Unlike smart contract platforms such as Ethereum (ETH), which are also known as layer one (L1) platforms on which decentralized applications (DApps) are built, Polkadot is a layer-zero platform. Developers can build L1 platforms on the Polkadot network, called parachains. These parachains have the freedom to operate independently. Polkadot gives parachains shared security and interoperability.
"Polkadot is a scalable heterogeneous multi-chain. This means that, unlike previous blockchain implementations, which focused on providing a single chain of varying degrees of generality across potential applications, Polkadot itself was designed to provide no inherent application functionality at all. Rather, Polkadot provides the basic "relay-chain" on which to co-host a large number of validable, globally coherent dynamic data structures," reads Polkadot's white paper.
Polkadot was founded by Ethereum co-founder Gavin Wood. The original coin, DOT, is used for governance and to participate in parachain slot auctions. Polkadot has limited parachain slots. Developers bid in auctions, where teams agree to lock down DOT tokens to earn the right to build on Polkadot. On April 11, DOT was the 13th largest cryptocurrency with a market cap of over $17 billion, according to CoinMarketCap.
Chainlink (LINK): Web3 data provider
Next on the list of best web3 coins is Chainlink (LINK).
Chainlink is a network of decentralized oracles that pass data to smart contracts, enabling contract execution based on real-world inputs and outputs. The network was founded in 2017 by Sergey Nazarov and Steve Ellis. It quickly established itself as the market leader in the blockchain oracle industry.
Oracle networks such as Chainlink are critical to the functionality of Web3, which is structured and maintained by pre-written codes and smart contracts. On Chainlink, users can form decentralized oracle networks (DONs) that deliver data to and from existing blockchains and work to ensure data accuracy.
According to Chainlink, The Associated Press, AccuWeather, Swiss-based telecom company Swisscom, Amazon Web Services and Google Cloud Platform have launched oracle nodes on the platform.
The native token, LINK, is used to pay Chainlink node operators for retrieving data from off-chain smart contract data feeds, formatting data in blockchain readable formats, off-chain calculations and uptime guarantees provided by operators. . Chainlink is also working on a comprehensive staking mechanism for the network.
On April 11, LINK was the 23rd largest cryptocurrency with a market cap of over $6.5 billion, according to CoinMarketCap.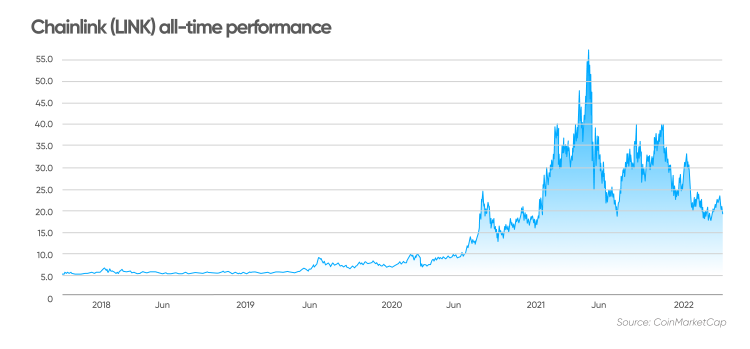 Filecoin (FIL): Decentralized Cloud Storage
Filecoin (FIL) is an open-source cloud storage marketplace. The network is powered by a large number of storage providers and developers to help organizations and projects find cost-effective, decentralized and secure data storage solutions. Common use cases of Filecoin include the storage of large archives, NFTs, and frequently accessed data.
According to the report from research firm GigaOm, most storage providers on the Filecoin network are "committed" to offer data center resources by investing in hardware and depositing collateral to ensure the quality of service, data availability and reliability of data on the long-term guarantee. Its native token, FIL, is used to pay storage providers to store and retrieve their data.
"Storage providers are strongly incentivized to store important data for end users by being offered a 10x reward multiplier through the Filecoin+ program. Storage providers participating in the network are required to pledge Filecoin collateral and could lose that money if they are not reliable enough," GigaOm said.
On April 11, FIL was the 37th largest cryptocurrency with a market cap of over $3.6 billion, according to CoinMarketCap.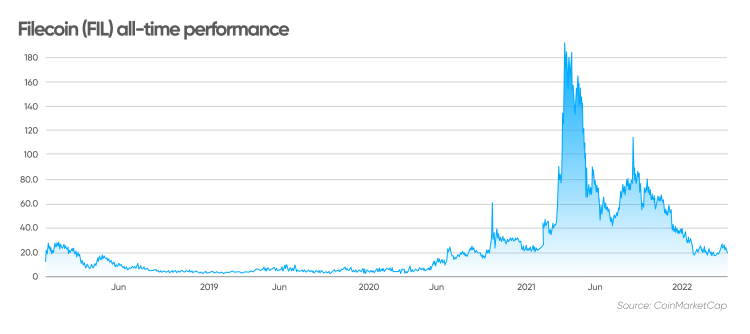 What is your sentiment on DOT/USD?
Vote to see Traders' sentiment!
Theta Network (THETA): Strengthening the Content Industry
Theta Network (THETA) is a media and entertainment focused blockchain that aims to reduce the network costs of delivering content for the online video industry. It rewards end users for sharing their storage or bandwidth on any device.
According to Theta Network, one of the potential use cases would be a web3 equivalent of a streaming company such as Netflix (NFLX), leveraging Theta Network's solutions to reduce the cost of video encoding, storage, and delivery to multiple devices.
Theta Network consists of two systems, the Theta Blockchain, which provides payment, rewards and smart contract capabilities to users, and the Theta Edge Network, which enables storage and delivery of media assets.
The network also has two tokens. Theta Token (THETA) is the governance token. Theta Fuel (TFUEL) is the operational token used to pay for on-chain operations.
On April 11, THETA was the 40th largest cryptocurrency with a market cap of over $3 billion, according to CoinMarketCap.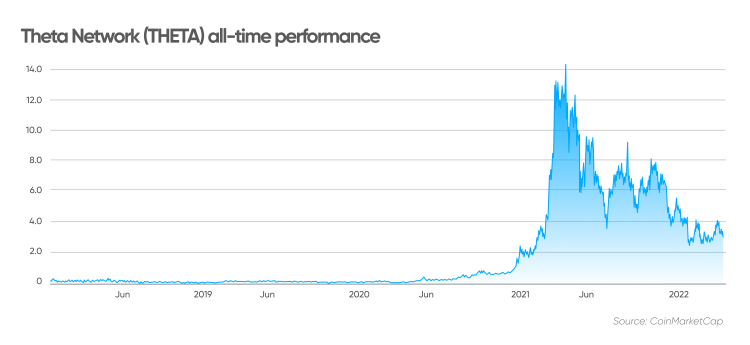 Helium (HNT): Offering Decentralized Internet
Closing the list of top web3 cryptos is the Helium Decentralized Wireless Network (HNT). According to the white paper, Helium is a decentralized wireless network that allows devices anywhere in the world to wirelessly connect to the Internet and geolocate themselves without the need for satellite location hardware or cellular plans.
Helium is powered by a network of miners and wireless network coverage providers. The Helium Community handles supplier onboarding and third-party production of Helium-enabled hotspots. Network participants earn HNT tokens by deploying these hotspots.
The native token HNT is used to pay miners to send data to and from the internet. Miners need to stake HNT tokens to join the Helium network. Newly minted HNT tokens are rewarded to miners who are part of the consensus group.
On April 11, HNT was the 47th largest cryptocurrency with a market cap of over $2.4 billion, according to CoinMarketCap.
Market Outlook for Web3: Analyst Opinion
Catherine Wood's investment company Ark Invest believes Web3 will increase direct online spending by 28% annually from $1.4 trillion in 2022 to $12.5 trillion by 2030. The evolution of the video game industry and the rising popularity of NFTs will be a new type of "active entertainment," Ark Invest noted in its Big Ideas 2022 report.
The industry is showing positive signs toward projected explosive growth, with monthly active Web3 developers rising from less than 6,000 in January 2018 to more than 18,000 by the end of 2021, according to a report by Web3 venture firm Electric Capital.
"Cryptocurrencies and tokens are transforming not only finance and money, but also the ways in which creators can shape internet-native organizations to create and share value," Consensys said.
"Web3 has become a proxy for new economic ideas about how the Internet should be designed and how individuals should share in this value creation."
Note that the list of top web3 coins has been compiled by measuring the market cap of cryptocurrencies, which cannot be used as the sole criterion for choosing, and the 'best' web 3.0 cryptocurrencies.
To build your own best web3 investment list, you need to thoroughly research project fundamentals, coin price performance, market news, and key price drivers. Keep in mind that cryptocurrency prices are highly volatile. Whether web3 coins is right for you will depend on your risk tolerance and how much you intend to trade.
Frequently Asked Questions