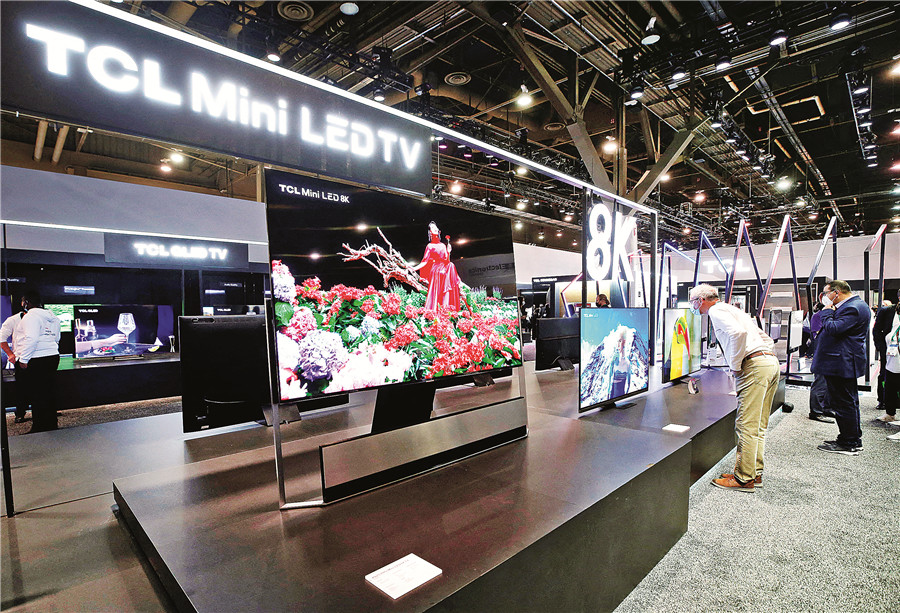 Company revenue in overseas markets was $18.47 billion in 2021, up 60% year-on-year
Chinese consumer electronics giant TCL Technology Group Corp is accelerating steps to strengthen its capability in global operations, establish comprehensive industrial chains across the world and increase investment in research and development to expand its footprint in Emerging Markets.
Strengthening global competitiveness has always been an important strategy for TCL, said Li Dongsheng, founder and chairman of the company, adding that it has adjusted the layout of overseas industrial chains, intensified localization efforts and continuously increased the capital contribution in R&D.
In recent years, TCL has expanded its overseas factories covering the production of TVs, modules and photovoltaic cells in Vietnam, Malaysia, Mexico and India. It has established joint ventures with local partners in Brazil to jointly build production bases, supply chains and R&D system.
"Going forward, we will actively consider increasing our industrial bases in Africa and strengthening our business in the Middle East," Li said. So far, TCL has set up 42 R&D centers and 32 manufacturing bases around the world, with operations in more than 160 countries and regions.
The company's revenue in overseas markets was 117.4 billion yuan ($18.43 billion) in 2021, up 60 percent year on year.
"We adopt different strategies for different countries and regions. For example, we need to develop new products suitable for local demand through technological innovation in the United States, Japan and some other developed countries, while in the developing countries, we are making efforts to build industrial and supply chains in order to expand our business," Li said.
Chinese enterprises should speed up the construction of global industrial and supply chains, which is of great importance to improve their competitiveness, he said, while stressing that they should also make breakthroughs in technologies. base in key areas, such as integrated circuits, precision materials and high technologies. -final equipment.
Noting that China has maintained its position as the world's largest manufacturing nation, he said the country's manufacturing sector is expected to shift from exporting products to exporting industrial capabilities, leading to the export of materials, components and national equipment. He made this observation in the context of the current global economic model and changes in investment and trade rules.
"We need to speed up the establishment in global industrial chains, remove trade barriers as well as build and improve our operating system in the global market," he said, adding that international trade has already become the TCL's main growth engine.
He said the company has set up a factory in Mexico and did not rule out the possibility of building factories in the United States. "For Europe, we have established a factory in Poland, which is a member country of the European Union, so there is no tariff barrier and the factory can support our sales in the EU," said he declared.
Industry experts said that establishing overseas branches or production bases will not only bring China's advanced manufacturing, R&D and management capabilities to overseas markets, but also create business opportunities. employment for locals, will enhance brand awareness and improve the competitiveness of Chinese enterprises in the global market.
China's home appliance sector revenue reached 760.3 billion yuan in 2021, up 3.6% year on year, but saw a 7.4% decline from its performance of 2019, said All View Cloud or AVC, a Beijing-based consulting firm specializing in the home appliance industry.
As the growth of the home appliance industry is slowing down, Jie Meijuan, general manager of AVC consumer electronics big data department, said it is an irresistible trend that home appliance makers are stepping up their global market operations to improve competitiveness and foster a new engine of growth for their longer-term development.
Jie said the brand awareness of Chinese home appliance products has been on the rise and the global industrial structure of home appliance companies has improved, providing strong support for their globalization efforts.
Globalization is both an opportunity and a challenge for Chinese home appliance manufacturers. This will further promote the high-quality transformation and upgrading of China's manufacturing sector, she added.
"Building a strong global industrial chain and improving global operational capability will help Chinese home appliance enterprises to utilize global resources, reduce costs and improve management efficiency," he said. she said, adding that the establishment of a global R&D center will enable Chinese enterprises to gain innovation advantages. , mastering new technologies and gaining a bigger voice in the industry.
Dong Min, deputy secretary-general of the China Video Industry Association, said the traditional TV market is nearly saturated and companies need to look for new growth points.
"Expanding into overseas markets will not only ease the pressure of high inventory in the domestic market, but also increase the international influence of Chinese home appliance enterprises," Dong said.
Founded in 1981 in Huizhou, Guangdong Province, TCL now mainly focuses on smart terminals, solid-state displays, solid-state photovoltaics and solid-state materials.
It specializes in the research, development and manufacture of consumer electronics products, including smart displays, air conditioners, smart mobile and connected devices, refrigerators, washing machines and smart voice products.
Zhang Qizi, deputy director of the Institute of Industrial Economics of the Chinese Academy of Social Sciences, said Chinese enterprises should step up efforts to break into key technologies through autonomous innovation and promote the integration of the next generation of information technology and smart manufacturing. with the current industrial supply chain.