Sony's Marvel movie Morbius didn't perform any better at the box office the second time around, following a re-release in theaters just months after its underwhelming debut.
The movie has continued to be trolled by social media users who have suggested that Sony "misread internet culture" by attempting to capitalize on apparent momentum Morbius had online. Morbius has consistently been a trending topic and phrases like "It's Morbin' Time" have trended online. Two months after its initial launch, Morbius was rolled out to 1,000 domestic cinemas but few people turned up to support the movie.
Jared Leto stars as the titular Michael Morbius, and he even weighed in on the apparent meme-culture surrounding the movie by posting a short tongue-in-cheek video online. Morbius also features Matt Smith (The Crown), Adria Arjona, Jared Harris (Chernobyl) and Michael Keaton. Morbius received mixed reviews from critics upon its original release, and from the recent box office figures, it seems opinions haven't exactly improved.
Taking Morbius' release into week ten, Sony's reissue of the movie didn't pay off, earning just $85,000 on June 3, and $280,000 at the box office in total. This addition takes its total domestic intake to $73.6 million and worldwide earnings to over $163 million.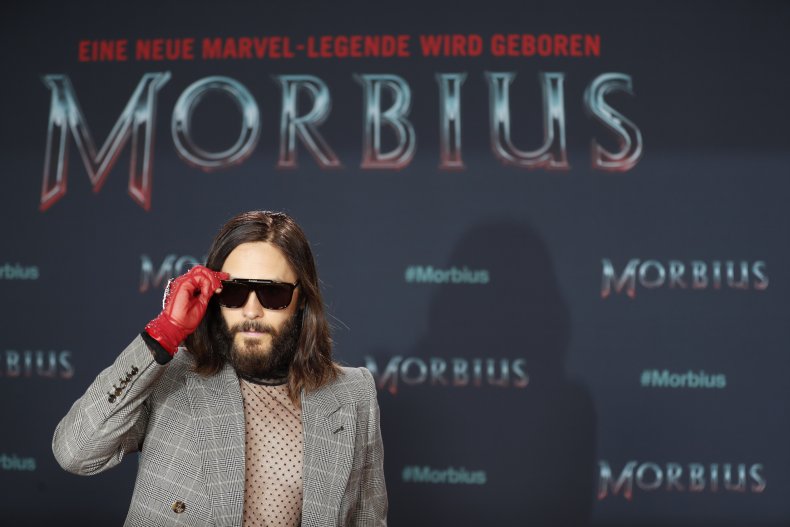 "Morbius back in theaters may be an all-timer boomer misread of internet culture," said internet filmmaker Freddie Wong. Some 150,000 people on Twitter agreed with his assessment on Twitter by liking his tweet.
Assessing the online chatter around Morbius, Twitter user @Joabyjojo went viral for writing in all caps, "People. The algorithm does not understand irony. You are manifesting Morbius 2 into existence."
Leto joined in with the joke and sent out a brief video of his reading a script for "Morbius 2: It's Morbin' Time." It's clearly a joke as the writer is credited as Bartholomew Cubbins, a Dr. Seuss character.
The video has been viewed tens of millions of times online, and hundreds of thousands of people liked it on Leto's Twitter, Instagram and TikTok.
Online, people continue to rave about the movie, in what is obviously a sarcastic manner, but as one user mentioned, the algorithm doesn't recognize that.
"Of course the Morbius re-release failed. All our memes were about wanting a TV SHOW, Sony! Make us a Morbius TV show we'll watch it for sure," movie journalist David C. Bell wrote. He also urged Sony to spend $30 million an episode because it's "what the people want," before adding he wants a MorbiusLand theme park in Orlando, Florida.
KaijuNellie summarized their reaction on Twitter by explaining to Sony that social media was laughing at the movie's expense. "Like do they not understand internet culture? We weren't morbin' with the movie, we were morbin' AT the movie," they wrote. Elaborating on why Sony pushed ahead with the relaunch of Morbius, they wrote, "I feel Sony's had a lot of bad luck, have been absolutely desperate for a real win, especially since Disney is close to having a monopoly, so I've been as sympathetic as i can be for a corporation (which is mild at best)."
The official Morbius social media accounts attempted to join in with the joke ahead of the re-release. On social media they asked "What Time is it?"—to which the answer is "It's Morbin' Time"—and announced that Morbius is now back in theaters and available on digital.