By Michael McHugh
Virtual reality, while many may dismiss it as a fad, is an ever-expanding field in the tech world. With this technology being almost forced into such a broad range of applications, from education to social interaction, it can often feel that VR is not all it's chalked up to be.
However, one Somerville tech startup has made great strides in showing the tangible benefits of virtual reality in an area that may at first seem peculiar: elder care.
Rendever is a company creating virtual shared experiences to help combat feelings of depression and social isolation amongst the aging population, especially those in nursing homes or hospice care. Within the VR headset, users are able to revisit locations from their past, reconnect with family members, check off bucket list items such as climbing Mt. Everest, and much more.
Having provided this service to over 400 senior living communities in the five years they've been active, Rendever continues to expand their library of experiences and integrate new immersive content. "It's just it's truly magical," explained Stephanie Randall, the Director of Programs for Rendever. "By triggering something and getting them to share and connect with those around them, those shared positive experiences really build the community, connect people, make them feel not as alone."
NIA research states that 50% of seniors have reported experiencing loneliness and isolation during their stay in a community, and these feelings can manifest physically through increased risk of stroke, heart attacks, and earlier cognitive decline.
According to The National Institute on Aging, prolonged isolation can even heighten health risks as much as smoking 15 cigarettes a day. "I think we've all seen [isolation] during Covid, something we've all experienced and felt the detriment from. I think that it created a lot more empathy and a lot more attention on the problem, and more studies coming out of how it's affecting people of all ages," said Randall.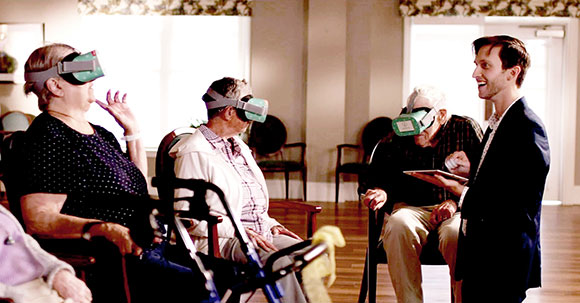 NIA research also showed that Rendever increases resident happiness by 40% by delivering positive, shared experiences that promote social and cognitive stimulation. Mobility limitations can be devastating to the aging population's physical and mental health, but Rendever seeks to forego those limits and provide users with experiences they may have never thought possible.
It's easy to dismiss the concept of mixing today's technology with the elderly as infeasible, but Rendever has managed to simplify the process enough for any person, regardless of age, to put on the headset and explore. To start with, they have removed all technology hurdles from the person actually wearing the headset, making it accessible enough to simply put it on and begin the experience.
All headsets are controlled by one tablet typically used by staff, who also have access to Rendever's 24/7 engagement team who are ready to support and assist in case of any tech issues. Rendever also continues to implement new features such as RendeverLive and RendeverFit.
RendeverFit is a program to help seniors specifically with physical fitness, while still utilizing their focus on social engagement and cognitive fitness to make the experience fun and engaging. RendeverLive provides daily live programming in which users can interact in real-time and enjoy live events including trivia, book clubs, musical performances, meditation, and a myriad of other activities.
The mental health discussions of today's society are slowly becoming more inclusive and comprehensive, but seniors are often left out of this discussion even though they could be considered the ones most at risk.
"My grandmother had Parkinson's and dementia and I just felt like this audience was not given the attention they needed, even while there were so many things that we could do," said Randall. "As someone who never would have thought to apply VR to seniors before this company, it just makes so much sense."