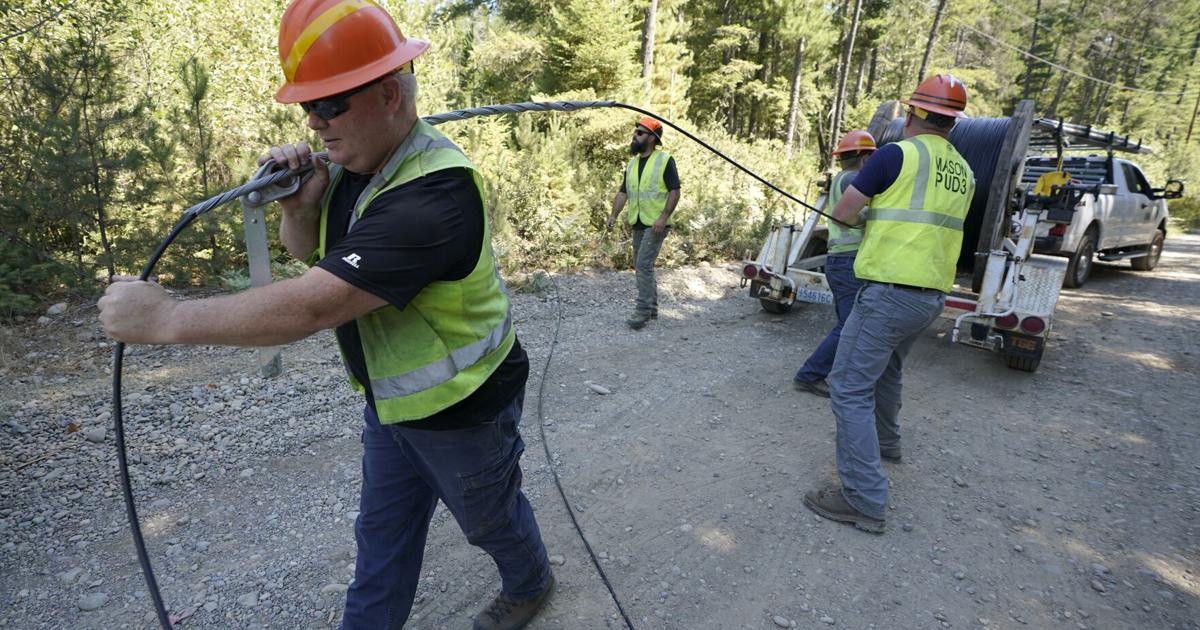 A last-minute challenge has stalled broadband installation in a poor northeast Louisiana parish that Gov. John Bel Edwards used on July 25 as a backdrop to ballyhoo the rollout of 67 grants to extend high-speed internet into underserved rural parishes.
The effort to overturn the winning bid for East Carroll Parish claims that about two-thirds of the households slated to receive internet access already are being serviced, according to lawyers who have seen the document. It is just one of 26 complaints across the state that threatens to delay bringing high-speed internet to about 400,000 people in rural Louisiana. Work in East Carroll Parish, which was scheduled to begin Thursday, has been halted.
"I'm tired of hearing how much money is being put in broadband but I'm not seeing any work being done," said state Sen. Beth Mizell, the Franklinton Republican whose home is one the tens of thousands in rural Louisiana without internet access. She's been at the forefront of getting the money to install broadband into the country.
"None of that has become reality. We're still moving papers back and forth," she added.
The Division of Administration won't release the challenges until after its lawyers determine whether the documents contain proprietary information. Division officials won't respond publicly until after a scheduled Friday meeting to determine the next steps.
Act 477 of the 2021 regular Legislative session established the Grant Unserved Municipalities Broadband Opportunities. Called GUMBO, the grant program also provides funding for internet service providers to extend high speed internet into rural areas.
GUMBO chose providers with experience and technical abilities that had the financial wherewithal to do the work and were willing to put up at least 20% of costs. The Legislature appropriated $90 million, but most of the money comes from the federal American Rescue Plan and the federal $1 trillion infrastructure law. The state's goal is universal access by 2029 to broadband service with minimum speed of 25 Megabits per second download and 3 Mbps upload, scalable to up to 100 Mbps download and 100 Mbps upload.
"This is a once in a generation chance to fix the system," said state Rep. Daryl Deshotel, the Marksville Republican who sponsored the bill that established GUMBO.
"We expected some challenges. We didn't expect as many as we got," he added. Deshotel owns DETEL Computer Solutions, which provides networking equipment, interactive technology, and custom-built computers for schools and government agencies.
The challenges will either end with acknowledgment that the site in question already has adequate service or that the site will soon get service under the GUMBO grant. "Either way it will take some time to comb through the process," Deshotel said.
Some of the challenges Deshotel has seen involve existing providers claiming to already service rural homes with fast enough internet speeds to meet the criteria.
After a challenge was filed against the winning bidder in Avoyelles Parish, Deshotel asked businesses and residences to test the speeds they were receiving from the company that opposed the winning bid.
Only 7% reported back speeds that were close to what the challenging company said it already provided the sites that would get serviced under the grant, Deshotel said. "Exaggeration is a good word to use," he said.
"I can't go into a protest process that's still active," said Veneeth Iyengar, executive director of the Office of Broadband Development & Connectivity, which is housed in the Louisiana Division of Administration and in charge of GUMBO.
Generally, GUMBO regulations allow a seven-day window to protest after an award is announced. Protestors have 10 days to provide data supporting their challenge. Bid winners then have 10 days to respond and the Division of Administration has 20 days to decide. Either side can appeal to Commissioner of Administration Jay Dardenne. Once his decision is made any appeals go to state district court.
Thursday was the day the work was supposed to begin in East Carroll Parish, where Edwards had trumpeted the first grants of the program. The work has been postponed because of the challenge.
"There is not a part of our state that needs this connection more than northeast Louisiana," Edwards said July 25 at the East Carroll Parish Library in Lake Providence in an event celebrating the announcement of the first $130 million in grants that are part of a $176 million award the state got from the federal government. Grants went to more than a dozen parishes. About 66,000 homes and businesses are up to get faster internet.
Sparklight, which already provides cable and internet services in and around Lake Providence, challenged the $4 million grant Edwards announced would go to Conexon, a Kansas City-based company that installs fiber optic networks in several states, including Mississippi.
Sparklight claimed to provide 960/50 Mbps service for 2,856 homes in the parts of East Carroll Parish covered by the project, according to lawyers who have seen the challenge, which has not yet been made public. U.S. Census data showed only 2,792 households in the project area, said Nathanael Wills, an organizer for Delta Interfaith.
Neither Sparklight nor Conexon responded to queries from a reporter.
Community groups supporting Conexon called the challenge "a hail Mary" pass full of errors designed to keep a competitor out. They're circulating a petition to send to Edwards and Dardenne asking them to overturn the challenge and get on with the work.
Rural areas have always had a unique challenge in securing services whether it is water, sewer, electricity and now internet, Wills said.
Usually, rural communities need to partner with government to secure the money. Those contracts often become controversial and that sidetracks the means to acquire the services, he said.