Given that my trips to and from the Berkeley Rep were with maskless BART riders (the company had yet to reinstate their mask mandate), it was at least a relief see the Rep itself finally check for boosters at the door. Although the show itself would prove to be an ordeal of its own, I took comfort in knowing that—like at the Aurora next door for The Incrementalist—I was somewhat less likely to get infected in the theatre.
Said theatre actually allows audience members to walk through Amy Rubin and Brittany Vasta's cluttered set before the show. In fact, those entering through Door 1 had to. After passing through the lobby adorned with corked bulletin boards and countless neon flyers, we find ourselves in the wood-paneled multi-use room of some community building (possibly of a church), post-bingo game. Eventually, the tables and game cards are removed by inconspicuous cast members. The lights dim, the seven actors (with an eighth on the way) remove their masks, and their support group gathers as we audience members pick up the folded church itineraries on all of our seats.
Thus begins Dave Malloy's Octet, making its West Coast premiere at the Rep (through May 29). It's a mostly a capella musical about how the Internet sucks.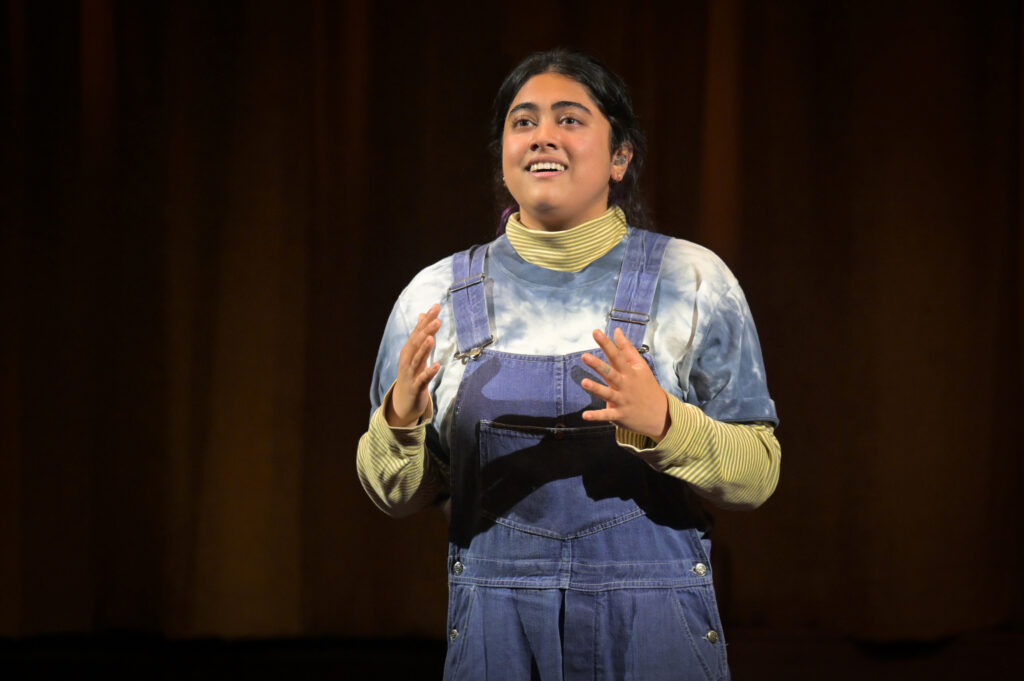 No, really. Each of the group's members, led by the khaki-sporting Paula (Isabel Santiago), is there to report on how well each is dealing with their addiction to their proverbial "monster." All the monsters are digital: Jessica (Margo Seibert) has intense social media FOMO; Henry (Alex Gibson) is partial to "all the games [that have] candy in them"; and even Paula admits to needing to see the glow of blue light at night. And so on.
These are all revealed as part of each addict's share, which takes the meta form of a song with no music, save for percussion and added vocals by whomever else is on stage. Choreography (for which no one is credited) ranges from solitary to co-operative to militaristic. Christopher Bowser's lights almost steal the show in their combined subtlety and accentuation, including direct spots, modest dims, and near-disco flashes.
It's to Malloy's credit that his lyrics are often entertaining, if not transformative. The characters never take the Sondheim journey to being changed by the end, but we are given insight into each of their minds. When Paula sings of she and her husband's shared addiction ("It'd be fun if we were kids with flashlights/ Telling each other stories in our linen cave"), it shows both a direct line from one habit to the next, and reveals a level of immaturity that infects the 24/7 digital world. When she and the group begin their "Fugue State" chant—their support group has the religious tinge of AA with New Age execution—the mantra of "I am obsessed with my monster/ I am obsessed with myself" rings truer than anyone with a smartphone would like to admit.
The problems begin as the intermission-free play moves into its second half, when characters recall the darker parts of the web (though not necessarily the Dark Web). It starts with Karly (Kim Blanck) and Ed (Adam Bashian) trading off about being on opposite sides of the dating app dichotomy: she the recipient of countless dick pix and Nice Guy™ threats; he so insecure that he may join the incels attacking Karly (it's not clear if Ed's share is spoken or just in his head). We then meet habitual contrarian Toby (Justin Gregory Lopez) and scientist Marvin (JD Mollison), an otherwise logical man who thinks it's his job to engage conspiracy theorists.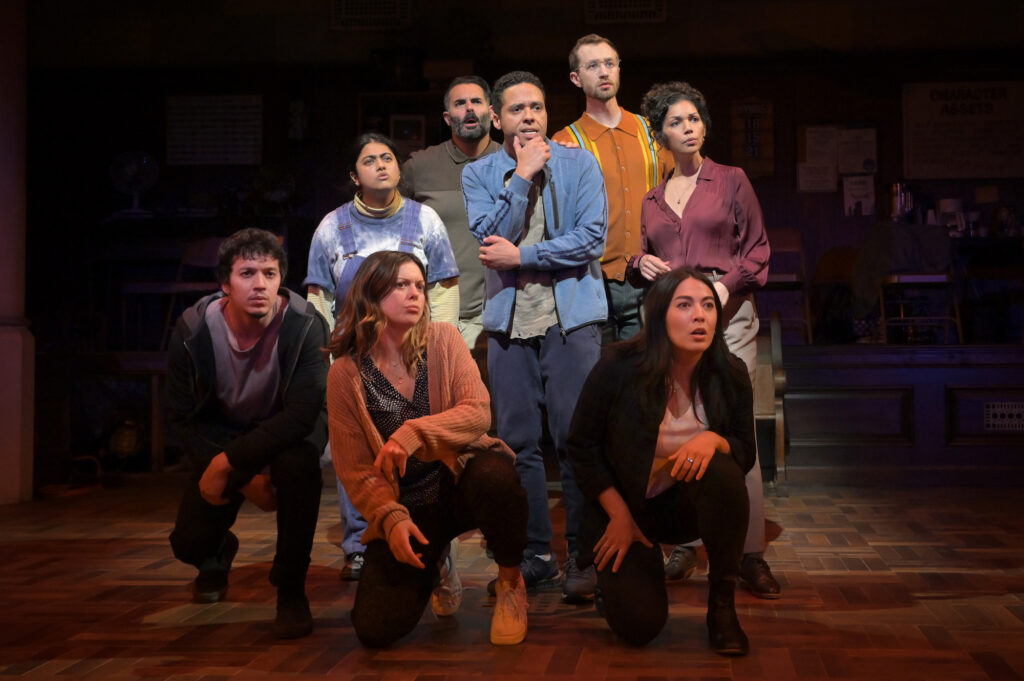 These segments are just as revelatory as their predecessors, but they go on way too long, each one averaging ten minutes where those of the first half were three-to-five. Malloy's commentary goes from astute to Aaron Sorkin-esque digital demonizing to straight up wallowing. It's no wonder his characters call their addictions "monsters", as the script becomes exemplary of Nietzsche's warning of lying down with monsters. Malloy stares into the abyss and wants to take us down with him. By the time we get to Velma's (Kuhoo Verna) slightly optimistic song at the end, it comes off less like Malloy believing that optimism and more like a contractually obligated "happy" ending.
Sponsored link

Still, he and director Annie Tippe were blessed with an incredibly strong cast of vocalists who could easily echo off the walls of the Peet's stage without their attached mics. Not to forget anyone, but Isabel Santiago's Paula is truly the pin holding everything together. Her instinctual knowledge of the cultish group (called "Friends of Saul," whom no one has ever met and may not exist) keeps the session moving, and—like anyone who's ever been in charge of a group that should know better—Santiago shows a brimming impatience with her charges that she's trying to keep bottled up.
The performances are the high point of the show that runs too damn long without an intermission. What's worse, it never goes beyond the "Internet sucks" throughline, something every person in the theatre knows already. Malloy adds nothing to the argument, and he squanders his own entertainment value by allowing his play to grow bloated.
By coincidence, I left the theatre to find that my phone service had been cut off, putting me even closer to the play's characters than I would have liked. Fortunately, I was able to restore it the next day, regaining connection with emergency contacts. As an '80s kid who still writes things down, I know exactly how to survive without constant digital attachment (made much easier after quitting social media years ago). I empathize with Malloy's characters' addictions, but I did not want to be around them for one minute longer.
OCTET runs through May 29 at the Berkeley Repertory Theatre. Tickets and information here.