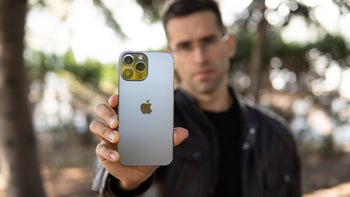 the The iPhone 13 Pro Max is the first iPhone with a battery capacity over 4000 mAh. The phone has amazing battery life thanks to the 4352 mAh battery that powers the device. In a battery test, we pitted the iPhone 13 Pro Max against the Galaxy S22 Ultra, Galaxy S21 Ultra, Pixel 6 Pro, and OnePlus 10 Pro, the iPhone was able to cruise at 120Hz for nearly 19 hours before the battery died.
Even more amazing, a gentleman by the name of Yang Changshun modified his iPhone 13 Pro Max and in doing so, he doubled the battery life. According to MySmartPrice, to keep things cool under the hood, Yang added two built-in auto-speed-adjusting cooling fans and used a dual-layer motherboard that he filled with thermal paste.
The phone's Lightning port has been replaced with a USB-C port and a 3.5mm headphone jack has been added to the phone. With all the improvements, the device got a revised name: the iPhone 13 Pro Max Ultra. And the changes helped the handset boost its AnTuTu benchmark score by 21.5% to 870,244.
Modified iPhone 13 Pro Max Ultra, added USB-C + 3.5mm interface, built-in dual cooling fans, doubled battery life and increased Antutu operating points by 150,000. pic.twitter.com/PBw1JD4Ayc

— DuanRui (@duanrui1205) March 24, 2022
You might remember that last year, an engineering student named Ken Pillolel replaced the Lightning port on his iPhone X with a USB-C port. It was able to retain the same capabilities that the original port offered, including data transfer and fast charging. The phone was sold in an online auction for a princely sum of $86,001.
It would be interesting to see what the so-called "iPhone 13 Pro Max Ultra" would command at auction. If you are considering doing something similar, Apple will void your phone's warranty.