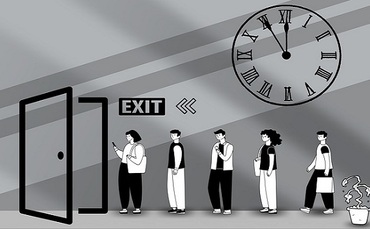 Facebook parent Meta has randomly terminated 60 workers using an algorithm.
The contract employees were working for Meta via Accenture's Texas branch, according a Business Insider report.
Accenture provides hourly workers to Meta for its business-integrity and content moderation services, under a $500 million annual contract.
The workers received notice of their termination via a video call on the 16th August. They were told they would no longer be working as of 2nd September, and their salary would stop on 3rd October.
The workers were told they were selected 'at random,' but no other information was given as to why they were being fired.
According to employees who spoke with Insider, Accenture planned both conversations with little notice and without announcing the topic of conversation.
The company concealed everyone's identities while on the video conversations, including the Accenture representative speaking.
The employees who were let go were not immediately given other employment, but were told that they could apply for any openings that arose during the next two weeks.
The company said there would be further rounds of interviews but there was no guarantee that anybody would be employed again.
"I want a new job but I don't want to be forced into one," a worker said.
This comes only a few days after Meta dropped its target for hiring engineers in 2022, from an initial target of approximately 10,000 to somewhere between 6,000 and 7,000.
CEO Mark Zuckerberg revealed the figure during a weekly employee Q&A session on 30th June, warning staff to prepare for a difficult second half of the year.
"Realistically, there are probably a bunch of people at the company who shouldn't be here," he said.
"I can't sit here and make a permanent ongoing promise that as things shift that we won't have to reconsider [job cuts]," he added.
The CEO told staff that Meta was raising expectations on current employees and setting more difficult goals, and that it was up to staff to choose for themselves if they were in the right organisation.
"[S]elf-selection is OK with me," he said.
For the last several months, Meta has been facing difficulties with its main online advertising business amid a weakening economy.
It also struggling with the ongoing effects of Apple's privacy settings changes; a decline in Facebook app use; a fall in time users spend online as the pandemic eases; and uncertainty brought on by Russia's invasion of Ukraine.
Facebook lost about 1 million daily active users worldwide in Q4'21, its first-ever fall.
Reality Labs, a part of Meta that deals with the metaverse, has posted its second straight quarterly loss this year.
After losing $2.9 billion in the first quarter, the division lost $2.8 billion in the second.
Nevertheless, Zuckerberg is still optimistic about the metaverse and plans to keep investing in the sector.
The firing of Meta's contract workers is the most recent example of tech firms cutting off staff and halting hiring, in a recession that has already hit companies like Apple and Google.
Apple fired 100 of its contract-based recruiters earlier this month who were in charge of finding new staff. It had previously warned that that it would be reducing expenditure and slowing hiring this year.