Man's Reaction to Partner Introducing Surprise Puppy Delights Internet
A woman surprised her partner with an adorable puppy on TikTok that has delighted the Internet in a clip that has garnered over 1 million views.
In the video titled "When you buy a dog without telling your partner," which was posted by user Abi Wilson-Watson on July 31, the woman walks up to her partner, who is sitting outside a U.K. pub near what appears to be a summer village fete.
"Are you videoing us?" the partner asks.
"No, the rides," she answers.
The woman's partner then points at her and says with a smile on his face, "No, he's just f***ing said it, don't honestly."
"We just bought a dog," she replies. The breed is identified by Wilson-Watson as a toy poodle in the comments section.
After a few confused seconds, the woman's partner repeats: "Shut up, are you taking the piss? How much was it? Are you taking the piss? Shut up no you didn't!"
"Swear on my life," she replies.
After confirming how much it cost, the surprised partner then stands up only to have the woman put the small toy poodle puppy in his arms. He then looks at the dog and affectionately asks it: "What the f*** has she done?"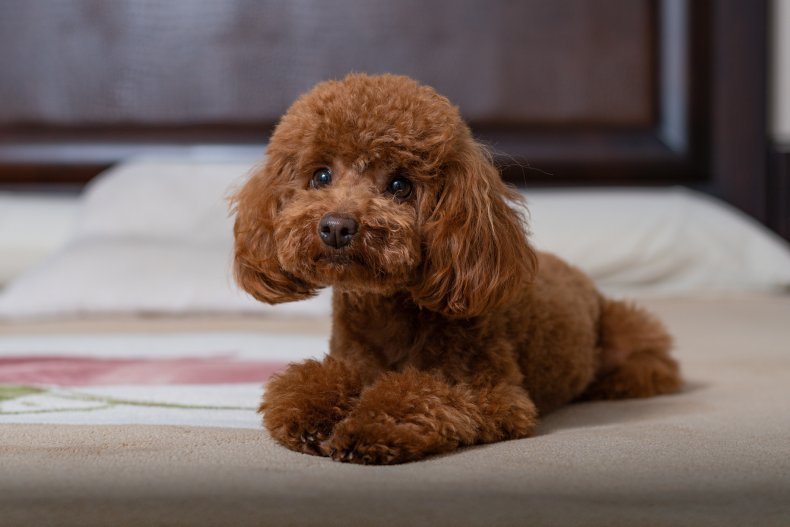 According to the U.K. charity Kennel Club in 2020, 1 in 4 Brits admit to buying a puppy on impulse during lockdown with little or no research.
And a survey by Pets4Homes found that during the peak of the first lockdown in May 2020, demand for pets soared by 104 percent above 2019 levels. Demand for puppies rose by over 420 percent, peaking at 60 million online searches in May alone.
The top five breeds bought during lockdown, according to the survey, also included poodle crosses—with Cavapoo, which is a cross between a Cavalier King Charles Spaniel and a poodle, ranked at the top; followed by a Cockapoo, which is a mix of a Cocker Spaniel and a poodle.
According to Purely Pets, if you are considering owning a Cavapoo, you should "try to choose one that has been bred with a Miniature, rather than a Toy Poodle – the latter are more prone to hereditary health problems. In fact, this breed can suffer from serious health issues, so heavy vet bills can loom."
Meanwhile, TikTok users in the comments were thrilled by Wilson-Watson's puppy video, with one person saying, "Omg how could he say no to that."
Another commenter remarked: "Beautiful you couldn't done any better absolutely adorable."
One user alluded to the fact that he has similarly been tricked by his partner: "Congrats mate I own two dogs myself." And another user admitted to doing the same: "I've done that x."
Newsweek reached out to Abi Wilson-Watson for comment.
Do you have funny and adorable videos or pictures of your pet you want to share? We want to see the best ones! Send them in to life@newsweek.com and they could appear on our site.