A man has divided opinion online after committing what many consider to be a cardinal sin during his brother's wedding by proposing to his girlfriend.
Aside from guests wearing white, few things are considered more egregious to the happy couple than the sight of a guest getting down on one knee to pop the question during their nuptials.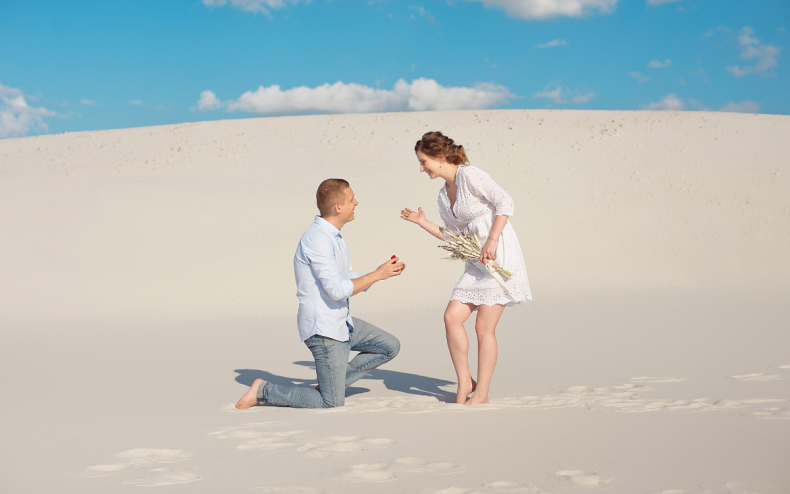 For Elaine Swann, author and etiquette expert, the issue is clear.
"The day of someone's wedding is one day out of an entire year," she told Southern Living. "The couple is creating a memorable moment that will last a lifetime and a proposal should not be part of the one day that the couple has to themselves: Let them enjoy it!"
One man posting to Reddit under the handle Ehaler took things a whole step further, however, after proposing during his sibling's lavish wedding. Writing in a post upvoted over 10,000 times, he revealed how he popped the question during his brother's "big beach wedding with about 100 people."
According to the man, he and his partner have been together for 10 years and are parents to one child. Despite this, he said they had never previously considered tying the knot.
"Marriage just never came up," he wrote. "We are both really not the romantic types." Nevertheless, when their son was born he said he had "jokingly" told his wife he would "propose to her on a beach at sunset someday."
Fast-forward to his brother's wedding and with guests milling about on the beach while the bride and groom took photos, he decided to pop the question in private away from the other attendees.
Keeping the news to themselves, he and his girlfriend took a selfie together before returning to the party with the plan being to have a "courthouse wedding" soon after.
The problems arose when his partner posted the selfie on social media, captioning it: "finally marrying the love of my life, and a sunset beach proposal!"
Though he insisted it was a "sarcastic caption" and they were "more joking" than anything else with the post, both his brother and his sibling's new wife took offense.
The man said that while his brother was angry at him for "proposing at someone else's wedding" his sister-in-law was more upset at the fact they apparently "ridiculed their wedding" in the post.
But despite proposals at weddings being seen as something close to sacrilege by many, plenty online felt there was little wrong with the way the man handled things.
Primary-Criticism929 led the charge, branding the newlyweds' complaints over it as "ridiculous" given how it was done. "You didn't propose in front of everybody, you didn't announce it at the reception and you waited two days to post it," they wrote.
PrscheWdow agreed, writing: "Sounds like it was a total spur-of-the-moment thing that happened during a private moment away from the rest of the wedding, and they were sensible enough to wait until after the wedding to make the announcement."
Needkits added: "It was a private conversation. They took a normal selfie, no one else knew anything. They cause no distraction…It even sounds like unless you add the date up and the beach, no one would even know it had been at the wedding."
Despite some condoning the actions of the newly engaged couple, plenty still found fault with their plans.
Itgoeson678 was unimpressed with the "sarcastic" tone of their post. "They're acting like they're too good for the proposal/wedding while proposing at his brother's traditional wedding," they said. "I think his brother took it as them making fun of his wedding while still benefiting from it."
Throwawaydisposable also noted: "While social media posts like that may not matter to you they may matter to them, and that's really something that should be checked with. They may not want their wedding to be talked about as so and so's proposal spot."
Elsewhere, spyd3rm0nki3 felt that regardless of whether the couple made a big scene, it was still wrong to do things the way they did. "Don't propose at someone else's wedding unless toot got permission from the bride and groom beforehand," they argued. "You have 364 other days to make a proposal."
Downworldleratwork, meanwhile, felt the proposal itself smacked of the man putting in "minimum effort" to pop the question. "Between the wedding and reception of someone else it kind feels like an afterthought," they said.
Newsweek has contacted Ehaler for comment.