The Japanese government has received expressions of interest from more than 100 regional centers willing to host new data centers as part of an effort to make the country's computing infrastructure more resilient.
As noted in a January EOI, more than 60 percent of Japan's data centers are located in or near Tokyo — a city that regularly experiences earthquakes and power outages in the wake of the 2011 Tōhoku earthquake and tsunami that damaged the Fukushima nuclear power plant. . Another 24 percent of Japan's data centers are located in the Kansai region, near the cities of Nagoya and Kyoto. While Japan has many more data centers on the drawing board, Tokyo is the preferred location for many.
The government has rightly concluded that digital infrastructure is critical to society and that there are obvious risks that more than 80 percent of it is concentrated in two locations. Energy consumption is another concern as authorities find it difficult to access renewable electricity in the country's capital.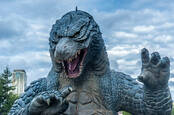 US Air Force puts Godzilla in charge of autonomous warfare with Project Kaiju
READ MORE
The Japanese government therefore devised a plan to spread data centers across the country, to increase resilience and because spreading the supporting communication infrastructure across the country is a nice added benefit. It is also hoped that if Japan can develop more viable data center sites, it could bring in some new investment as data center operators seek new locations to meet the growing demand for computing resources.
That is why the government has expressed interest in regional areas willing to host future data center builds.
Yesterday, the national Ministry of Economy, Trade and Industry revealed that more than 100 regional governments raised their hands to be considered data center hosts. The ministry now plans to consider their proposals with an emphasis on resilience, before eventually subsidizing building grants in hopes of attracting private investment in new facilities.
No timetable has been set for that effort.
Japan isn't alone in planning a regional data center shift. China is planning a massive migration from urban data centers to the western regions, where land and renewable energy are plentiful and cheap.