A man took his frustrations with his fiancé's boyfriend to Reddit's "Am I the A**hole" forum after several interactions he had with her.
Reddit user u/theantwonder1 wrote in his post, which received more than 14,000 votes, that his fiancée "Erica" ​​moved into his house after they got engaged. He said they plan to put her name on the house when they get married.
"She and her friend Leah have been best friends since high school," the Redditor wrote. "I don't really like Leah, but I've also been cordial because I know she'll be in my life. My problem is that Leah considers my home her own."
He explained that Leah talks to him disrespectfully and treats him as if he were a guest in his own home. Redditor u/theantwonder1 also claimed that he noticed some of his tools were missing from his garage. When he checked his security cameras, he found that Leah and her boyfriend were in the garage with Erica, and they took them with them. Erica assured him they borrowed the tools and would return them, but the Redditor wrote that he contacted several times before they were returned.
The Redditor told Erica he wasn't comfortable with Leah being in his house after discovering she was trying to grab a bottle of wine from his bar. Leah told the Redditor that Erica said it was okay to take the bottle of wine, but Erica said she couldn't remember having that conversation with Leah.
"The last straw came when I wanted to hit some golf balls and my clubs were missing," wrote u/theantwonder1. "I panicked because I golf regularly and my clubs are my biggest investment."
When checking his security footage, the Redditor saw that Leah was using the garage code to steal the clubs. He called Erica, who said Leah told her she was getting some clothes from her closet, not his clubs.
"I threatened to call the police, but Erica stopped me," wrote u/theantwonder1. "Leah kept telling us her boyfriend needed them for work."
Four days later, the Redditor got his clubs back, but they were dirty. He told Erica that Leah was not welcome in his house and if she came back he would call the police. However, his fiancé got upset and said it wouldn't be "fair".
"I said it's a pattern and since Erica's stuff isn't affected she doesn't care," the Redditor wrote.
Although he suggested that she go to Leah's apartment instead, Erica told him that Leah doesn't like her apartment. She also mentioned that Leah's boyfriend is constantly in the apartment, which makes Erica uncomfortable.
"I'm now getting the silent treatment and getting a call and… [a**hole] but I don't think I'm doing anything wrong," wrote u/theantwonder1.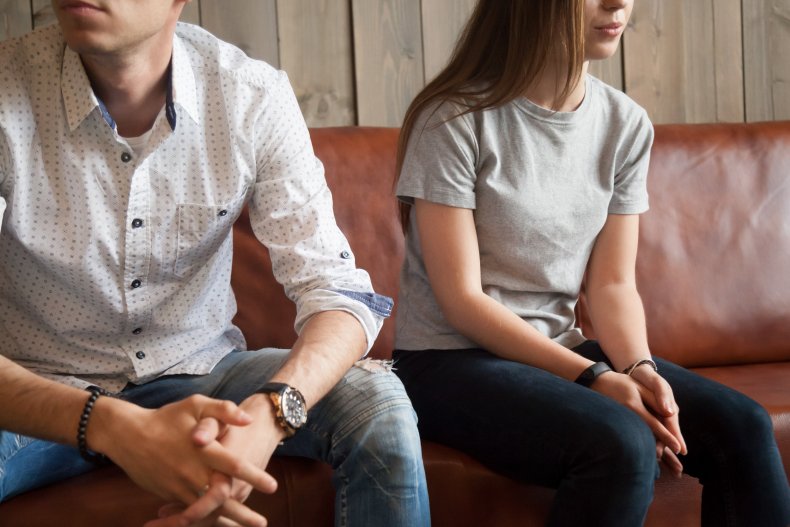 If someone is in a situation where their partner doesn't like their friend, there are some things to consider.
A piece published by Brides Magazine pointed out that if the partner is not trying to control, then the individual should try to see things from their partner's perspective. There should also be boundaries for spending time together.
"Talk to your partner and find out how they can make your life easier without making them feel uncomfortable," the article reads. "You should be able to find a middle ground."
Although u/theantwonder1 said his issues were with Leah, most commentators insinuated that his fiancé allows many of the issues to continue. Some warned the Redditor not to move forward in the marriage.
"Don't put this woman on your house deed. Heck, don't marry her," one commenter wrote. "You don't have a Leah problem, you have a fiancé problem. Time to move on, friend.'
Other commentators agreed with the sentiment, and one of the readers said there were many border issues that are red flags.
Another suggested that Erica had actually given Leah permission to take the Redditor's belongings in addition to the garage code.
"She has no respect for you, your stuff or your house," one commenter wrote. "The things the friend takes will escalate into increasingly expensive items."