Commenters supported a woman who told her younger brother they could not wear a dress to her wedding after they came out to her as non-binary.
The anonymous woman, known only as u/givemeausernameeee, posted about her situation in Reddit's popular "Am I The A**hole" forum where it received nearly 8,500 upvotes and 1,000 comments.
According to the Human Rights Campaign, an estimated 2 million Americans identify as transgender. The word transgender, or trans, is an umbrella term used for individuals whose gender identity is different from the sex they were assigned at birth.
It is estimated that three out of 10 adults in the U.S. know someone who is trans. The term transgender can include many gender identities: non-binary, genderqueer, gender non-conforming, agender, and bigender.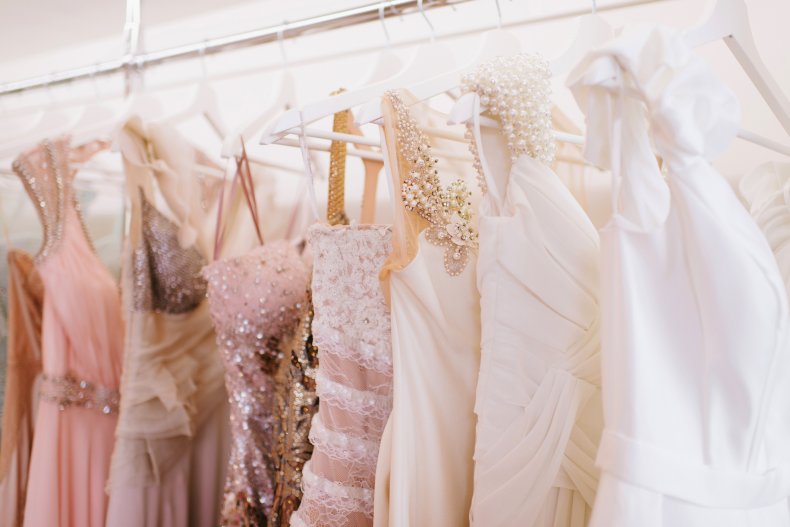 In the post titled "AITA for forbidding my brother from wearing a dress?" the woman, 32, explained that her 15-year-old brother is the "golden child" and that he is coddled and disrespectful.
"I've found him looking at alt right stuff online and while I don't believe he's that far gone yet, I am truly worried about the person he is becoming. My parents believe it's a phase because he's a 'sweet boy,'" the post read.
She said that her brother recently decided to "come out" as non-binary and is insisting on wearing a dress to her wedding—but she said she doesn't believe her brother.
"I don't make a habit of policing other people's identities but it is crystal clear to me that he thinks this is a joke," the post read. "Literally the ONLY time this is ever brought up is when discussing my wedding. He busts out with how he needs to wear a dress to be his true self and then laughs. Every time. He can't even keep a straight face, he thinks it's the funniest thing ever."
The woman said she would let her brother wear a dress if not for one of the groomsmen, her fiancé's close friend James. She said James recently started his transition and still "presents feminine" which is a source of stress.
"My brother met James at my fiance's birthday bbq a few weeks ago and this began a few days after which is another reason I believe that this is a way for him to harass James because he thinks it's funny," the post read.
She said her brother asked why James is allowed to be a groomsman and wear a suit when they can't be a bridesmaid or wear a dress—but added that he laughed while asking.
"I am 100% sure that my brother is being a transphobic f**kwad and I am deadset on preventing him from mocking James like this," the post read. "My siblings and fiance see exactly what I see (because it's obvious) and are also not okay with this at all."
However, she said her brother told their parents that the family is unsupportive of their identity.
She said she is threatening that security will have her brother removed from the wedding if they show up in a dress, but that would also mean turning away her parents.
"One of my friends has said it shouldn't be as big of a deal as I'm making it and he'll only embarrass himself but I really think James would be uncomfortable," the post read.
She added that when she sent a text seeing when her brother wants to go dress shopping and what they were thinking for makeup, her brother replied with a middle finger emoji.
Redditor Reactions
Nearly 1,000 users commented on the post, many supporting her for standing up to her brother and protecting James' feelings.
"I would talk to James and give him a heads up—and then let your brother wear the dress," one user commented. "Offer to go shopping with him to pick one out. $5 says if you really lean in on this, your brother backs down because he's no longer getting a reaction out of you."
"Lean into it HARD!!! As in have your mother, you, and sister go shopping with him!" one user suggested. "Have him try on dresses, and do NOT forget the Bras & Panties!!!…You may not be the ah in your post, but you absolutely should be the Ruthless AH if you do this."
"NTA. Play into it. Go dress shopping with him. Make him go through all the rituals of it all and see what comes of it. I bet he changes his mind afterward," another wrote.
"He is planning to hurt someone on the basis of their being queer," one user commented. "Do not let that go. Do not let your parents bury that with 'boys will be boys.' He is lying to them, he is abusing his parents."
Newsweek reached out to u/givemeausernameeee for comment.
Another bride recently went viral on Reddit for getting angry with her partner after he returned her wedding dress.
In another viral Reddit post, a bride was barred her sister-in-law from her wedding for being too pretty.
One woman was praised for refusing to cancel her wedding after her sister-in-law's divorce.