Refresh
Aurora Supercomputer
Koduri invites to the stage Rick Stevens, Associate Director of Argonne National Labs, home to the Aurora supercomputer, which is currently under development.
Aurora is made of a large number of compute blades, each featuring 2x Sapphire Rapids CPUs and 6x Intel Ponte Vecchio GPUs, and each connected with thousands of other blades. When it goes live, the supercomputer will be among the most powerful in the world.
Announcement: Argonne will now invite academics to submit requests for time with Aurora while it's still under development.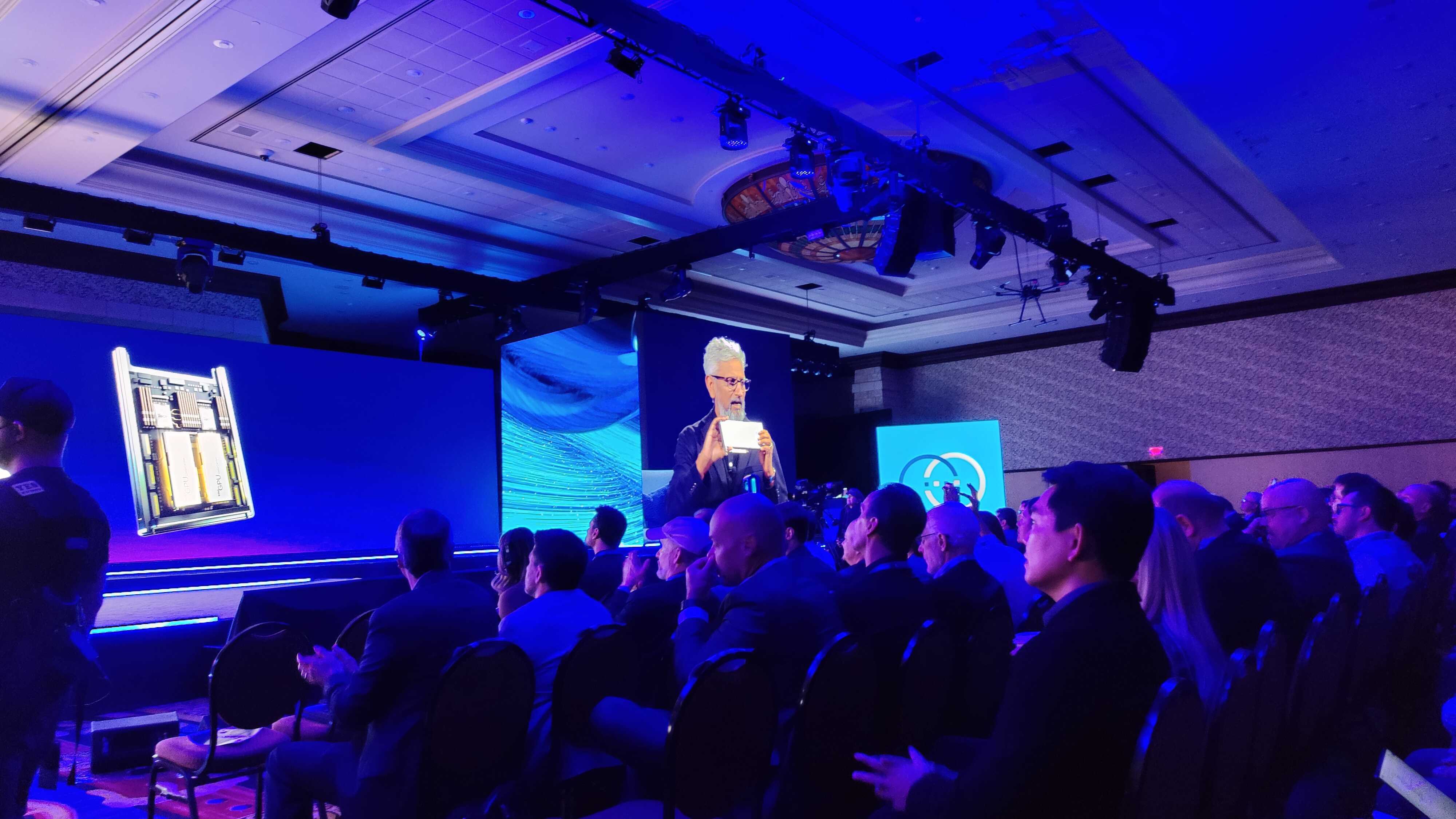 Intel Arctic Sound-M GPUs 
Koduri holds aloft Intel's new data center GPU, Arctic Sound-M, first announced earlier this year.
Artic Sound-M GPUs feature up to 4x Xe media engines and up to 32x Xe cores and ray tracing units, and can apparently support up 40+ HD gaming streams and 30+ HD video streams at once. "It's a media supercomputer on a single chip," says Koduri.
Arctic Sound-M will be available to customers next quarter.
Zettascale computing
Raja Koduri, head of Accelerated Computing and Graphics (AXG), hits the stage to talk about what's next in the high-performance computing space for Intel. It's a space Intel dominates, but AMD has been gaining ground in recent years.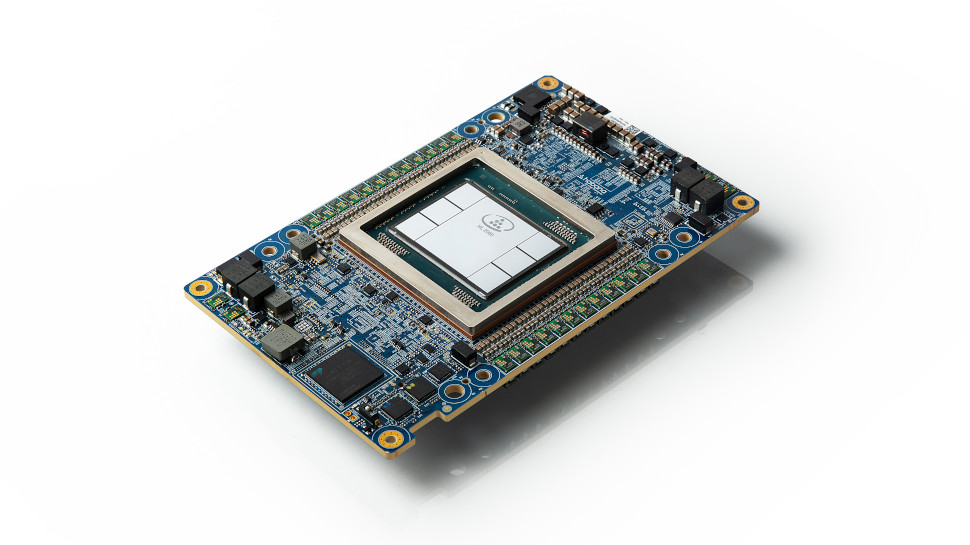 ANNOUNCEMENT: New AI accerators from Intel's Habana Labs
Intel has lifted the lid on a second generation of Gaudi accelerators that could reduce the time it takes to train large-scale AI models significantly.
The Gaudi 2 processors are built on a 7nm process, feature 24 integrated 100GbE RoCE ports and boast the largest quantity of memory of any accelerator on the market (96GB HBM2e).
The new processors are a product of Israel-based Habana Labs, which was absorbed by Intel back in 2019, and are designed for servers dedicated to deep learning workloads.
Read our full write-up here.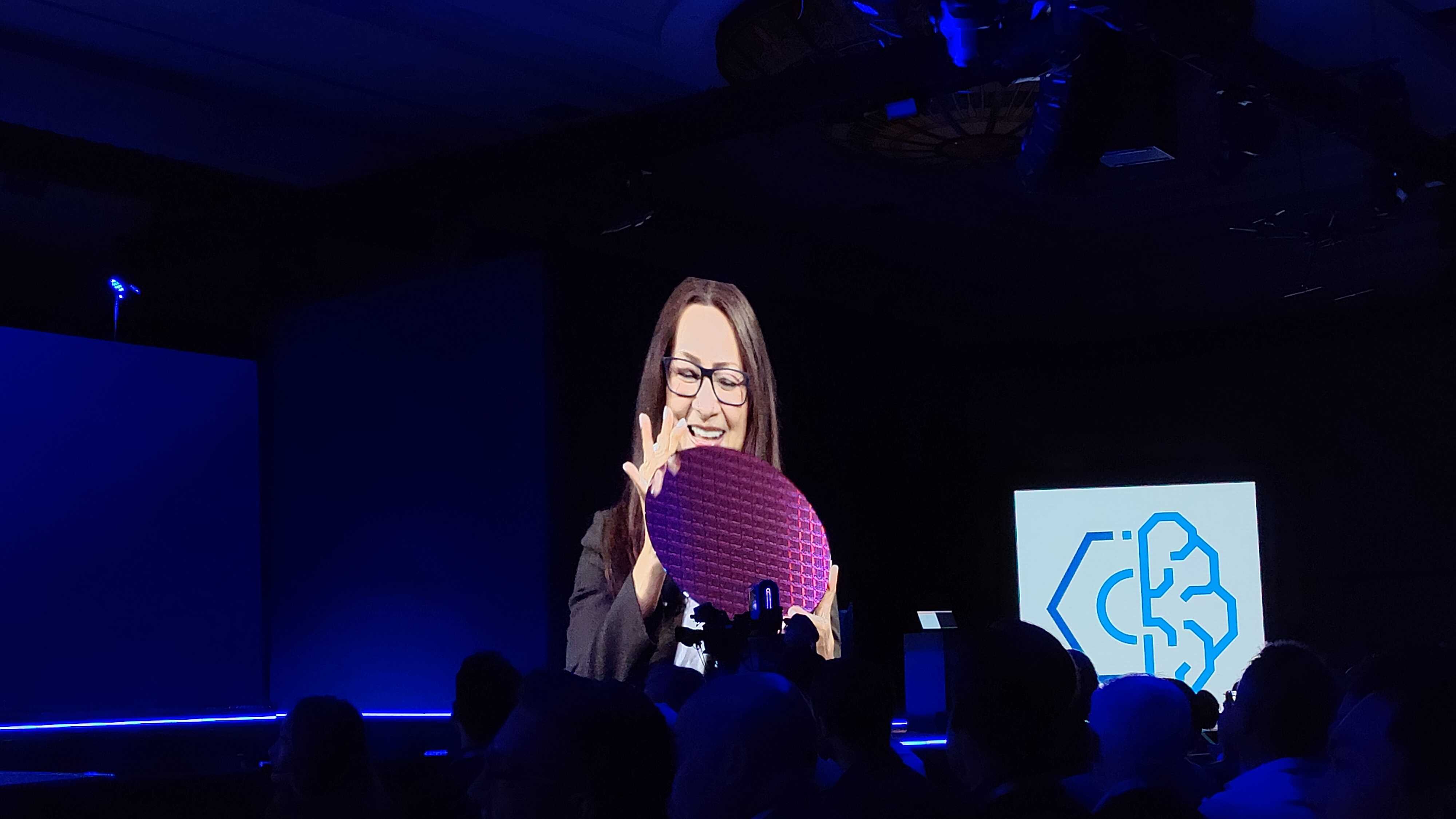 Sapphire Rapids
Rivera holds aloft a Sapphire Rapids Xeon wafer. Very shiny.
The company is already providing customers with 4th generation Xeon SKUs, but still no news as to when we can expect wide availability.
ANNOUNCEMENT: IPU roadmap
Sandra Rivera, head of data center and AI, takes to the stage to deliver an update on Intel's data center business line.
Rivera announces an extension of the company's infrastructure processing unit (IPU) roadmap, all the way out to 2026.
The company plans to deliver three new generations of infrastructure processing units (IPUs) within the next four years, we're told. The first new products – Oak Springs Canyon FPGAs and Mount Evans ASICs – will land by the end of the year.
We'll have more details on this later.
ANNOUNCEMENT: 12th Gen mobile workstation processor
Some news! Intel announces the launch of the 12th Gen Intel Core HX mobile workstation processor, the final product in family.
The new chip delivers up to 16 cores, 5Ghz speeds and "unrivalled performance", we're told.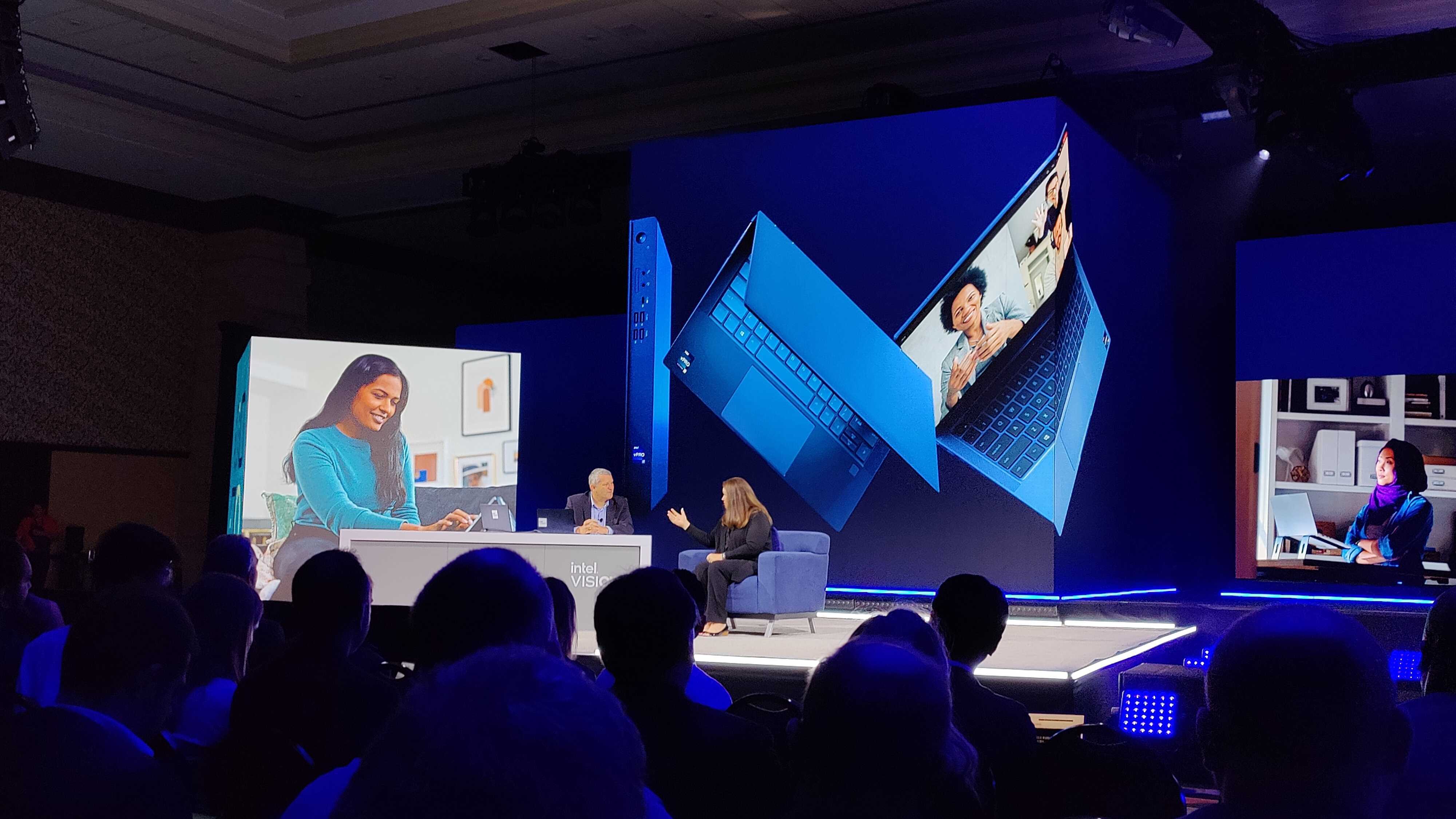 It's all about the PC
Pat Gelsinger exits stage right, replaced by Michelle Johnston-Holthouse (EVP and GM of Client Computing), who's here to talk about the humble PC.
"The PC is the human touchpoint we rely on to focus, create, connect and drive forward our business. I truly believe it's here to say," she says.
"I'd encourage you to imagine what the last two years would have been like if you'd had to work from your phone. The PC enables the workforce of the future."
There's ove 140 million commercial PCs that are four years or older, and this is holding business users back, adds Johnston-Holthaus.
IDM 2.0 and supply chain
Gelsinger takes a moment to nod towards the company's IDM 2.0 strategy, the objective of which is to position Intel at the forefront of chip manufacturing during a period of unprecedented demand.
"We will build leading edge capacity in the US, to support the demand for these four superpowers," he pledged.
"We're just getting started delivering that geographically balanced supply chain capacity."
The company has already sunk billions into new fabrication facilities across the US and Europe this year, but the implicit suggestion here is that there's more to come.
An inflection point
"The world is at a strategic inflection point, a moment in time where things can go incredibly well, or incredibly poorly," Gelsinger adds.
"Transformation is inevitable, it applies to all. Every business is becoming a technology business."
Four superpowers
There are four superpowers driving forward innovation, says Gelsinger: pervasive connectivity, ubiquitous compute, artificial intelligence and cloud-to-edge infrastructure.
"Each of these superpowers is impressive on its own, but when they come together, that's magic."
"If you're not applying AI to every one of your business processes, you're falling behind. We're seeing this across every industry."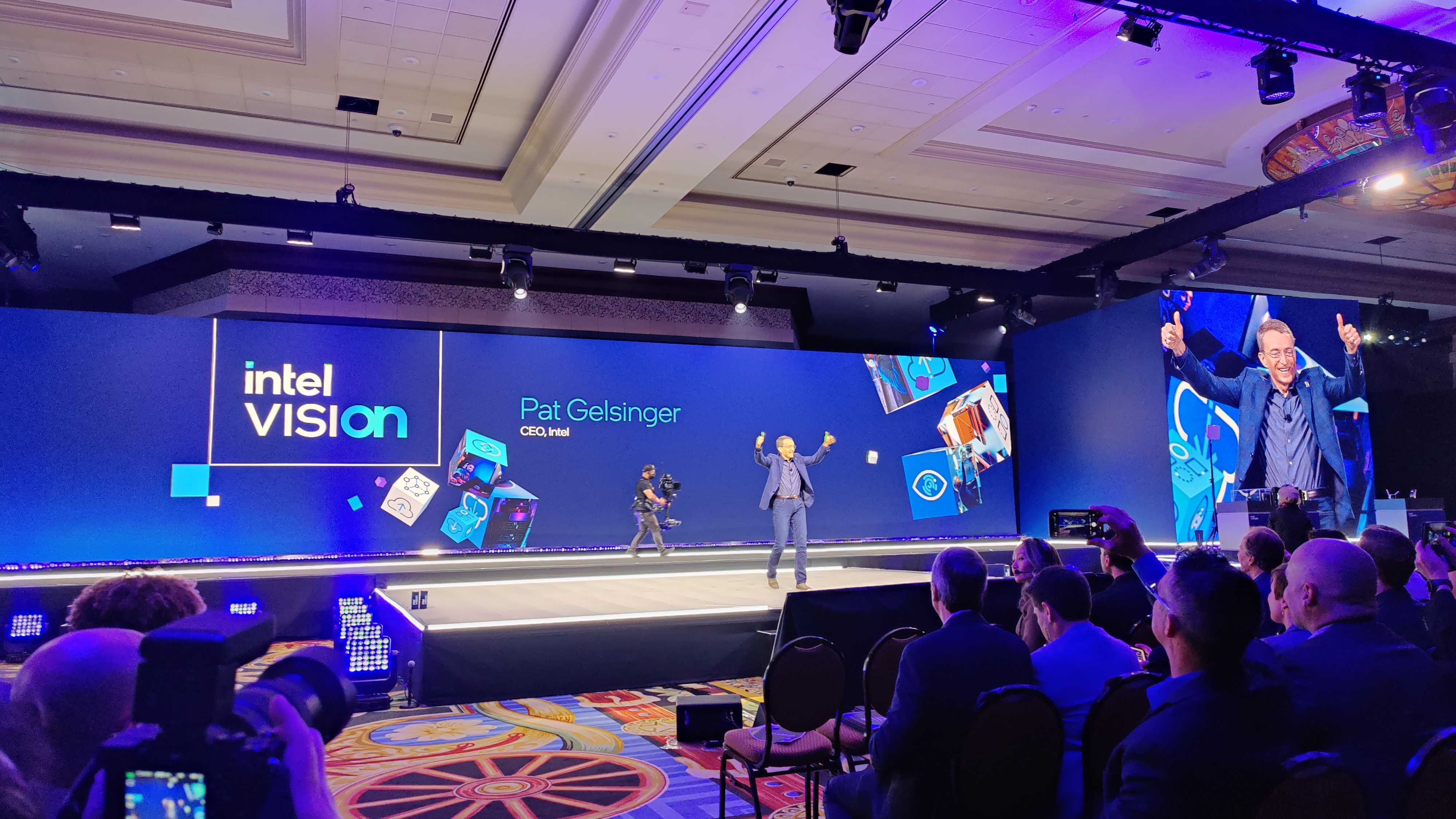 Hi there, Pat
The Intel CEO takes to the stage to welcome the audience back to the first major in-person event the company has put on since the start of the pandemic (and since his return to Intel).
"Today, the pace of technology is the fastest of your life, but the slowest of the rest of your life," he says. "We're sitting at the precipice of a digital rennaissance."
Keynote time
We're waiting now for Intel CEO Pat Gelsinger to take the stage for his keynote address. He should appear in roughly 20 minutes' time.
We expect new product and service announcements, and maybe an update on the progress of the company's IDM 2.0 manufacturting strategy, announced last year.
Good morning from Dallas
Intel Vision begins today and TechRadar Pro will be here with all the latest announcements.
First up is a keynote from CEO Pat Gelsinger, followed by more tightly focused sessions with the Client Computing and Data Center and AI business groups.
Rounding out the day is a roundtable session with Raja Koduri and Jeff McVeigh, during which we should hear more about the companies efforts in the graphics space, both from a device and data center perspective.
What to expect
Intel has kept its cards relatively close to its chest, but we do know we'll be hearing from spokespeople across the company's Client Computing, Accelerated Computing and Data Center business groups.
Essentially, there should be something here for everyone to get excited about, with product and service updates spanning the processors powering your devices, to the chips propping up the cloud.
In the meantime, here's some reading on the latest news to come out of Intel: