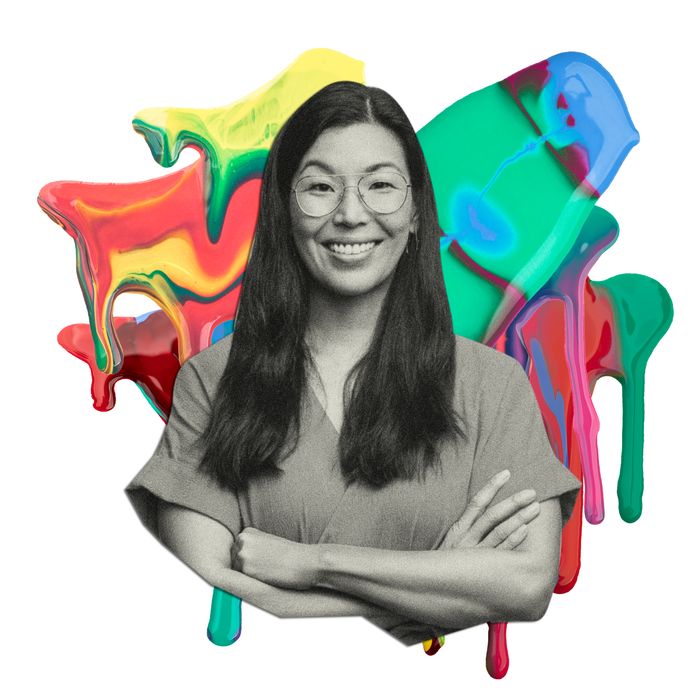 Photo-Illustration: by The Cut; Photo: courtesy of the subject
It would be an understatement to say that Ai-Jen Poo's 24-year career as a labor organizer has been illustrious. In 2012, she was named one of Time100 most influential people; his support profile was written by Gloria Steinem. In 2014, Poo received a MacArthur "Genius" Grant for her advocacy on behalf of domestic workers. In 2015, Fortune placed her at No. 14 in their ranking of the 50 greatest leaders in the world. That same year, she published her acclaimed first book, The Age of Dignity: Preparing for the Senior Boom in a Changing America. She even went to Golden Globes 2018 with Meryl Streep because of his crucial involvement in the MeToo movement.
Today, Poo is executive director of the National Alliance of Domestic Workers, a non-profit organization she also co-founded that advocates for the rights of caregivers, cleaners and other domestic workers. More recently, she has focused on an initiative called Care can't wait, a trade union coalition of several groups (including the NDWA) that was formed in response to the pandemic. "We're trying to push through big investments in childcare, paid leave and home care for the elderly and people with disabilities," Poo told The Cut. "Basically, we're trying to get our federal government to invest in caregiving and supporting caregivers in a whole new way coming out of COVID. Poo currently lives in Chicago with her husband, daughter-in-law and dog, Benny, whom she adopted during the pandemic. Here's how she does it.
On her morning routine:
I have to set three different alarms, which go off at 5:45. Sometimes I get up right away, sometimes it takes me until 6:15. Then I drink a glass of water and go downstairs for a cup of coffee. , which I usually bring back to bed with me. Actually, I have a name for my bed. My family calls it "the nest". I write the things I am grateful for in my journal. It helps me get my bearings at the start of the day. Then I will do a 20 minute online meditation course. It starts at 6:30 p.m., so hopefully I'll have my caffeine down by then. Then I'll get up and take my dog ​​Benny for a walk around the neighborhood. I have a daughter-in-law who is in CM2 and lives with us half the time. So if she's with us, my husband or I will pick her up and take her to school. If I have time in the morning, I do an online yoga class or get on my mat for 20 minutes and just do my own practice. Or I'll take a 20-minute ride on the Peloton bike. I got one for my birthday. Great addition to our family.
In a typical working day:
I was traveling about half the month. I've spent so much time at O'Hare that many vendors know me. Now everything is on Zoom. Usually my calls start at 9 or 9:30. I have the most amazing team of people supporting me. One of my team members organizes my calendar, my schedules and a lot of administrative things that I am responsible for. Another makes sure I'm ready for all meetings and events and have what I need to try and oversee the organizations I'm part of. Our goal is to get to a place where I spend at least 80% of my time doing things that only I can do – things that rely on relationships with members of Congress, funders and donors that I have built doing this job for about twenty years. Recruiting talent is also part of my job. I really like finding people smarter than me and figuring out how they can join our team. I'm surrounded by an incredible group of women, mostly women of color, who are so talented, that I'm constantly learning from.
On the start of his career:
I moved to New York for school when I was 18, and I was walking down the street in Manhattan and I saw so many women of color pushing white babies in strollers. I would go to Riverside Park and the park benches would be covered with nannies and those children they raise. New York City – and the economy as a whole – is fueled by this invisible army of women of color who take care of things behind the closed doors of our homes so that Wall Street can function and the media industry can work. And the question that I started to ask is: "Who takes care of their?"
Working in restaurants, nail salons, as domestic workers – all of these require skill, endurance and dedication, but they are all poverty-paying jobs that you can barely survive on. You could be working 12 hours a day and barely making ends meet. And I thought, How can we have so many women who work so hard and still cannot take care of themselves, their own health and their families? There's just something so broken there.
On the importance of community:
One of the first things I did when I started in this business was to try to invite these women to come together. It's not like there's a water cooler or co-workers around for a lot of that work. It has helped them come out of this isolation and realize that there are so many others who are experiencing the same vulnerability, the same kinds of struggles and challenges that they face. It gave them a chance not only to support each other in the short term, but also to work together to change fundamental issues. We have organized health fairs so that people, especially undocumented workers, have access to health care and preventive care. We had "Do you know your rights? clinics for people who had legal questions. We held meetings where people got together, ate and shared their stories. We had open mics where people talked about their weeks, which was really powerful. There is a trust that comes through collective work.
On misconceptions surrounding domestic work:
One of the biggest problems is that this work is still called "helping" and "unskilled work" as opposed to a real, legitimate profession. Our failure to recognize these people not only as qualified professionals, but as essential workers only exacerbates this problem. We are a country that needs more care than ever. Baby boomers are aging into retirement at the rate of 10,000 people reaching 65 a day. Millennials have 9,000 babies a day. We rely on a workforce of professionals to provide care as early childhood educators, child care workers, home care workers, personal care aides. These are jobs that cannot be outsourced. They will not be automated. And, right now, these are poverty-paying jobs with high turnover rates because no one can survive on $18,000 a year. These are going to be a huge part of jobs in the future, and we need to make them good jobs. Not only will this benefit the people doing this work and their families, but these are jobs that bring jobs. They allow us all to go to work knowing that we have good care options available to us, that our children are going to be fed, that our aging parents and grandparents are going to be able to live with dignity. It's really just such a win-win-win.
On the biggest challenge of defending workers' rights:
Our tendency towards cynicism and despair is the most constant challenge. Aside from courage, there is no greater contribution than the hope needed for real and meaningful change. If you don't believe something else is possible, there's no way you can achieve it. Cynicism is the enemy of creativity. Spending time with domestic workers and caregivers [helps]. It puts everything into perspective. I remember when Trump was elected in 2016, I was really scared and devastated and kind of in shock. The next day, I had a call with a few hundred domestic workers who were basically like, "OK, what's the plan? Let's go." And I didn't have a plan because I was shocked and devastated. It was such an important reminder, like, good, we must continue. Our ancestors in past movements had so much less work than we do now, but they believed and found a way. It's a helpful reminder to have a long-term view.
By making history:
A big moment for me was when Biden, before he was president, announced his economic agenda, and one of the four pillars was focused on caregiving. That in itself was historic because it was not "the women's agenda". It was not the "family agenda". It was the economic agenda, and care was central to his vision. It was a moment where I was like, "Wow, here we are, we're finally getting somewhere." Right now, Congress has a pretty historic window of opportunity to invest heavily in child care, home and community care for seniors with disabilities, and payment for family and medical leave. The House of Representatives has already passed a bill that would be transformative for millions of families. As we are waiting for the senate to put it on the agenda, it is important that we let our senators know that we need action from Congress.
On the balance sheet:
I don't want work bleeding all over my life. So I try not to plan things on weekends, if possible. I try to log out of emails no later than 8 p.m. on weeknights. I may still be on social media, but I try to put limits on continuous email checking. I am not planning any Zooms after 6:30 p.m. Everyone is different in what they need to be sustainable and maintain their mental and emotional health. For me, having a positive impact on the world is a very important way to stay sane. I have this phrase: Winning is taking care of yourself. I definitely do meditation and yoga, but at the end of the day, for me, what I need is for real change to happen.