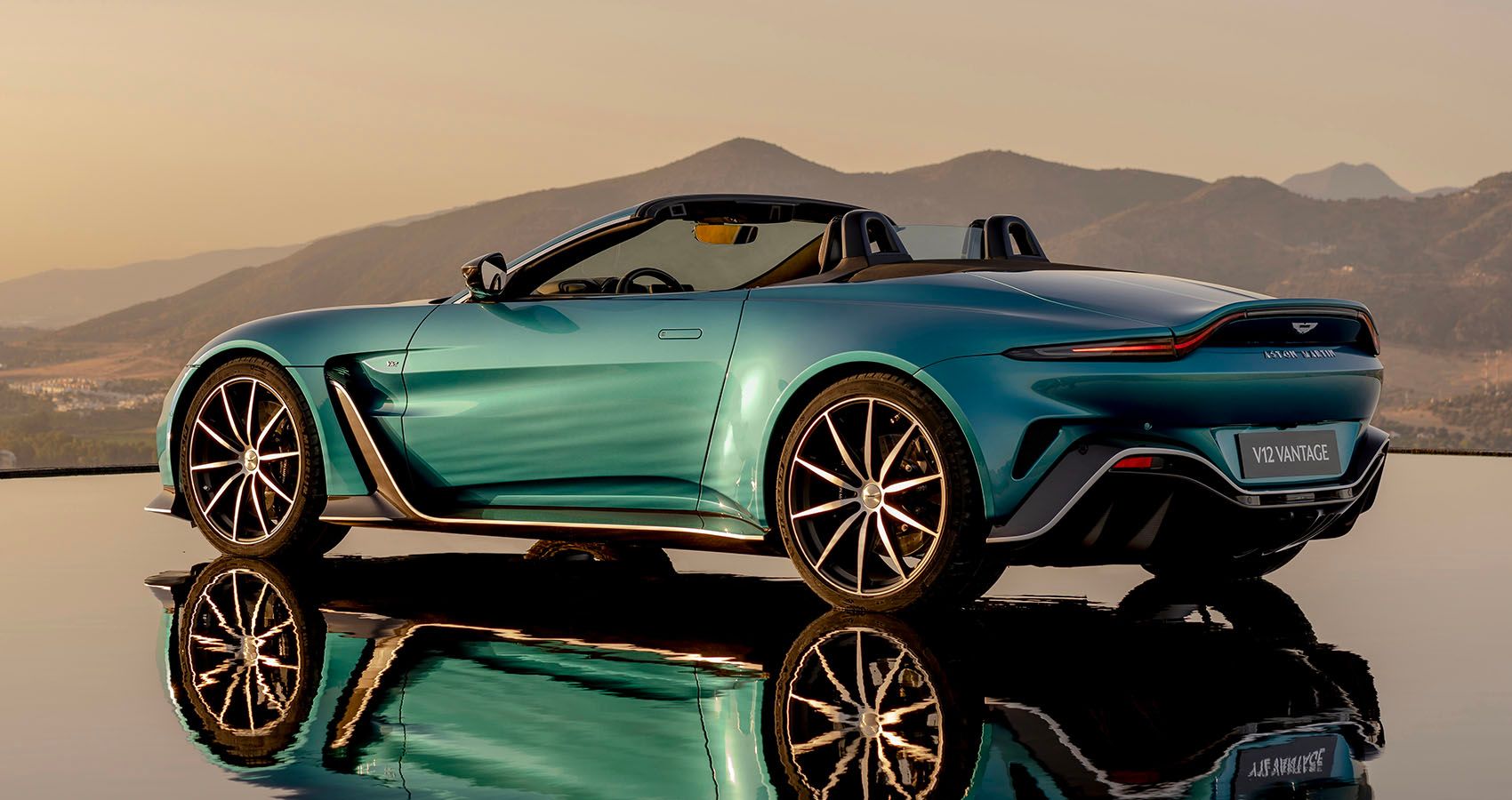 Aston Martin has done it again. What you're witnessing, ladies and gentlemen, is the last hurrah for Aston's V12 twin-turbo motor. And what a sendoff it is. The new Vantage Roaster embodies the principles of the recently-announced V12 Vantage, all while offering the open-top wind-in-the-hair experience. Only 249 units will be made, but sadly, all of them are spoken for.
Front-engined super GTs have always been something worth lusting after. But what separates them from the quintessential supercar and its mid-engined design? Of course, having the engine up front is one notable difference, and the driving position is arguably more relaxed.
In all honesty, front-engined GTs are more than just a long nose and a short bum. While mid-engined exotics are cool and everything, there's a level of elegance and finesse that's incomparable to front-engined cars, especially Aston Martins. The new V12 Vantage Roadster further enhances that by being the ultimate expression of style, sound, and speed.
New 2023 Aston Martin V12 Vantage Roadster Is A Cocktail Of Emotions
So Aston managed to shoehorn a V12 inside the Vantage. It's always exciting to find big engines in small cars. But, unfortunately, it's not cheap; the retail on the new baby Aston V12 Roadster is expected to be north of $350,000. That's nearly twice as much as the regular Vantage Roadster and in the ballpark of Aston's flagship GT, the DBS Superleggera Volante. So now the question is, is it worth the extra money?
Firstly, the V12 Vantage Roadster is not a series-production car; Aston will only make 249 units. Secondly, there are quite a few differences over the standard Vantage; think of it as a Vantage on steroids. The new Vantage Roadster comes with a familiar 5.2L twin-turbo V12 that powers the DB11 and DBS. Output stands at 690 horsepower and 555 lb-ft of torque; power is sent to the rear wheels via an 8-speed torque converter automatic. Sadly, there is no manual available.
Aston Martin says 0-60 mph happens in 3.5 seconds, making it noticeably better than the standard V8 model Although the V8 Vantage is not slow by any stretch of the imagination, Aston claims the new V12 Vantage is more capable, with a nearly 20% increase in power-to-weight over the standard car. Changes in the new V12 Vantage Roadster are dramatic. It gets styling updates, a wider 1.6-inch track, a mechanical limited-slip differential, extensive chassis tweaks, a host of carbon fiber upgrades, revised spring rates (40% stiffer at the front and 50% at the rear), bespoke damper settings, and functional aero improvements.
Let's Talk Speed and Sound
Driving the Aston Vantage Roadster is like driving any open-top convertible. The experience is deafening if you're driving the naturally aspirated Ferrari GTS, but the Vantage Roadster isn't quite as raucous. The V12 is sort of muted with the turbocharging technology and somehow robs the thrills of having a rowdy car like this. However, this is a fancy way of nitpicking as a generic user would hardly find this potent V12 unimpressive. Audibly though, you'll be left wanting for more. A small gripe on what is otherwise an excellent piece of hardware.
Initially, you'd be surprised to find the Vantage small yet agile DNA shuffling through your hands. That's not entirely a bad thing as driving experience is one of many fortes Aston Martins are known for. If you're new to the idea of Roadsters, stepping into this Aston will have you reconsidering the thoughts of a two-bedroom investment that popped up in the classifieds.
May We Interest You In Some Style, Charisma, and Exclusivity?
Astons are always known to be elegant and beautiful, but the Vantage V12 is simply jaw-dropping. As Aston's Chief Creative Officer, Marek Reichman, says: "From a design perspective, the V12 Vantage Roadster is a combination of living sculpture and physiology, such as the functions of an elite runner or thoroughbred racehorse." The design is very similar to that of the V12 Vantage Coupe, which is already a stunning-looking machine, but has a hint of subtlety. Partly due to the lack of the large rear wing.
There's hardly any rational explanation for things that rarely make sense to the average Joe. Of course, the enthusiast in you likes to feel the wind in your hair and experience driving at the limit with a huge grin across your face. It's hard to overlook the 200 mph top speed of the new Aston V12 Vantage and its six-figure asking price, which for a limited-run open-top roadster is a bargain.
Having this roofless excuse for absurdity is a privilege reserved for 249 lucky individuals. If you're among them, your purchase decision is likely dictated by want and not by the number of cupholders it has. For you sir, the new Vantage V12 Roadster is a throwback to the early days of motoring, replicating the experience in the most elegant way it possibly can.
Sources: Aston Martin