Viewers shared their delight with a viral video that shows a man fashioning a shelter for baby bunnies found in a yard.
@mrschinabishop shared the video on April 26 as an Instagram Reel, and it was viewed 6 million times. The clip of her husband holding their baby while using a planter as a temporary home for the bunnies in their yard melted viewers' hearts, though some wondered how one can adequately protect them.
The Lakeside Nature Center provided a few suggestions for how a homeowner can protect bunnies, particularly from pets.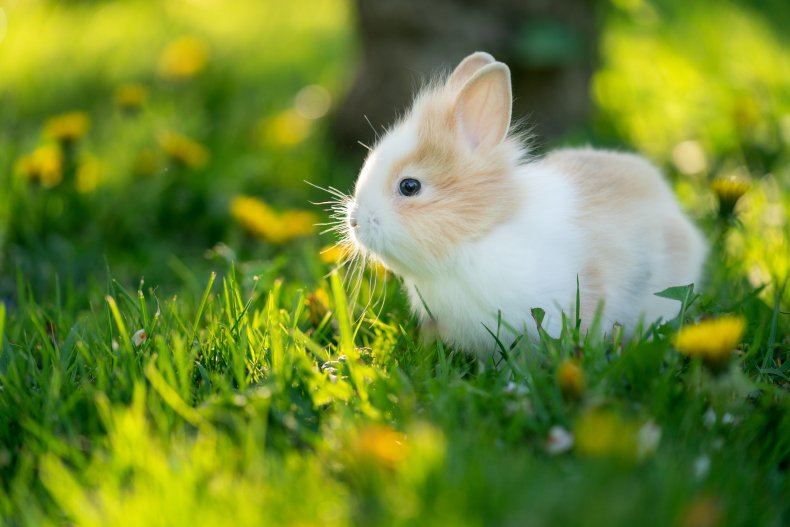 If a homeowner creates a barrier to the nest, the organization recommends allowing enough room to let the mother rabbit enter and exit.
"A cinder block border around the nest will allow for mom to move in and out," the center wrote. "You can place a wire or mesh covering over the top to keep dogs/cats out."
The video showed @mrschinabishop's husband crouched down in the grass with their baby as he placed a planter over a patch of land.
He then strategically placed clumps of grass around the makeshift home.
"POV: your golden retriever husband found baby bunnies in your backyard so he created a safe little home for them," read the text over the video.
Although some were concerned that the mother bunny would not return to the nest, many flooded the comments section to express their love for the sweet clip.
@mrschinabishop replied to one worried viewer that they see the mother bunny return to the nest every day.
"Do you just fall in love with him all over again when he does things like this?" an Instagram user asked.
Another wrote that he has a "kind heart."
"Now that's what I call a bunny bunker," a comment read.
One shared that a laundry basket placed upside down can also serve well as a temporary home for the bunnies as long as there is an opening available for the bunnies' mother.
The family provided a look inside the little home that housed the tiny bunnies, and they can be seen huddled together in a second video.
A third video noted that the bunnies began hopping around the yard until they stopped going into the shelter.
Since the family removed the planter, they said they saw the bunnies around the yard "every once in a while."
Newsweek reached out to @mrschinabishop for further comment.
There is no shortage of adorable animal content that has gone viral:
A woman posted several videos on TikTok showing off her hedgehog named Clover.
Another video showed a cat that appeared to play an iPad game, while another clip featured a dog's reaction to a birthday party that was thrown for him.