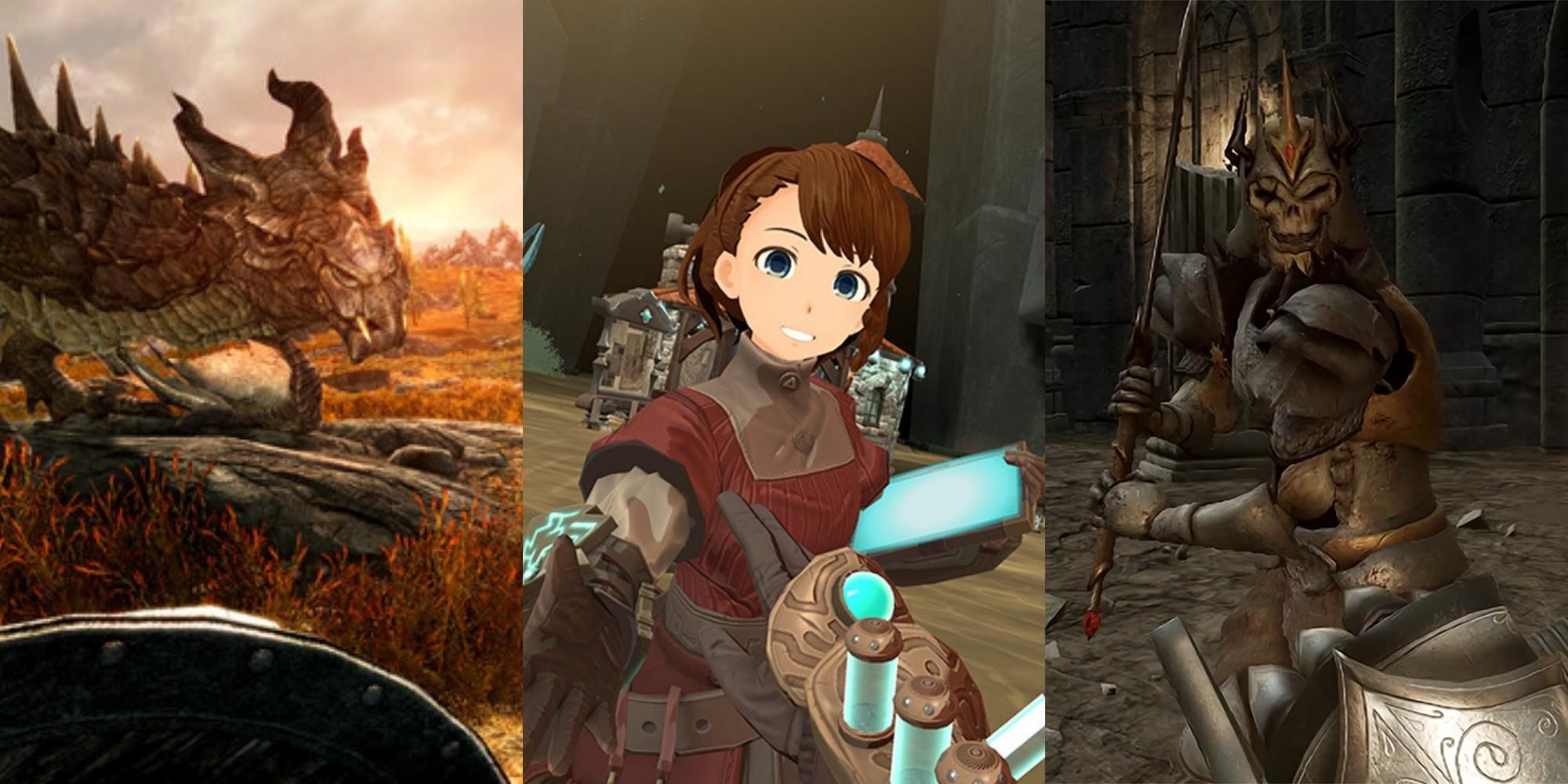 RPG games are some of the most exciting and magical games that provide unforgettable gaming time for casual and avid gamers alike. RPGs have all kinds of worlds and stories, which means players can try thrilling and dark RPG VR shooters for Oculus Quest 2 and all other gaming platforms including RPG VR pc games.
Related: PS5 & PS4 Games Fans Of Super Smash Bros. Should Try
Thanks to these VR games players can get fully immersed in some of the most imaginative worlds while becoming heroes, monsters, explorers, and anything else they desire. Some of the most complex new VR games are also RPGs, so more experienced gamers can easily find worthy challenges while also enjoying all the perks of new VR games. No matter if a gamer likes to get lost in space, fantasy lands, or futuristic dystopian planets because thanks to these VR classics they'll be able to do just that in a more immersive and memorable way.
8

Paranormal Activity: The Lost Soul
Paranormal Activity: The Lost Soul is one of the scariest early access VR horror games. This psychological Horror VR game is based on the same myth as the internationally famous Paranormal Activity movies. Players will be fully immersed in a terrifying and violent world in which they'll have to use a few tools and their wits to stay alive and defeat their supernatural enemies.
Gamers will get to explore one of the scariest haunted houses in gaming while trying to uncover a dark mystery. Players will have to find and solve clues while also trying to stay alive and not get too scared by surprise attacks.
7

Buccaneers!
Buccaneers! is one of the most fun pirate games One Piece and Pirates of The Caribbean lovers can enjoy in VR. Thanks to this adventure-filled VR RPG game players can become fearless pirates and explore the game's beautiful and vibrant open world while searching for treasures and defeating enemies.
Related: NBA 2K23: The Best Shooting Guards In The Game
Players will be immersed in a beautiful historical world in which they'll have to set sail in battleships after choosing to pledge their allegiance to the Buccaneer pirates or one of the great empires and fight for power in the Caribbean Sea. It's a complex and adventurous game but a casual one which makes it perfect for beginner and more experienced gamers alike.
6

RUINSMAGUS
RUINSMAGUS is one of the most cinematic JRPGs set in a magical fantasy land. It's one of the best RPG VR games not only for anime but also for fantasy lovers who enjoy games with atmospheric worlds and cool magical systems.
Players will be able to explore mysterious ruins beneath a beautiful city and learn about magic and dark secrets. As gamers get to know this story-rich world better and uncover the details of the mystery they'll find out that they're the only ones who can save the city with the help of their companion named Iris.
5

Legendary Tales
Legendary Tales is one of the spookiest and most magical early access dungeon crawler RPG VR games. Thanks to this dark fantasy adventure game players can get lost in and explore an immersive and beautifully dark medieval world.
Related: Video Game Cutscenes That Have Great Storytelling
Players will be able to learn about and show off their swordplay skills while exploring the game's spooky dungeons, collecting loot, and cutting down their enemies one by one. Gamers can go on their dark adventures alone or with their friends to experience this unique RPG VR game and its legendary tales together.
4

Demeo
Demeo is a beautiful old-school-style dungeon crawler RPG VR game that's set in a thrilling fantasy land. Thanks to this magical online tabletop game players can experience VR in a whole new and exciting way. Players will have to join forces with their friends to be able to defeat dark and powerful magical enemies.
As players go on their adventures they'll have to use their strategic skills and become mighty eagle-eyed hunters, mystical sorcerers, or deadly assassins among many other fun characters. They'll go on epic quests in the beautiful fantasy land of Gilmerra to uncover mysteries and defeat foes.
The Elder Scrolls V: Skyrim VR is one of the most exciting RPGs with great world-building and thanks to the VR edition players can experience this beautiful game in a more immersive way. Players can get lost in a magical fantasy land filled with epic adventures, powerful foes, and beautiful dragons.
Related: Best Video Games For Teenagers
Gamers will be able to become mighty warriors called Dragonborn and have to go on an unforgettable journey to save Tamriel after the return of the dragons. This iconic RPG multiplayer has a great story, beautiful art style, and an atmospheric world-building in which players can freely explore and defeat their enemies by using their fighting skills as well as their special power called The Voice.
2

Zenith: The Last City
Zenith: The Last City is one of the most fun and visually impressive early access RPG VR games for casual and avid gamers alike. This massively multiplayer game transports its players into a magical and futuristic dystopian land.
Players get to go on epic adventures while exploring the game's breathtaking open world as well as crafting and fighting against powerful foes. Gamers will have to make strategic decisions and forge new friendships as well as useful alliances and build powerful guilds. However, players can also just relax and explore until they get the hang of the fights which means it's one of the best RPG VR games for beginners and casual gamers who want to get started with massively multiplayer games.
1

Half-Life: Alyx
Half-Life: Alyx is one of the most popular and highest-rated RPG VR games set in a dangerous but thrilling dystopian world. Players will have to use their shooting and strategic skills to be able to defeat the terrifying Combine alien race.
As players get lost in the dangerous but atmospheric world they'll also be able to step into the shoes of Alyx Vance one of the members of the last resistance group. As gamers explore this violent and story-rich world they can try the best mods in the game and solve imaginative puzzles and fight against the aliens until they're able to take back control of the planet.
More: Tomb Raider Games With The Most Replay Value