Viewers were blown away by a tattoo completed by an artist who said he specializes in "deliberately bad tattoos" in a TikTok that has been viewed more than 3 million times.
Posted by Nathan on his TikTok account @notjanedoethundear, the video slowly revealed the artist's completed piece, sparking a discussion among viewers about what makes a good tattoo.
Set to The Charlie Daniels Band's The devil went to Georgiathe artist slowly wipes the tattoo and shows the finished piece of a devil holding a pitchfork.
A speech bubble at the mouth of the devil read, "Sin, bro!"
"S**tty #tattoos well done," read the caption of the video.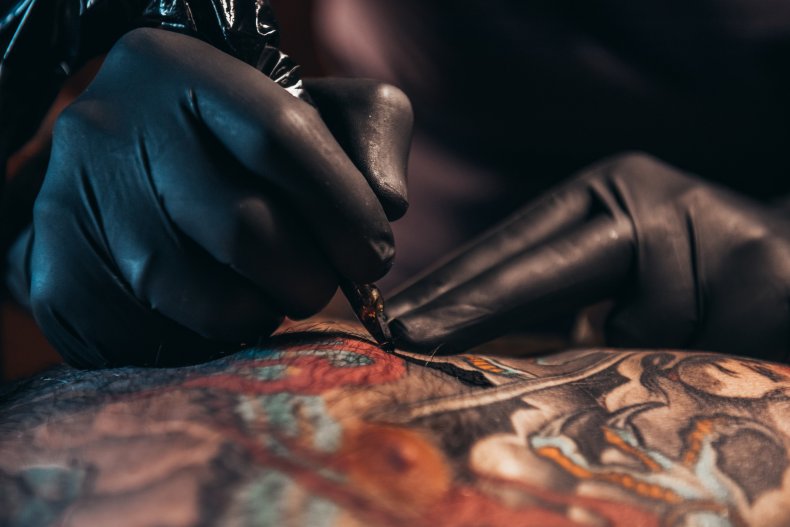 Although it was a rough drawing, many viewers wrote that the artist's technique resulted in a solid tattoo.
According to inked magazinethere are some telltale signs of what makes a tattoo a good one.
Strong tattoo pieces are fully saturated and will not look blotchy after they heal. In addition, the magazine pointed out that lines had to be "sharp" and "consistent".
"Wonky lines are a huge indication of an inexperienced artist," the outlet reported.
In addition, contrast helps to make a tattoo look "multidimensional".
"If the tattoo has poor contrast, it will look flat and faded," the piece reads.
Nathan wrote to news week that he has been tattooed on and off for about two years and thanks fellow tattooists Ronnie Hicks and Amanda Cokewell for teaching him. Nathan said he's been working at Elevated Ink, Pittsburgh, Pennsylvania, for about a month.
"I draw everything I tattoo unless it's text or a logo or something like that," he said. "Otherwise I try to get people to let me draw my own version of what they want. You don't want the exact same tattoo as someone else."
When it comes to this particular style of tattooing, Nathan said he thought of doing a tattoo with his left hand first.
"But I thought, 'No wait. That's a legitimately bad idea,'" he said. "So I pulled it up with my left hand and then went to work as normal."
Nathan explained that he likes "weird stuff" and does what isn't often done, but he said he's not the first artist to experiment and get a "weird, stupid tattoo."
One viewer commented that because of its solid line work and saturated colors, it's "the best example of a bad tattoo done right."
"The point is it's well tattooed…intended correctly…meaning it looks like children's art, but the tattoo will be clean, last a long time and heal evenly," wrote another.
A few other viewers complimented Nathan on his line work and the look of the tattoo.
"This is literally perfect," one comment read. "You nailed the look while still making it look good."
Read another comment: "It takes talent to be a great artist…but it takes a great artist to make bad art."
This is not the first time that tattoos have attracted the attention of internet users.
A grandmother went viral after checking one thing off her bucket list: a tattoo. A viral Reddit post also featured tattoo artists talking about some of the weirdest tattoos they've done or seen.